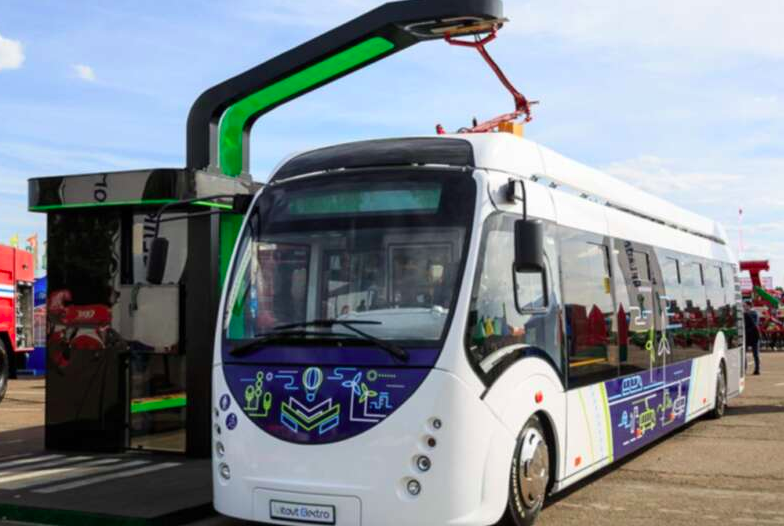 South Korea's Caris has signed a 3-year, $850 million deal with Dnipro's Yuzhmash to produce 5,000 electric buses and 7,800 charging stations, the Ukrainian machine building plant reports on Facebook. The two companies agreed to localize production in Dnipro, to exchange licensing agreements, and to jointly promote exports of Dnipro-made equipment to the EU. Noting that Caris already is building plastic highway guardrails in Ukraine, Caris Chairman Yu Chhol said of the new venture: "We are very happy to continue cooperation with Ukraine."
Norway's NBT continues planning for a €1.2 billion project in Zaporizhia Oblast that could be Europe's largest onshore wind farm. Designed to generate 792MW, the Zophia farm would place 160 turbines along a 39 km line from Kyryliv to Yakymiv, to catch winds blowing north from the Sea of Azov. With financing arranged by JPMorgan and contracting by China's SET, NBT hopes to start construction this fall. Many renewable projects have stalled pending Rada adoption of new electricity tariffs. Vitaliy Bogovin, head of the Zaporizhia Regional State Administration, met Wednesday with NBT executives in Zaporizhia, reports the region's press service.
Reversing five years of modest foreign direct investment inflows, Ukraine recorded a net outflow of $1.5 billion in foreign investment during the first five months of this year. Last year, Ukraine attracted $1.9 billion in foreign direct investment, reports the State Statistics Service. About one quarter of the 2019 'foreign' investment came from Cyprus, presumably Ukrainian and Russian money.
The Economy Ministry estimates that Ukraine's GDP contracted by 5.9% from January to May, the height of the Covid lockdown period. With the economy starting to recover, estimates of the year end GDP performance range from -4 to -8%. In June, the National Bank of Ukraine's index of business activity expectations hit 45.5 points, up from 29.9 points in April. Below 50 indicates a rather pessimism.
Eurozone GDP will decline by 8.7% this year, then grow by 6.1% in 2021, according to a  forecast this week of the European Commission. Among the major economies: Germany -6.3% in 2020, then +5.3% in 2021; France –10.6%, then +7.6%; Italy –11.2%, then +6.1%; and Spain -10.9%, then +7.1%.
Ukraine's electricity consumption fell during the first half of this year by 5% compared to the first half of last year, reports Ukrenergo, the state-owned electricity transmission system operator. Household consumption was down only 2.9%. But industrial consumption was down 6.2%. Of this, transport was down 16.4% and machine building was down 20%.
During the second quarter, Ukrainian banks permanently closed 304 bank branches, or 4% of the Q1 total of 7,884, reports the central bank. State-owned Oschadbank closed 8% of its branches, ending June with 2,097, the largest number in the country.
Annual inflation in June was 2.4%, slightly higher than 1.7% in May. Last year, inflation was 4.1%, less than half the 9.8% recorded in 2018. President Zelenskiy told former central bank governor Yakiv Smoliy that he wants inflation this year to go up to 9-10%. Zelenskiy believes that by printing money, the government can cover the budget deficit and produce signs of economic growth by the Oct. 25 local elections.
The European Investment Bank may issue a €340 million low interest loan to Ukraine for restoring public buildings – schools, hospitals, roads and water systems – in eastern Ukraine, largely government-controlled Donetsk and Luhansk. The goal is to improve infrastructure in areas coping with large numbers of people displaced by the war with Russia.
Presidential chief of staff Andriy Yermak discussed with the World Bank's new vice president for Europe and Central Asia Anna Bjerde a $350 million loan to Ukraine. The money would go to building government institutions to support a private farm land market and to improving corporate governance.
In a big setback for corporate governance, 'temporary' Covid-era salary cuts may be permanent for independent supervisory boards set up during the Poroshenko era for state companies — Naftogaz, Privatbank, Ukreximbank, and Ukrzaliznytsia. Timothy Ash writes: "Cynics would argue that the supporters of state capture are driving the salary cap, to force out independent supervisory boards, and lay out state companies for further exploitation by oligarchic and corrupt interests."
Concorde Capital's Alexander Paraschiy writes on Zelenskiy's stated desire to weaken the hryvnia, print more money and to hike annual inflation from 2% to 10%: "In the mid-term, such a review of targets could lead to large imbalances, including high inflation and currency shocks. At minimum, such risks make Ukraine's local currency bonds unattractive to investors right now."
Paraschiy writes on the State Security Service's request that 'former officials' refrain from commenting on the nation's finances: "The SBU's comments on [Valeria] Gontareva might look funny to international observers, but they are yet the latest source of concern for us. For instance, the SBU could draw its attention to this very news analysis (provided somebody translates it into Ukrainian or Russian) and "warn" us that our comment on local bonds, in the previous paragraph, threatens Ukraine's financial stability. Such "warnings" by a law enforcement body, overstepping its bounds in a democratic society, weren't made in Ukraine even under the Yanukovych administration, known for its autocracy."
Quote of the Day: Yakiv Smoliy, former governor of the National Bank of Ukraine, told LB.ua Saturday about TV commentators urging Ukraine to go it alone without low interests loans and aid from the IMF, EU, EBRD, World Bank, etc: "You can say what you want, but without external funding, Ukraine cannot exist today."
Halloween in July? Coffins and funeral wreaths were left Wednesday night at the entrance to the gated residence of Smoliy. Defiant, the National Bank of Ukraine press service called this kind of harassment a new KPI, or key performance indicator: "We do our job — and they bring coffins and wreaths to our houses."
Bureaucratic rule changes highlight a booming business: the monthly import of 10,000 lightly damaged cars from the US and EU for repair and use in Ukraine. Columb, a major vehicle broker, says repairs of these 'salvaged cars' generally cost $2,500 to 3,000. At this volume, salvaged cars would account for almost half of the 139,400 used cars imported into Ukraine in the first half of this year. According to Columb Trade co-founder Volodymyr Kovel, proposed Interior Ministry rule changes on documentation would add $3,000 to the cost of each car.
Air traffic out of Kyiv is growing gradually, with today's scheduled flight departures totaling 44 from Kyiv Boryspil and 14 from Kyiv Sikorskiy. The two airports expect to handle a total of 200,000 passengers this month, about 20% of last July's level.
Ukrainian tourists no longer have to take Covid tests to enter Montenegro, reports that Adriatic nation's Public Health Institute. SkyUp and Windrose fly from Kyiv Boryspil to Tivat, Montenegro's largest airport.
From the Editor: Maybe it is a sign of success, but some readers email that UBN  is not arriving in their email inboxes. If that is your case, sign up anew using the sign up form – 'Don't miss the latest news' – placed in the middle of each UBN posted on the news site — https://ubn.news/. Upcoming: soon we will add a fifth language. In addition to English, Ukrainian, Russian, and German, this will be…? Stay tuned! With best regards, Jim Brooke