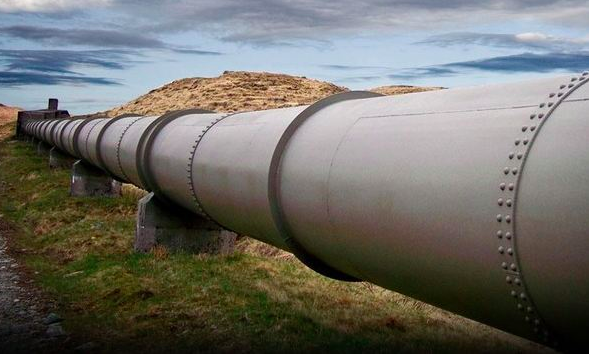 Friday, January 3
Russia Shipped More Gas Across Ukraine Last Year...Israeli Gas to Cross Med to Greece...Climate Warming Cuts Ukraine's Gas Bill...Gov't Borrowing Gets Cheaper, Longer...Poles Loan $100 Million to Build Shopping Centers in Kyiv, Kharkiv...Half a Million 'New' Cars Hit Ukraine's Streets in 2019
Russia increased its gas shipments across Ukraine by 3% last year, to almost 90 billion cubic meters, according to Ukrtransgaz. With Russia using Ukraine's pipelines to ship 45% of its gas to Europe in 2019, Russia sent 89.6 bcm to the EU and Moldova. Under the new gas transit contract, Gazprom commits to shipping a minimum of 65 bcm this year. Taking into account the delay in completing Nord Stream 2 and next week's inauguration of TurkStream, Naftogaz estimates it will handle 75 bcm of Russian gas shipments this year. In 2018, Ukraine shipped 86.8 bcm, 7% less than in 2017.
Offering future competition to Russia's new TurkStream, the energy ministers of Greece, Israel and Cyprus signed an agreement in Athens on Thursday to build a $7 billion, 1,900 km gas line connecting Israeli and Cypriot gas fields with Greece. Designed for commissioning in 2025, the EastMed, the pipeline is to have a capacity of 10 bcm. The TurkStream line which is to go from Bulgaria to Greece will have a 16 bcm capacity.
Ukraine increased its natural gas imports by 34.5% last year, to 14.2 bcm, reports Ukrtransgaz. Imports were up largely because, in preparation for last week's gas talk with Russia, Ukraine's 12 storage reservoirs were filled to a historic high – 22 bcm. Ukraine's domestic production also dropped. The top three gas exporters to Ukraine were: Slovakia – 9 bcm; Hungary – 3.7 bcm; and Poland -1.4 bcm. Much of this Eastern European hub gas originally came from Russia. Ukraine stopped direct gas imports from Gazprom four years ago.
If Russia's Gazprom wants to sell gas directly to Ukraine, it will simply be one of several dozen gas companies and brokers competing to win transparent public tenders, Dmitro Kuleba, vice prime minister for European and Euro-Atlantic Integration, tells Interfax-Ukraine. Ukraine will not return to its position of 2014 – Gazprom's largest customer. "Gazprom will play in Ukraine exclusively according to European rules and regulations," Kuleba said. "It will not have monopolies, will not be able to impose its conditions by bribing officials, it will be one of the players."
Due to a mild start to winter, Ukraine has drawn down its gas reserves by only 13%, reports Ukrtransgaz. With the heating season almost half over, Ukraine has 19 bcm in its underground reservoirs. In 2019, 36 high-temperature records were broken in Kyiv, reports the Central Geophysical Observatory. Last year, the average annual temperature in Kyiv rose to 10.6 °C (51F), which is 2.9 °C higher than the norm and the highest since 1881. On Dec. 15, the temperature in Kyiv hit a new record: 15.2C (59F).
Dragged down by the state gas producer, Ukraine's gas production decreased by 1% last year, to 20.7 bcm, according to Ukrtransgaz. Production by UkrGazVydobuvannia dropped by 3.4% to 14.9 bcm. Responsible for 72% of Ukraine's gas production, the state company is missing the Poroshenko government's target of '20bcm in 2020.' Despite its lackluster performance, UGV won most of last year's public oil and gas block auctions.
Ukraine's state and state-guaranteed debt of Ukraine fell last year to 52% of GDP, from 63% at the start of the year, reports the Finance Ministry. The Ministry's goal is 45% at the end of this year, and 40% at the end of 2024. During 2019, the debt actually grew by 6%, from $78 billion to $83 billion. But Ukraine's economy grew by about 3.5%. The hryvnia's 15% appreciation against the dollar, also served to increase the dollar equivalent figure for Ukraine's hryvnia economy.
With foreign investor interest strong in Ukraine's government debt, the share of government hryvnia-denominated debt increased last year from 33% to 41%. Yields on government hryvnia bonds fell sharply: by 7.22 percentage points to 11.78% for three-month government bonds; and by 7.08 percentage points to 11.42% for 1-year government bonds.  The weighted average term of government hryvnia debt bonds increased: from nine months in 2018 to two years in 2019.
Privatization failed last year, netting only 3% of the forecast budgeted amount. The amount earned — $23 million — barely covered the budget of the agency in charge of the program, the State Property Fund. Kyiv judges held up sales last year, a resistance that vanished after the landslide electoral wins of Zelenskiy, a strong advocate of selling state companies.
The strong hryvnia has depressed the hryvnia value of Ukraine's export revenues, contributing to a $1.6 billion gap between revenue projections and the amount actually collected, reports Bloomberg in an article titled: "World-Beating Currency Gives Ukraine a Budget Headache." The government has ordered the Finance Ministry to reduce some development spending, reports Ekonomichna Pravda news site, citing documents it obtained. The IMF insists that the government budget deficit stays below 2% of GDP. In 2019, it was $3 billion, or 1.8% of GDP.
A Polish development bank has granted a €53.6 million loan for the construction of a shopping center in Kharkiv, its second Ukraine project in a year. Bank Gospodarstwa Krajowego, or BGK, is financing the construction of Nikolskiy shopping center by Unibep SA, one of Poland's largest construction companies. Polish Export Credit Insurance Corporation, or KUKE, is insuring the project, which is to have 40% Polish materials and services. With Poland increasingly supplanting Russia as Kharkiv's international partner, Kharkiv airport now has direct flights to six Polish cities.
One year ago, BGK, Unibep, and KUKE teamed up to complete Retroville shopping center on Prospek Pravdy, in Kyiv's Podil district. BGK loaned Unibep €35 million to complete Retroville. Due to open next summer, the shopping center is to have 120,000 square meters of leasable space, 3,245 parking spaces and the capacity to handle 25,000 visitors. Prospekt Pravdy, the new terminus station of the Green metro line, is to open nearby in 2022.
After a slow start to the year, sales of new cars jumped by 31% in December This pulled up the year long sales growth to 8%, or 88,500 cars, reports UkrAutoProm, the auto industry group. The top five brands are: Renault, Toyota, Kia, Skoda, and Nissan.
In contrast, imports of used cars through October increased by fourfold, to 349,000, reports UkrAutoProm. About half of these cars arrived in Ukraine prior to 2019 but were regularized last year by owners taking advantage of tax amnesties. With Germany increasingly restricting diesel cars, Germany was Ukraine's top source for second-hand cars: 89,000 cars through October.
Ukrainians spent $2.6 billion on imported cars through September. The average declared customs value of an imported car was $4,000. The declared value of the average new import was more than four times higher: $18,000.
From the Editor: Ukraine Business News now is in English, Ukrainian, Russian and German on our site: www.ubn.news. We are also in Ukrainian and Russian on Novoe Vremia: https://nv.ua/biz.html Tell your friends! With best regards Jim Brooke jbrooke@ubn.news