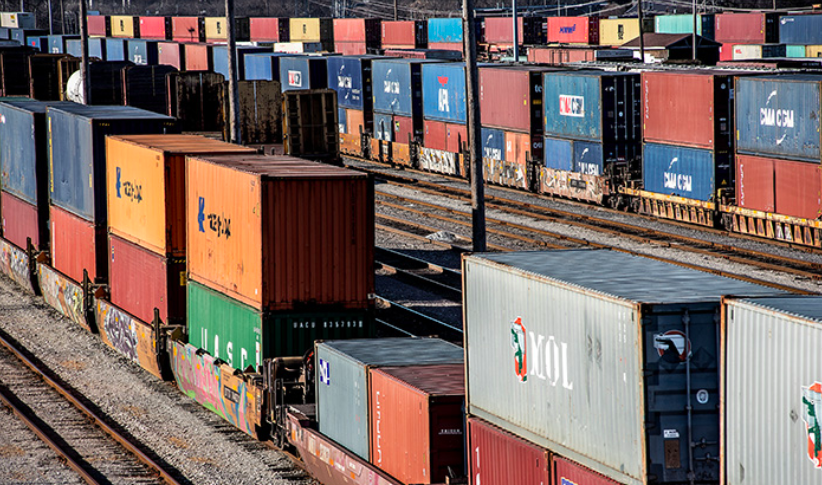 In a bold bid for China-EU rail traffic, Poland's PKP Cargo plans to invest $1 billion in a village on the border with Belarus to create what the state company calls Europe's largest and most modern and largest logistics center. With construction expected to start next year by PKP's Cargotur unit, the center in Małaszewicze would handle at least two container trains an hour, according to Railway.supply news site.
PKP's announcement is the latest China-oriented logistics investment planned for the 600 km Brest to Chop fault line that marks the rail gauge break between Soviet broad gauge and EU narrow gauge. Prospects for China-Ukraine container traffic are so good that DHL Global Forwarding Greater China recently produced a promotional video, "Full Steam Ahead for China and Ukraine."
In Ukraine, electrification of the 95 km stretches of track between Kovel, Volyn's rail hub and the Polish border was discussed yesterday in an online meeting between Infrastructure Minister Vladyslav Krikliy and local European Investment Bank head, Jean-Erik de Zagon. In a Soviet legacy, a broad-gauge track runs halfway across southern Poland to the Silesian steelmaking city of Sławków. The bi-national plan is to turn Sławków into a rail and road hub for containers in the China-EU trade.
Slovakia intends to turn its existing rail freight marshalling yard at Dobrá into a major East-West logistics hub. The Czech rail company Metrans already sends trains from China to Dobrá, which is three kilometers west of Ukraine's border city of Chop, Zakarpattia.
In Hungary, work has started on a $75 million road and rail hub in Fényeslitke, 25 km south of Chop. Capable of handling 1 million TEU containers a year, the East-West Gate will take advantage of a spur of broad-gauge track that crosses from Ukraine into Hungary.
President Zelenskiy yesterday failed for second time in one month to muster enough Rada votes to make Yuriy Vitrenko Energy Minister. Although Zelenskiy's Servant of the People has a majority in parliament, Vitrenko won only 204 of the needed 226 to be ratified as minister. A reformist opposed to oligarchic influence in the energy industry, Vitrenko failed to win the votes of ruling party parliamentarians affiliated with Ihor Kolomoisky. Cheap electricity prices are keys to profitability of Kolomoisky's aging and energy intensive metallurgy plants.
Timothy Ash writes: "This is a reflection of Vitrenko's background as a proven reformer, and strong adherent to market principles, plus also opposition from oligarchic business groups in the Rada…underlines the challenges for Zelensky pushing through a pro-reform/market agenda…if Zelensky wants to reinvigorate reform he is going to have to reconstitute his alliances in the Rada."
The IMF mission will extend its online review of Ukraine's $5 billion program for another 10 days, reports Interfax-Ukraine.  "It's crucial for us to stay within the IMF program," Finance Minister Serhiy Marchenko told Ukraine 24 TV yesterday. "We are in active talks…There are expectations that during this period we will finalize the memorandum." With a freeze on gas prices scheduled to run until March 31, analysts predict that second quarter is the earliest the second tranche – probably for $700 million — could come.
Real wages rose by 10% last year, compared to 2019, reports the State Statistics Service. In nominal terms – without adjustments for inflation – December's average salary was up 15.6% yoy. Nationwide, the average monthly salary was $506, almost three times the official minimum wage. Medical professionals enjoyed the biggest jump in salaries last year – 51%. Hotel and restaurant workers saw the worst performance – a 6% salary drop.
Kyiv had the highest salaries — $775 – double the level of Chernihiv, its north eastern neighbor. Chernihiv, had the nation's lowest — $390. The regions with fastest growing salaries last year were: Ivano-Frankivsk +25.6%; Luhansk +25.2%; Ternopil +23.8%; Chernihiv, Chernivtsi and Sumy +23.4%; Rivne +21.9%; Kirovohrad +20.6%; Lviv +20.2%; Zhytomyr +20.1%, Khmelnytsky +19.4; and Zakarpattia +19.1%.
Ukrainian companies transported 11% less cargo last year compared to 2019, reports the State Statistics Service. Of the 600 million tons, Ukrzaliznytsia carried slightly over half – 305.5 million tons. The state railroad only a recorded a cargo drop of 2.4%. For the other modes of transport: trucks down 22%, to 191 million tons; river barges down 8%, to 5.6 million tons; airplanes down 6.7%, to 100,000 tons; and pipelines down 35%, to 58 billion cubic meters.
Passenger transportation dropped in half last year, reports the State Statistics Service. Of the 54% yoy drop, the biggest was air travel, down 64%. Train travel was down 63%. Car, bus and city transport were down by around 40%. Dragon Capital writes: "The drop in passenger transportation last year was the steepest on record."
Kyiv Sikorsky, Ukraine's second busiest airport, saw its traffic plunge by 63% last year, compared to   2019, the airport reports. Heavily dependent on Wizz Air and on charter flights, the airport records that 98% of its 704.500 passengers flew internationally.
Air traffic in and out of Kharkiv, Ukraine's second largest city, dropped by 51% last year, slightly better than the nationwide drop of 64%, reported the Center for Transportation Strategies. Worldwide, passenger traffic dropped by 60%, hitting the level of 2003, International Civil Aviation Organization reports in a study headlined: "2020 passenger totals drop 60 percent as COVID-19 assault on international mobility continues." For Ukrainian travel agencies, sales volumes fell by 70%, Pavel Grigorash, executive director of the national Association of Travel Agencies, tells Economic Truth website.
The number of Ukrainian tourists traveling abroad during the pandemic dropped by 70% — from 2.5 million in 2019 to 750,000 in 2020, Pavlo Hryhorash, chief executive of Ukraine's Travel Agencies Association, told the Kyiv Post. Turkey and Egypt were the top two destinations.
Hotel, restaurants, bar and 'creative industries' lost about $3 billion since coronavirus control were first imposed, in mid-March, says Kyrylo Kryvolap, coordinator of working group to develop the National Economic Strategy. Maryana Oleskiv, head of the State Agency for Tourism Development of Ukraine, estimates that tourism losses alone add up to over $2 billion.
Facing collapsing demand, two thirds of Ukrainian hotels cut room prices last year, according to a 122 3-star hotels survey by the Association of Hotels and Resorts of Ukraine. Other responses included: upgrading facilities – 63%; and upgrading marketing – 33%.
Ukrainian resort hotels were almost entirely occupied during the Christmas-New Year holidays, Artur Lupashko, founder of the Ribas Hotels Group hotel chain, tells Interfax-Ukraine. Bukovel, the Carpathian mountain ski resort town, was 97% full, he said. Christina Kagui, head of resort hotels for Reikartz Hotel Group, said bookings were slow until the government assured the public that they would not be a Christmas-New Year lockdown. She said: "Official refutation of this information immediately stimulated the growth of bookings in all resorts."
UIA resume flights between Tbilisi and Kyiv Boryspil on Sunday. The resumption of twice a week flights comes as Georgia reopens on Monday to all airlines flying to Georgia. Tourism, a key component of Georgia's economy, was severely hit by coronavirus travel restrictions.
Editor's Note – There is a famous scene in Lincoln, the 2012 film. Daniel Day-Lewis, playing the American wartime president, climbs into the garret of a Washington boarding house. There, a disreputable foursome of lobbyists are drinking whisky and playing cards. Lincoln needs votes to pass the 13 Amendment, ensuring that the emancipation of slaves will not be reversed after the war. Surprise, surprise, some congressmen do not want to do the right thing. So Lincoln starts to dole out the goodies – a post office for one, a customs job for another. It's called retail politics. If the next three years of Zelenskiy Administration are to be successful, he and his Rada manager better start learning it. — With Best Regards Jim Brooke