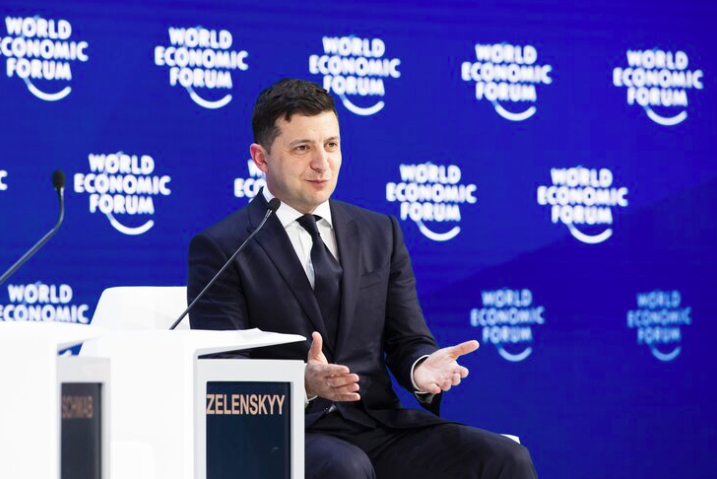 Friday, January 24
For Big Foreign Investors: English Law and International Arbitration... €1.3 Billion Bond Impresses Analysts...Census Indicates Population Dropped by One Quarter in Two Decades...Nova Poshta Plans to Invest $100 Million This Year....Avian Flu Prompts EU Bans on Ukrainian Poultry...Odesa Returns as Cruise Destination
English law contracts and international arbitration will be available to foreign investors, President Zelenskiy promised Thursday in a video address delivered to the annual Davos Ukrainian Breakfast sponsored by the Pinchuk Foundation. "For those who invest more than $100 million, we will conclude a direct investment agreement with the state, based on the English law, said Zelenskiy who left Davos Wednesday night for a 2-day trip to Israel. "And in order to provide a guaranteed protection of property rights, we will create an international arbitration system for investors in Ukraine."
Fallout from Ukraine's surprise €1.25 billion bond placement at 4.375%:
"Ukraine sells €1.25bn of new debt at record-low borrowing costs," writes The Financial Times. "Country capitalizes on optimism over president Volodymyr Zelensky's reform program."Viktor Szabo, an emerging market debt portfolio manager at Aberdeen Standard Investments who bought bonds in Wednesday's sale, tells the FT: "It's a rare country where serious reforms are happening and the economy is in good shape."
Timothy Ash writes: "Extraordinary…A year or so ago, it would not have been able to come at much less than 10%…But what worries me now a bit is complacency and, with cheap market funding, much reduced leverage for the IMF. This could well translate into less of a willingness of the Zelensky team to deliver on IMF-related reform conditionality." Writing from London, Ash also worries about the delay in Rada approval of legislation to lock in the privatization of PrivatBank: "With bondholder money in the bank, and little need now for IMF financing, my fear is that all this will drift."
Concorde Capital's Alexander Paraschiy: "The timing of this bond's issue was well-selected considering its interest rate was the lowest in Ukraine's history…Ukraine's 2020 state budget foresees about $5 billion in external borrowing, so it's likely the government will tap the market for new Eurobond issues later this year."
Ukraine needs more than money in order to thrive in the 2020s, two Americans said Thursday at the Pinchuk breakfast in Davos.
Robert J. Shiller, Yale University Professor of Economics, said: "Ukraine's government has to work to promote "sustainable optimism". It has to be something that people really believe in. I think that the educational system in Ukraine has to present something that is contagious."
David M. Rubenstein, co-executive chairman of The Carlyle Group, said Ukraine's poor image scares off investors. "Ukraine has to work on its image as well as the reality," he said. Alluding to the impeachment ere broad brush painting of rampant corruption in Ukraine, this visitor from New York said: "Many investors who are eager to invest in emerging markets because they are seeking higher rate of investment return are afraid of being criticized — even though they did nothing wrong — because of that perception of the corruption."
An electronic census estimates that 37.3 million people live in Ukraine, a 24% drop since the last official census counted 48.9 million people in 2001. Cabinet Minister Dmytro Dubilet announced the estimate Thursday, saying it used information from mobile phone operators and the Pension Fund. The drop is attributed to loss of Crimea and the most populated parts of the Donbas; a birth rate below the death rate, and emigration. Kyiv is Ukraine's most populous metropolitan area with 3.7 million people. The government plans to conduct a new census at the end of this year.
Nova Poshta, the private package delivery service, plans to invest $100 million this year, largely to upgrade sorting facilities, to develop mobile apps and to buy scooters, pickups, minibuses and intercity containers. Kyiv's new sorting center will be upgraded to handle 50,000 packages an hour, Volodymyr Popereshnyuk, co-founder of the Nova Poshta, writes on his Facebook page. Last year, the number of active users of the company's mobile app grew by 30% to 2.8 million people. In 2019, the company delivered a record 212 million parcels. In mid-December, it set a record, delivering 1.3 million parcels in one day.
Ukraine's poultry exports to the EU may remain suspended for one month, an industry analyst tells Interfax-Ukraine. Last Saturday, tests on a dead chicken at a poultry farm on Vinnytsia revealed the cause of death to be avian influenza type A – the first case detected in Ukraine in three years. In response, poultry farms in the area are under quarantine and 21,000 chickens have been destroyed. On Wednesday, the EU banned imports of poultry from Ukraine. The ban does not affect exports of eggs.
Talks are underway to lift the EU restrictions, says Taras Kachka, Deputy Economy Minister and Ukraine's Trade Representative. "The EU decision to restrict the import of poultry meat due to the case of bird flu in the Vinnitsa region is much stricter than it should be," he wrote on Facebook. "Nevertheless, we are actively and jointly working to quickly adjust this decision." Earlier, the Ministry said: "The EU's decision is stunningly unexpected for the Ukrainian side." This month, avian flu was reported in Hungary, Poland, Romania, Slovakia, and the Czech Republic.
Poultry is one of Ukraine's fastest growing major exports, increasing last year by 26% y-o-y, to 414,490 tons, reports the State Customs Service. In dollar terms, exports were up by 14.2%, to $579 million. Imports of poultry to Ukraine were less than 10% of exports.
Deutsche Bahn is to play a major role in reshaping Ukrzaliznytsia in the 2020s."Yes, we want to give the Germans 10 years to manage the railway," Prime Minister Honcharuk said Thursday in Davos at the annual Davos Ukrainian Breakfast sponsored by the Victor Pinchuk Foundation. This partnership "should show that Ukraine is unprecedentedly open for investment, for the world, for new standards," he said. "A political decision has already been made regarding this, and this is already a huge step."
Details of strategic partnership are being negotiated and are to be signed  in February by Ronald Pofalla, a member of the DB Infrastructure Board, Deutsch Bahn said later. The railroad's consulting company, DB Engineering & Consulting, "will advise and support Ukrzaliznytsia in business and technical matters."
Concorde Capital's Alexander Paraschiy writes: "Whatever form this partnership will take, it looks positive for Ukrainian Railways. The involvement of foreign advisers raises the chances that many legal initiatives to benefit the company will be implemented…Additionally, this partnership improves possibilities to finance further development at lower costs."
Breaking the war-related slump, Odessa Sea Port is making a comeback with 11 port calls scheduled for this summer by Black Sea cruise ships. Last year, only two Black Sea cruise ships docked. The season starts at the beginning of May with the visit of the Abatros, a Bahamian flight designed for 812 passengers. For 2021, 19 applications for port calls have already been filed. The Infrastructure Ministry wants to put the Odessa Sea Terminal and hotel up for concession. On Jan. 14, a new port director was appointed, Ruslan Ildarovich Sakhautdinov.
From the Editor: Flush with money, Ukraine's leadership may be tempted to skip the IMF and its lectures. However, for foreign investors who don't know the difference between Lviv and Kharkiv, an IMF agreement is an internationally recognized Good Housekeeping seal of approval. Go for it! Best regards from Davos Jim Brooke jbrooke@ubn.news