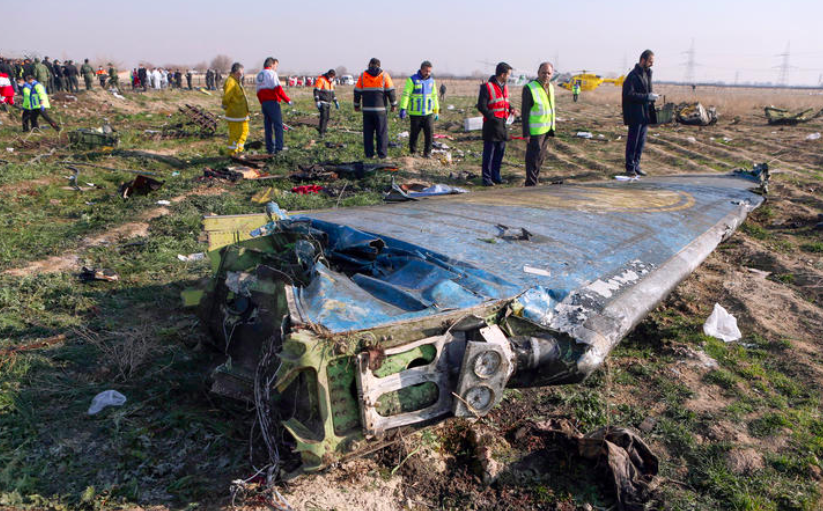 Iranian anti-aircraft missiles shot down the UIA passenger jet flying out of Tehran Wednesday, killing all 176 people on board, US and Canadian officials said yesterday. Canada's Prime Minister Justin Trudeau said his government has intelligence that an Iranian surface-to-air missile brought down the Boeing 737-800. Of the dead, 63 were Canadians.
Two missiles fired from Iran's air defense system, the SA-15, shot down the airliner, a US official told The New York Times. "American satellites, designed to track missile launches, detected the firing of the Iranian short-range interceptor," the Times reports. "United States intelligence agencies later intercepted Iranian communications confirming that the SA-15 system brought down the Ukrainian airliner, officials said." Five years ago, the same infrared system detected the antiaircraft missile fired by Russian-backed separatists in eastern Ukraine in 2014, bringing down Malaysia Airlines Flight 17, killing all 298 people aboard.
Oleksiy Danilov, Ukraine's Secretary of the National Security and Defense Council, wrote on Facebook that Ukraine is negotiating to allow his investigators to follow up reports that fragments of a Russian-made SA-15 surface-to-air missile were seen in the jet's debris field. The Ukrainian team includes investigators who worked on Malaysia shoot down. The Times reports that Iran has invited the US National Transportation Safety Board to participate in the investigation.
Inflation dropped to 4.1% y-o-y in December, the lowest level in six years, reports the State Statistics Service. Despite the busy holiday buying season, Ukraine actually experienced deflation in December – prices were down 0.2% compared to November. Pulling prices down were: natural gas, -29% y-o-y; and eggs -15%. Pushing prices up were sectors largely controlled by the government: train tickets +19%; fruit +19%; hot water and heating +14%; education up 13.5%; and alcohol and cigarettes +13%.
Looking ahead, a Reuters poll of economists predicted Wednesday that inflation in 2020 will be 5.2%. In recent years, Ukraine's inflation rate was: 2013 – 0.5%; 2014 – 24.9%; 2015 – 43.3%; 2016 – 12.4%; 2017 – 13.7%; and 2018 – 9.8%. With inflation seemingly under control, the National Bank of Ukraine plans to continue to aggressively cut interest rates from today's rate of 13.5%
The hryvnia's dramatic strengthening in 2019 helped curb inflation by keeping down hryvnia prices for imports. According to the central bank, all major world currencies devalued against the hryvnia: the US dollar – by 14.5% the Euro – by 16.2%; the Chinese yuan – by 15.6%; the Polish zloty – by 15.3%; the British pound by 11.8%; and the Swiss franc by 12.9%.
Ukraine's international reserves grew by 22% last year, hitting $25.3 billion – a 7-year high, reports the National Bank of Ukraine. Boosting reserves were: foreign investors who bought $4.3 billion worth of local currency treasury bonds; the central bank's net purchase of $7.9 billion, the largest amount in 14 years; and farmers who produced two bumper grain crops in a row, including a 74 million ton harvest last fall.
With reserves now large enough to cover almost four months imports, the central bank writes: "The increase in international reserves occurred in the year of dual elections and peak payments on external government debt, which is further evidence of strengthening macro-financial stability in the country."
Concorde Capital's Evgeniya Akhtyrko writes: "The growth of gross international reserves in December exceeded all expectations…MinFin's schedule of primary local bond auctions for January does not assume the placement of local Eurobonds during the month. Apparently, the government expects the demand of non-resident investors for long-term UAH-denominated local bonds in January to stay high."
Using 400 km of Soviet-era broad gauge track, a Chinese container train rolled from Ukraine deep into Poland Wednesday, avoiding a chronic bottleneck at the gauge break at the Belarus-Poland border. Hauling 45 containers, this pioneering train traveled 6,000 km, from the Kazakhstan-China border to Sławków, without having to stop to adjust wheels for Europe's narrow gauge track. From Sławków, containers are loaded on trains for Germany or Prague, both 400 km away.
Built 40 years ago to supply Ukrainian iron ore to the steelworks of Katowice, Poland's only broad gauge track ends at what is now called 'Euroterminal Sławków,' a terminus with ambitions to become a hub for Chinese freight to the EU. Traveling 40 hours across Ukraine – from Sumy to Volyn – the new train helps to restore Ukraine's cargo transit role. Last year, with the quiet assent of Russian Railways, China container trains started rolling across Ukraine to Slovakia and to Hungary.
"This train is a good and first important sign in organizing large-scale projects with China and Central Asia for Ukrzaliznytsia," Yevhen Kravtsov, CEO of Ukraine's state railroad, wrote on Facebook. Referring to Russian road blocks, he wrote: "Since 2008, the volume of transit traffic of Ukraine has been falling. Transit from China to the EU countries has a number of artificial barriers with political coloring. This is not a business issue, but geopolitics."
Currently, 33 container trains operate in Ukraine, nine of them international. Through November, rail container traffic was up 65% y-o-y, to 140,600 units.
In a first for both presidents, Zelenskiy and Trump will participate the World Economic Forum this year. The meeting takes place in Davos, Switzerland from Jan. 21-24. Zelenskiy is expected to meet investors at Ukraine House Davos, which is to host a series of Ukraine events at a building a short walk from the Forum.
UK Prime Minister Boris Johnson and President Zelenskiy agreed Thursday to speed up work on a post-Brexit UK-Ukraine free trade agreement. In a telephone conversation yesterday, Zelenskiy asked for visa liberalization and Johnson invited the Ukrainian leader to make a working visit to London this year.
Ukraine has won the right to export fresh chicken eggs to Japan, reports the country's state service on food safety and consumer protection. Ukraine is among Europe's egg producers, increasing output by 3.5% to 15.5 billion eggs in January-November. During that period, Ukraine exported $104 million worth of eggs, up 22% y-o-y. In volume, Ukraine exported 129,000 tons of eggs, up 32% y-o-y.
Ukraine exported 248 tons of snails to the EU market from January to September, triple the rate for 2018. Over the last two years, the number of Ukrainian snail producers certified to export to the EU has tripled, to 17.
Pelagia AS, a leading Norwegian fish production company, is appealing to Ukraine's Supreme Court, alleging that Ukraine's Klion Group took possession of a shipload of fish from Norway — but never paid. A Norwegian arbitration panel ruled in Pelagia's favor, a decision confirmed by the Kyiv Court of Appeal. "This is a role model case highlighting the reality Norwegian exporters and investors to Ukraine work in," says Pelagia CEO Egil Magne Haugstad. "We hope the reformed Supreme Court will restore justice for our company — and the faith our company has in Ukraine as a safe place for doing business."   
Registrations of used car import cars increased 3.5 times in 2019, to 408,100, reports UkrAutoProm. This flood of used imports was almost five times the number of new imports – 88,500. Although part of the wave of used imports was due to last spring's tax amnesty, the volume of used imports registered last month was still triple new car sales. Ukraine's car production dwindled to 441 cars in November.
From the Editor: Now the $64 questions. Why a Ukrainian jet? Was a Russian officer advising the Iranians using the Russia-made anti-aircraft system? As Yogi Berra would say: "It's like déjà vu all over again." With best regards, Jim Brooke jbrooke@ubn.news