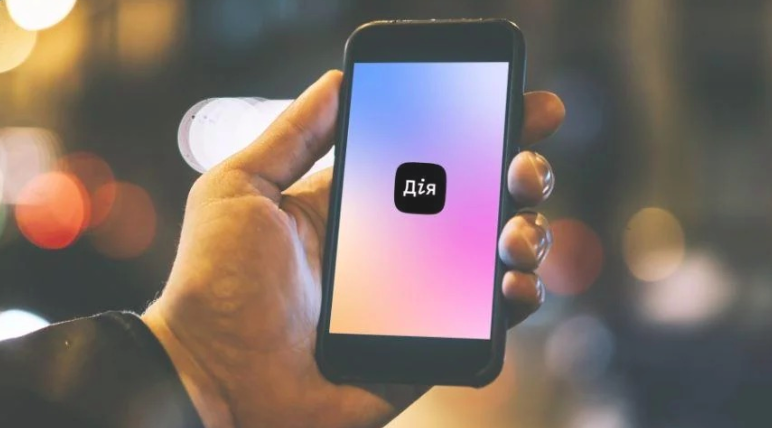 Digitizing government services, the new Diya (Action) mobile allows Ukrainians to access their driver's licenses and car registration documents from their smartphones. Launched Thursday, this e-driver's license can also be used to board trains and check in for domestic flights. At the app launch, President Zelenskiy said Ukraine is only the third country in Europe to offer e-driver's licenses. He said that the 9 million Ukrainians with valid driver's licenses can easily obtain digital versions. "[The app] is available on Apple Store and Google Play," said Zelenskiy whose election platform included 'the state in the smartphone.'
In another digital advance, e-Maliatko, or e-Baby started working last month in four cities. Later this year, it is to spread across the nation. Part of Diya, this service offers 10 government registrations for newborns. "Without submitting 37 different documents and going to 11 institutions, as it was before," said Zelenskiy, the father of two children. Prime Minister Honcharuk said: "Next will be the opportunity to digitize your ID-card and a foreign biometric passport."
Internet advertising now accounts for almost half of all advertising in Ukraine today, reports a study by the Internet Association of Ukraine. Of this online advertising, 95% is on social media — Facebook, Instagram, Twitter, YouTube, Skype, Viber, etc. Of the methods, banner advertising and in-stream video remain the most popular.
Democratizing basic banking, Ukrposhta has equipped 3,000 village branches with terminals for cash withdrawals. Located in towns with more than 2,000 people, these post offices now have point of sale terminals where people can use bank cards to pay utility bills, make money transfers, and now withdraw hryvnia cash in amounts from $2 to $400. A bill before the Rada would allow that state post office to become a full-fledged, European-style postal bank. Existing banks oppose this, saying they would have to compete with the state. Ukrposhta retorts that 15% of Ukraine's population is 'un-banked' and existing banks have no plans to open branches or place ATMs in villages. The list of small town post offices offering this no commission service is here.
Court challenges will not block the privatization of Centrenergo, one of the five 'big' privatizations, this year, predicts Dmytro Sennichenko, head of the State Property Fund. "We will win and in courts as well — there is political will, and court systems are feeling this pressure," he said, looking beyond the central Ukraine electricity producer. 'Big' privatizations – of companies with assets over $10 million – were frozen in Dec. 2018 by a Kyiv judge. After Zelenskiy swept the presidential and parliamentary elections, judges started to remove roadblocks to privatization.
Under the 'small' privatization program, the State Property Fund may sell this year three Kyiv landmark hotels – the Dnipro, the President and the Ukraina – and three seaports — Bilhorod-Dnistrovskyi, Skadovsk and Ust-Dunaisk. Sennichenko says he plans to sell this year on ProZorro 500 of these 'small' companies, or companies assessed at less than $10 million.
To spur sales, the Property Fund unveiled last week a bilingual online register of all properties being prepared for sale. The Fund also signed agreement last week with the World Bank to set up an international standard valuation system for state properties.
DTEK Kiev Electric Grids plans to invest $355 million over the next five years to modernize the capital's electricity system. This investment is almost five times the investment of the prevous five years. With electricity consumption expected to grow by 9% by 2024, Kyiv city is now home to 3.7 million people, or 10% of Ukraine's population. The development plan includes building four new large substations, 51 km of 110-35 kV power lines, the reconstruction of 231 energy facilities and 1,753 km of network lines. In addition, the portion of households with 'smart meters' is to triple, to 37% by 2024. This kind of meter allows a homeowner to monitor energy consumption on line.
ArcelorMittal reduced EBITDA in the fourth quarter by 13%, compared with the third quarter, to $925 million, the steel company reports. Last year's operating loss was $1.5 billion. Arcelor, the owner of Ukraine's largest integrated steel mill, says its worldwide steel production fell in the last quarter to 19.8 million tons, down 11% from the third quarter. Looking ahead, Lakshmi Mittal, Arcelor CEO, says: "Although market conditions continue to be difficult, we see early signs of recovery, especially in our key markets in the USA, Europe and Brazil."
Due to the current unusually mild winter, Ukraine should finish the heating season two months from now with 3 million tons of coal in storage – almost double the amount of last April, predicts  Oleksiy Orzhel, Minister of Energy and Environmental Protection. In addition to tying up money to buy coal will stay in storage through next October, the big coal piles are fire hazards.
A pop electronic quiz of members of the American Chamber of Commerce found that 85% intend to expand their business in Ukraine in 2020. Asked if they plan to increase salaries this year, 77% voted 'yes.' Asked if "Ukraine's economic reform agenda [is] on the right track, the house was split: yes — 53%; no 47%.
At the meeting, Lenna Koszarny, the Chamber's Board Chair, endorsed President Zelenskiy's plan to introduce later this year voluntary international arbitration to enforce business contracts. Recognizing this as a "stopgap measure" until Ukraine's courts can be rebuilt, Koszarny said: "We stand ready to support international arbitration. This is a very important start and a necessity for foreign investment, privatization and concessions to succeed."
At a European Business Association meeting, Tomas Fiala, EBA president, made these predictions for 2020: GDP growth: 4%; inflation: 5.2%; and year end exchange rate: 24 hryvnia to the dollar. Most GDP growth forecasts are slightly lower for 2020: IMF + 3%; National Bank of Ukraine +3.5%; World Bank and Ukrainian Government + 3.7%.
While President Trump fusses about releasing military aid to Ukraine, Turkish President Recep Tayyip Erdogan has pledged to support Ukraine's army with $200 million, Lebanon's Al-Akhbar newspaper reported Tuesday. The paper said the Turkish president is retaliating for Monday's killing of seven Turkish soldiers in Syria's Idlib Governorate by Bashar al-Assad forces  supported by Russia. The aid pledge was made Monday when Erdogan came to Kyiv for a day long visit, reports Middle East Monitor.
Ukrainian labor migrants to Poland increasingly are younger, picky about the work they do, and in command of rudimentary Polish. Of the migrants, 29% are under 36 years of age, and most of these come right after graduation, according to a joint study by the Warsaw University's Center for East European Studies and the Center for Migrant Support in the Labor Market EWL. Men account for 60% and the portion of non-Polish speakers has fallen to 21%. As summarized by Ukrainska Pravda, the portion willing to work for Poland's minimum wage has plummeted, from 40% in 2018 to 6% last year.
The number of foreigners visiting Ukraine hit 27.3 million in 2019, more than double the 13 million who visited in 2014. The State Border Guard Service reports that 20% of last year's visitors came to Ukraine by airplane. Last year, increases were registered for visitors from: Austria, the Baltics, Britain, Germany, and Sweden. Visitors from Russia dropped by 7%.
UIA, Ukraine's flagship carrier, carried nearly 8 million passengers last year, 0.6% less than in 2018. The number of UIA flights was down 4.6%, which means that planes flew, on average, with 82% of seats filled. Half of all passengers were in transit. The airline's best growth areas were: charter flights +15%, and long haul international flights +10%.
From the Editor: Blink your eyes and in four years, Ukraine will be Estonia-on-the-Dnipro. Undoubtedly, some reactionaries will wax nostalgic for the plodding bureaucracy and document shuffling of 2019. But most of us will appreciate the fact that Ukraine's new government thinks 2020s, not 1980s. An Estonian diplomat in Kyiv tells me Ukraine is leapfrogging ahead of Estonia. E-Estonia was designed in the 2010s for laptops. E-Ukraine is being designed in the 2020s for smartphones. With Best Regards, Jim Brooke jbrooke@ubn.news