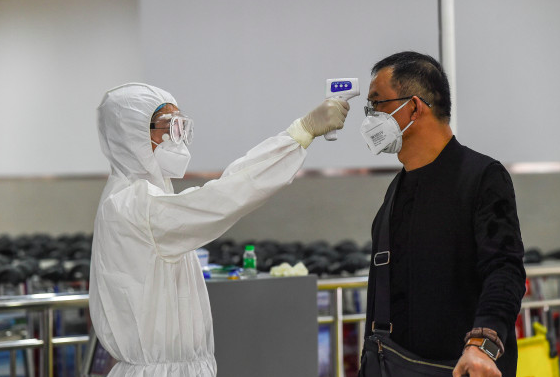 Friday, February 28
Coronavirus hits Italy Travel, Corn Prices...Fast Track Visas for IT Workers...UZ to Build EU Gauge Tracks...Poll: Most Ukrainians Oppose Farm Land Market...Ukrspyrt Alcohol Sales up 62%....New Eco-Platform to Protect Environment….Online tool to Complain About Roads..
In a slap to Italy, Ukrainians should refrain from traveling to EU countries with confirmed cases of coronavirus transmission, Deputy Minister of Health Viktor Lyashko said Thursday. Italy has 650 confirmed cases, largely in Milan's Lombardy region, where schools and movie theaters are closed, and in Venice, where carnival has been cancelled. UIA has flights from Boryspil to both cities. Lyashko said: "While the new coronavirus spreads in the EU, people should refrain from traveling to countries where cases of internal transmission have been confirmed in order to protect their health and prevent the coronavirus spread from entering Ukraine."
Ukraine has no direct flights to the four other centers of the virus: China, Iran, Japan and South Korea. At Boryspil and other airports, health workers are checking 75,000 travelers arriving on international flights every day, Lyashko said.
Coronavirus is eroding the price of Ukrainian corn as demand declines in China, Liga Business reports. Yesterday, Timofey Milovanov, Minister of Economic Development, Trade and Agriculture, predicted there would be "little impact" on Ukraine's economy.
Ukraine will establish a special migration system for highly qualified IT specialists, says Alexander Bornyakov, Deputy Minister of Digital Transformation. Qualified newcomers will find it easier to obtain a permanent residence permit and to apply for a work permit which grants expats rights similar to those of Ukrainians. As Ukraine's IT companies grapple with a labor shortage, they recruit from Belarus, Moldova and Kazakhstan.
Of the world's top 100 IT outsourcing service companies, 21 are either Ukrainian companies or have large offices in Ukraine, according to the New York-based International Association of Outsourcing Professionals. Last year, 18 Ukrainian companies made the list.
Ukrainian Railways is to start building euro-gauge track this year from Lviv to the Polish border, announced UZ's investment chief Anton Sabolevsky.In the first 10 months of 2019, the company carried almost half a million passengers to the EU.
Ukrainians heavily oppose the creation of a market for farm land, according to a poll by Kyiv International Institute of Sociology. 62% of respondents say they would vote against the creation of a land market, while just 15% said they would support it. The current bill in the Rada would limit sales to Ukrainians, with a maximum holding set at 10,000 hectares. A national referendum would be needed to approve sales to foreigners.
The government is talking with large investors interested in manufacturing electric cars here, reports Interfax-Ukraine. "An investor who intends to build an electric car factory and create jobs is here. Ukrainian electric cars are arriving. We need to eliminate pro-import conditions such as zero excise tax and zero VAT and stimulate a national producer," said Deputy Energy Minister Oleksiy Riabchyn.
Ukraine's "affordable loans 5-7-9" program will be partially backed by state's Entrepreneurship Development Fund starting in March, helping reach potential borrowers previously unable to participate due to a lack of collateral, reports the Ministry of Finance. Loans are capped at $61,000. Under the program's new stage, the government will partially compensate borrowers' interest payments.
Alcohol sales by state-owned Ukrsyirt were up 62% year-over-year in January, the company reports. Company director Serhiy Bleskun attributes this to "the preparation of the state enterprise for privatization and our common struggle against illegal alcohol."
Ukraine's anti-monopoly agency reports that it has approved the concession tender deal between Qatar's Qterminals and Olvia port.
The Ministry of Energy and Environmental Protection will launch a new "eco-platform" which will centralize and digitize all data to create a transparent process for accessing natural resources, says ministry head Alexei Orzhel. The project is aimed at reducing illegal logging, fishing, and subsoil use. These cause the state to lose up to $40 million yearly.
State roads agency Ukravtodor launches an online tool where citizens can complain in real-time about potholes through an interactive map. Vadim Goryushko, the state-owned company's communications director, tells Ukrinform: "upload a photo of the problem (pits, potholes, piles of garbage, etc.) onto a map with specific geolocation. Ukravtodor will respond to this complaint and provide prompt information on its resolution."
Naftogaz is talking with foreign companies to create joint ventures for managing drilling groups. Company CEO Andriy Kobolyev says: "We are currently at a relatively advanced stage of negotiations with two large Western drilling service providers who are interested in creating a joint venture with us that will manage all our machines."
Farmak, the Ukrainian pharmaceuticals manufacturer, increased its exports to over 22% of total sales in 2019, said company head Volodymyr Kostiuk. He complains to Interfax-Ukraine that the pharmaceutical industry exports to 28 countries around the world, including some of the largest western markets, but the sector is not in Ukraine's export development strategy.
Sergei Glushchenko is a new Deputy Minister of Development of Economics, Trade and Agriculture. Previously, he worked for the World Bank's International Financial Corporation and in Azerbaijan, Armenia, Belarus, and Kyrgyzstan.