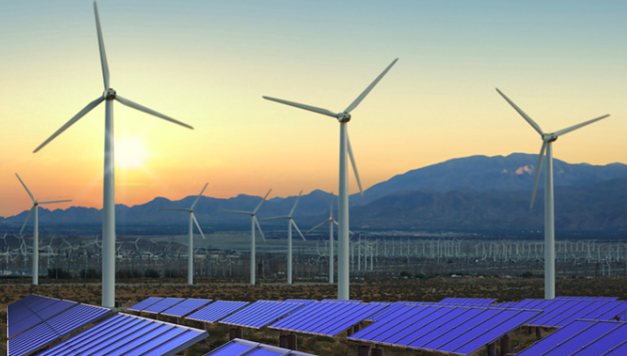 DTEK Renewables is starting work on a €200, 240MW solar polar plant near Nikopol, only a few kilometers from a site where the company inaugurated a 200 MW solar station last month. Construction this summer is to create 1,000 jobs.
The new solar station is part of a plan by Rinat Akhmetov's DTEK to invest €1 billion in renewables in Ukraine by the end of this year. Already Ukraine's largest wind power producer, DTEK is building an additional 300 MW of wind power generating capacity at two sites on the coast of the Sea of Azov. To get Ukraine's high feed in tariffs, renewable projects have to be commissioned by Dec. 31.
Philipp Leckebusch, DTEK Renewables new CEO, signed a contract with Siemens to build the new solar plant on the site of a former manganese mine, in Pokrov, Dnipropetrovsk. Leckebusch flew to China, to sign a contract with Risen Energy Co. for the supply of 874,000 solar modules, or panels. Hailing the deal, Zhao Zelin, Risen's vice president for sales, said: "Risen Energy plans to continuously drive the transformation of the Ukrainian energy market." Leckebusch, a German, said the new plant, called Pokrovskaya, will produce enough power for 200,000 households.
Canada's Black Iron Inc has signed a memorandum of understanding with Glencore, the Anglo-Swiss mining giant, to finance and develop Shymanivske iron ore deposits in Dnipropetrovsk. One of the world's largest iron deposits, Shymanivske has an estimated 833 million tons of reserves, with ore grading at 32% iron. The nonbinding memorandum contemplates Glencore funding all or part of construction in return for iron. A first phase envisages $436 million investment to produce 4 million tons of iron a year. Black Iron's CEO Matt Simpson says: "I am pleased to welcome Glencore as an external investor for the construction of the Shimanivske project, as well as their agreement to work with us to provide additional funding."
After Wednesday's announcement, the Canadian junior's shares jumped on the Toronto Stock Exchange by over 35%, prompting Mining.com news site to the headline: "Black Iron's shares skyrocket after inking MOU with Glencore on Ukraine iron ore project." In Kyiv, Concorde Capital's Dmytro Khoroshun writes: "If the Shymanivske project is realized, even after many years of uncertainties, it would be positive for Ukraine's investment image, especially if one of the equity partners is Glencore. Nevertheless, we are cautious because one of the main reasons for the long uncertainty with Shymanivske was the situation on the iron ore market, and the iron ore price volatility is unlikely to go away."
Washington sees Poland as a future hub for re-export of American liquefied natural gas to Ukraine and Eastern Europe, Georgette Mosbacher, US Ambassador to Poland, told a conference in Warsaw on LNG and the countries of the EU's Eastern Partnership. She said next year the US will export 120 billion cubic meters a year, about 30% of world LNG. Poland is expanding its three-year-old LNG terminal at Świnoujście, on the German-Polish border. In four years, Poland plans to stop importing gas from Russia. Referring to Poland's plan to "become a regional gas hub," Mosbacher said: "I support this fantastic initiative of Poland and Ukraine."
In the Russia-controlled sections of Donetsk and Luhansk, "27% of the Donbas industrial potential has been illegally moved to Russia, including the equipment of 33 local industrial giants," President Poroshenko said Wednesday at a speech at the United Nations General Assembly. He said that over the last five years UN agencies have spent $460 million to alleviate the human impact. But the control line area "according to the UN, has already become the most mine-contaminated stretches of land in the world."
Ukraine's food exports to the United Arab Emirates hit almost $200 million last year, Olha Trofimtseva, Acting Agrarian Policy, and Food Minister, said in Dubai at the Gulfood exhibition. The number of Ukrainian companies participating in the fair more than doubled this year, to 69, she tells Ukrinform. Ukraine largely exports sunflower oil, milk, honey, and eggs to the UAE. With a population of 9.5 million people and a per capita income of $42,000, the Emirates import almost all their food. After signing an agricultural cooperation deal, Trofimtseva said: "Ukraine intends to become a strategic partner of the UAE to ensure food security of this country."
Next month, Ukraine will mount a pavilion for the first time at Asia's leading food exhibition, FOODEX Japan, in Tokyo. The pavilion will display products of 13 manufacturers, reports Ukraine's Agrarian Policy ministry.
In the last five years, the volume trade handled by Mariupol port dropped by almost two thirds, to 5.3 million tons. The number of countries receiving cargo from the Sea of Azov port dropped by more than half, to 24, reports the Center for Transportation Strategies. Metals accounted for 90% of last year's exports, going to 21 nations. On the import side, the biggest shipper was the United States, sending coal, followed by Turkey. Because Russia built the Kerch Strait bridge too low, Port Director Oleksandr Oleinik says, Mariupol lost an annual contract to ship 1 million tons of pig iron to the US and to ship up to 500,000 tons to Southeast Asia.
Euromoney Magazine speculates in a lengthy article about PrivatBank and Ukraine's presidential elections that Ihor Kolomoiskyi's post-election strategy might not be to retake control of the bank but to have the government stop suing him to recover bank assets. "They couldn't give Privat back to him," author Lucy Fitzgeorge-Parker quotes 'a senior banker' saying. "There would be an international outcry. It would be tantamount to branding Ukraine as a rogue state."
PrivatBank had to be nationalized in Dec. 2016, because it was insolvent, Kateryna Rozhkova, first deputy chairman of the National Bank of Ukraine, tells Novoe Vremya. "It was impossible to shut down because then we would have crippled the entire financial system of the country," she said. Since the government takeover, the central bank has won 22 lawsuits, stipulating the return of $43 million in the mortgaged property. After the government intervention, a forensic audit by concluded that "PrivatBank was subjected to a large scale and coordinated fraud over at least a 10-year period ending December 2016, which resulted in the Bank suffering a loss of at least USD 5.5 billion." The report stated that 95% of corporate lending had been to bank shareholders.