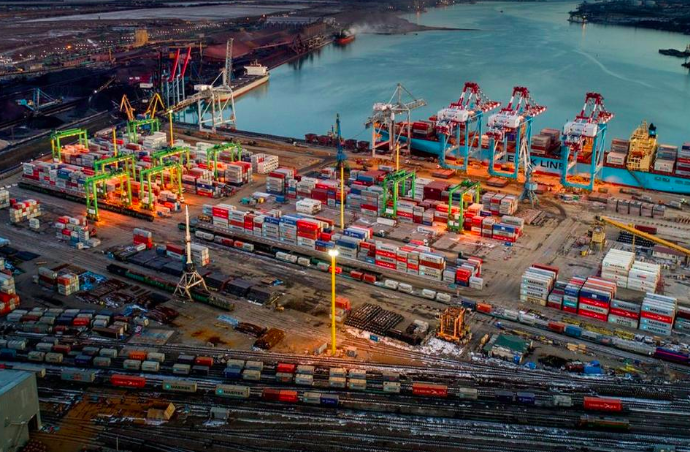 Friday, February 14
Dubai's DP World Buys Control of Black Sea Container Terminal...Bank Profits Triple...Kyiv Boryspil Was Europe's Fastest Growing Big Airport in 2019...Kherson Airport Comes Alive...With Coronavirus Cutting Cargo Flights From China, AliExpress Addicts Face Cold Turkey
Dubai's DP World, one of the world's largest port operators, is buying control of TIS Container Terminal in Pivdennii, Ukraine's deepest and busiest Black Sea port. "The container terminal has entered the world's largest group, which means it will gain access to innovations, IT solutions, expertise," Andriy Stavnitser, co-owner and CEO of TIS wrote yesterday on his Facebook page. He did not disclose the value on the investment.
Opened 12 years ago in Pivdennii, 45 km east of Odesa city, the terminal feeds 15 container trains leaving every week for Chernihiv, Dnipro, Kharkiv, Kyiv and Ternopil. Last year, TIS increased its container handling 75%, to 220,000. Overall, Ukraine handled 1 million containers, up 18% from 2018. By contrast, DP World handled 71 million containers.
DP World CEO and Group Chairman Sultan Ahmed Bin Sulayem, said of his company's investment: "We are pleased to expand our presence in Ukraine. DP World praises the growth potential of the TIS Container Terminal…Our strategic partnership will enable the TIS Container Terminal to strengthen its position on the sea map of the world."
Legal advice was provided by CMS Cameron McKenna Nabarro Olswang in Kyiv. Graham Conlon, managing partner of the Kyiv office, said: "This is the third major joint venture transaction on which we CMS have advised our client in recent times – and certainly one of the highest-profile port infrastructure transactions in Ukraine."
Separately last month, Qatar's QTerminals won a 35-year concession to operate Mykolaiv's Olvia port. Neville Bisset, QTerminals CEO, says his company plans to invest $25 million a year for five years to convert the port into a major grain hub. Facing each other across 400 km of the Arabian Gulf, Qatar and Dubai are rivals and do not have diplomatic relations.
Bank profits nearly tripled last year, hitting $2.5 billion, Kateryna Rozhkova, first deputy governor of the National Bank of Ukraine, writes on Facebook. "A new historic record," she writes. ""I will disappoint critics that these are not super-profits of state-owned banks from government bonds. This is the real profit of the banking sector. If you look at the interest income of state-owned banks, the government bonds invested are only 12%."
Looking at return on equity, Rozhkova says Ukraine's ratio of 34.2% outperformed the region. The European average was 7%. In neighboring countries: Hungary – 18%; Romania – 17%; and the Czech Republic – 16%.
With interest rates dropping, big profits won't last. Rozhkova warns: "Will there always be such high returns? No, due to the slowdown in inflation, interest rates will be reduced and therefore the banks' interest margins will be reduced."
Ukraine's top most profitable banks last year were: PrivatBank – $1.3 billion; Raiffeisen Bank Aval – $195 million; FUIB – $107 million;  Ukrsibbank – $106 million;  and OTP Bank – $104 million. Of Ukraine's 75 operating banks, 69 were profitable in 2019.
This year, The central bank plans to conduct stress tests on 16 banks, down from 29 in 2019. The banks are: Savings Bank, Alfa Bank, Ukreximbank, FUIB, Universal Bank, Southern Bank, Tascombank, Megabank, A-Bank, Sberbank, Credit Bank Dnipro, Bank Vostok, MTB Bank, Investment Bank , Pravex Bank, and Forward Bank.
Kyiv Boryspil was Europe's fastest growing major airport last year, ACI Europe, the European airport trade association, reports from Brussels. Growing by 21.1%, Boryspil was the fastest growing airport with more than 10 million passengers of the 46 European area airports tracked by the association.
By contrast, passenger traffic at EU airports increased by 3.3% last year, down sharply 5.4% in 2018. At non-EU European airports, passenger traffic growth dropped by almost two thirds, to 3% in 2019. In its report, the Council cited "impressive growth posted by airports in Ukraine +22.3%."
Kharkiv, with 40% passenger growth, and Lviv, with 39% growth, should have been placed 4th and 5th in the ranking of airports handling less than 5 million passengers. It is not clear why they were omitted.
As Wizz Air and Ryanair duel across Ukraine for passengers, Wizz Air representatives will inspect Kherson airport next week, the only Ukraine airport where Wizz Air does not compete with Ryanair. Vitaliy Kucheruk, Kherson airport director tells Uvidpustku that he expects Wizz Air to start flights in late spring. Located 125 northwest of the line of control with Crimea, Kherson airport draws passengers from the Russia-controlled peninsula.
From Kherson, Ryanair recently started flights to Katowice and Krakow. Next month, Lauda, a Ryanair unit, starts flights to Vienna. Ryanair plans to carry 100,000 passengers from Kherson this year, Chiara Ravara, the airlines marketing director, tells the Center for Transportation Strategies. Ukraine's eight largest airport, Kherson is expected to increase its passenger flow from 150,000 last year to 200,000 this year.
After Wizz Air announced a 6-week suspension of service to Odesa due to the airport's slow motion runway work, Ryanair Airlines jumped in yesterday, announcing 'rescue rates' for Wizz Air passengers. During Wizz Air's April 26-June 5 suspension, Ryanair will offer €20 to €28 tickets on flights to all of Wizz Air's destinations from Odesa: Berlin, Budapest, Gdansk, Katowice, and Wroclaw. It is unclear why Ryanair can fly out of Odesa and Wizz Air cannot.
'European integration offices' are to open in all regions of Ukraine, with the pilot office opening in May in Kherson, Dmytro Kuleba, vice prime minister for European and Euro-Atlantic Integration, said Thursday in Kharkiv. Funded with a mix of government and EU money, "the offices will be set up to attract investment and promote European values ​​at the regional level and provide training," reports Ukrinform.
Foreign tourism to Kyiv grew 5% y-o-y in 2019, to two million people, according to the city's Tourism and Promotion Office. Last year, tourism tax revenues doubled, to $2.5 million. Early last year, Kyiv started to implement a new national law extending lodging taxes paying guests staying at private residences, a measure aimed at Airbnb.
Due to the coronavirus outbreak, Kyiv will not participate in the mid-May China Travel Trade Show in Shanghai. Instead, Kyiv will participate in the Arabian Travel Market in Dubai, from April 19 to 22.
With coronavirus prompting air cargo flight cancellations, Ukrposhta has stopped delivering packages to China. Packages from China still arrive, but with delays. During the first three quarters of last year, Ukrposhta delivered more than 20 million parcels from China. Ukrainian orders through AliExpress grew by 70%, making Ukraine the second fastest growing market for the Chinese online merchandiser. Last year, Ukraine became one of top 10 markets in the world for AliExpress.
From the Editor: Gentlemen: Hurry to the florist this morning! Today is Valentine's Day!  With Best Regards, Jim Brooke jbrooke@ubn.news