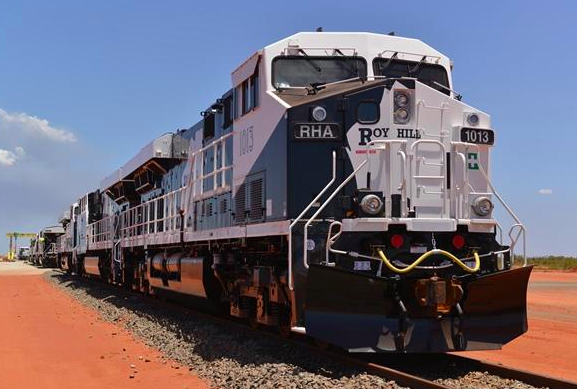 Friday, December 6
Private Freight Trains To Roll... EIB to Finance Kharkiv Metro Expansion...New HR System for Civil Servants…Credit Fund for Small Farmers to Buy Land…Naftogaz May Take Gas for Debt...Kernel Sunflower Oil Plant…Starting Sunday: Nationalists Vow Maidan Encampment
The Cabinet of Ministers approves a plan to start a pilot project for the use of private locomotives on selected routes, official sources report. The project is aimed a testing new rules and opportunities for private freight trains. Companies are not now allowed to use their own locomotives on main routes. All track is controlled by state-owned Ukrainian Railways.
Alexander Paraschiy of Concorde Capital writes: "It might take a couple of years for this pilot project to reach a full liberalization of the locomotive market. Such liberalization could bring some positives for Ukrainian Railways in the short term, but will definitely be risky for the company in the long term."
Ukrainian Railways launches a competition to pick an insurance provider for passenger accident insurance, reports the company's press service. Interested companies can apply online until Dec.18.
The Rada ratifies an agreement with the European Investment Bank on the financing of metro projects in Kharkiv. Earlier this year, Kharkiv and the EIB signed an agreement to provide a €160 million loan with a repayment period of 25 years. "The project envisages the construction of a new section of the third metro line with two stations: Derzhavinskaya and Odeska, as well as the Oleksiivske station (with a connecting branch to the third metro line), which will reduce trip times from downtown to the south districts. The acquisition of new rolling stock is also planned."
Germany grants 90,000 transit permits to Ukrainian carriers for 2020, which is 12%  more than in 2019, reports Ukraine's Infrastructure Ministry. Germany also will allocate 2,000 permits for transport vehicles that meet the special Euro 4 and 5 criteria.
Ukraine launches a test version of ProClick, a centralized human resource management system covering over 200,000 civil servants, Prime Minister Honcharuk writes on Facebook. He says: "ProClick will replace a lot of cumbersome procedures and automate many things." The Finance Ministry and Digital Transformation Ministry will collaborate on the new project. Next year, all civil servants are to work under this system.
A European Business Association study shows Ukrainian businesses view Ukraine's tax system negatively. Only 18% of respondents evaluate the tax reporting and tax administration process positively. Of respondents, 33% find the process burdensome.
The Rada passes legislation aimed at boosting transparency in the real estate industry and eliminating corruption schemes. Starting in January, the government will introduce a new system for real estate appraisal which gives notaries the right to access a centralized database to verify property ownership.
With a private farmland market to start next October, the government is setting up a private credit fund for small agricultural producers so they can obtain cheap credit to buy land, according to the Finance Ministry. The goal is to "promote equal opportunities for agricultural producers while opening access to credit for the purpose of acquiring agricultural land."
Naftogaz may accept gas for debt payment from Russia's Gazprom, Oleksiy Orzhel, Energy and Environment Minister, tells Channel 24. "We are in a constructive position. We need to recover $3 billion. Let's see what the timelines are and evaluate the possible options … We are ready to consider any offers," he said. Naftogaz is demanding asset seizures from Gazprom in Switzerland, the United Kingdom, the Netherlands, and Luxembourg. Hearings in Amsterdam on the enforcement of the Stockholm Arbitral Tribunal ended Wednesday. A ruling is expected Feb. 25.
EU-Ukraine-Russia gas meeting may take place next week, Russian Energy Minister Alexander Novak told reporters at a press conference.
Ukraine's central bank purchased $867.8 million in November to boost its foreign currency reserves, according to the NBU.
Kernel buys sunflower oil plant belonging to the Hellas oil extraction plant in Kropyvnytskyi, which the company has already been operating since 2016 under an agreement. "The plant has processing capacity of 274,000 tons of sunflower seeds per year, the purchase price is equivalent to $21 million," the company announced. Kernel is the world's largest producer and exporter of sunflower oil completing FY2019 with a net profit of $179 million.
The Commercial Court of Kyiv reverses a decision made by the Antimonopoly Committee of Ukraine on April 25, to impose a $2 million fine on TAS group. TAS, a holding company with businesses in finance, heavy industry, and real estate allegedly had violated economic competition laws when it purchased a controlling stake in Dneprometiz, a metal hardware manufacturing company.
The Rada approves the new EU agreement increasing poultry export quotas. Ukraine ranks third among poultry exporters to the EU, behind Thailand and Brazil. In 2018, Ukraine exported 51,000 tons of poultry products to the EU or 7.6% of the total EU meat imports of poultry.
Ukraine's central bank allows international money services company PayRun to enter the market, according to a National Bank of Ukraine press release.
Nationalist forces say they plan to start a "Maidan-style" protest on Sunday, according to wz.lviv.ua website. The Movement to Resist Capitulation announced a "Guard on Bankova" demonstration, issuing calls on social media for the public to bring supplies such as tents and food.