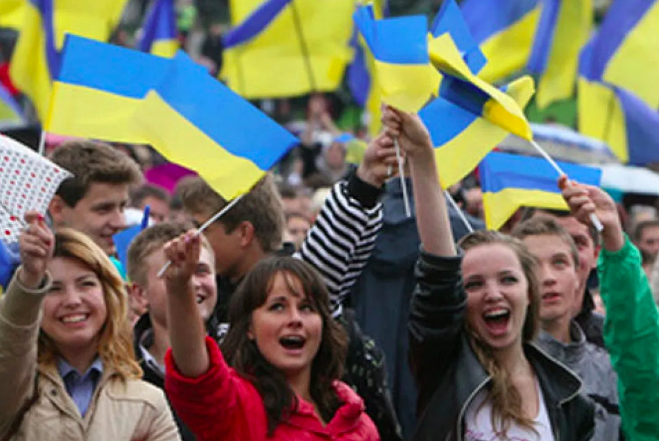 Friday, December 27
Poll: Optimism Outbreaks Detected Across Ukraine...Battling Mighty Hryvnia, Central Bank Makes Biggest Dollar Buy of the Year...Outgoing US Ambassador Cites Western Investor Interest in Motor Sich and 2020 Privatizations...Chinese Buy Into Odesa Port...Euro Banks to Loan Ukrposhta $100 Million
Ukrainians' optimism about their country's future has hit a 15-year high, according to a nationwide poll released yesterday by the Ilko Kucheriv Democratic Initiatives Foundation. For the first time since June 2005, more Ukrainians – 44% — believe the country is heading in the right direction than think the country is headed in the wrong direction – 36%. In June 2005, the last time optimists outnumbered pessimists, the ratio was 42% – 31%. One year ago, 70% of respondents to the same poll said the country was going in the wrong direction.
Eight months after winning the second round of the presidential election, Zelenskiy enjoys the trust of 62% of respondents. This approval rating should further grow after a Russia-Ukraine prisoner release scheduled for Sunday. In a separate survey, released Monday by Rating Group Ukraine, respondents chose the September prisoner release as 'the event of the year.'
Looking at 2020, 52% of Thursday's poll respondents believe the hryvnia will remain stable and 47% believe that investments will grow. Looking beyond, 38% of Thursday's poll respondents believe that Ukraine's economy and their family's finances will improve through 2022. In conclusion, the Ilko Kucheriv pollsters write: "The main feelings people think about the future of Ukraine are hope (56%), optimism (38%) and anxiety (26%)." 
Trying to break the hryvnia's rise, the central bank bought $700 million worth of foreign exchange on Thursday – its largest purchase of the year. In one day, the National Bank of Ukraine bought the equivalent of 10% of all currency bought to date, raising net purchases to $7.5 billion. The operation succeeded in weakening the hryvnia by three kopiyok, to today's rate of 23.29 to the dollar.
Oleg Churiy, first deputy governor of the central bank, writes on the NBU Facebook page: "Strengthening of the hryvnia is a completely logical phenomenon in the context of accelerated economic growth, a rapid slowdown in inflation. and a decline in government debt to GDP. Taking advantage of the favorable situation, the National Bank continues to replenish international reserves."
With yields depressed and tenors short, investors bought the dollar equivalent of $228 million in Ukraine treasuries at Tuesday's auction – slightly less than half the amount of one week earlier.
For 2-year dollar-denominated bonds, investors bought $100 million worth, accepting a 3.86% interest rate, 22 bps below three weeks earlier. For hryvnia denominated bonds, investors accepted a weighted average interest rate of 11.75% for 6-month bonds, and 11% for 3-year bonds.
Concorde Capital's Evgeniya Akhtyrko writes: "Apparently, the last auction of 2019 occurred with minimal or no participation of non-resident investors, who have been the most active buyers of UAH-denominated bonds with terms of maturity exceeding three years in recent months."
Western companies are showing serious interest in buying into Motor Sich, the aircraft motor factory, in 2020, outgoing acting US Ambassador William B. Taylor Jr. told a group of journalists Thursday in a farewell interview. "They are looking for investors," he said of Motor Sich which is an acquisition target for two Chinese companies. "There are a couple of investors — American and others — who are very interested. They're doing some due diligence, checking balance sheets, visiting the plant, talking to the owners. They're doing some serious evaluation."
Noting that 55% of prosecutors recently failed a vetting process, Taylor stressed that creating a rule of law is fundamental for Ukraine to attract Western investment. "As the evidence builds that there is a change in the investment climate, based on more respect for the rule of law, courts, judges, prosecutors, that will encourage people to come," he said Thursday.  When investors look for other opportunities, they look around the world and don't see all that many attractive places. Ukraine could be a very attractive place to invest — a big population — the privatization could be very exciting."
In 2020, at least 300 'small and medium' state companies are to be auctioned on ProZorro.Sales, Dmitry Sennichenko, head of the State Property Fund, tells LB.ua. In advance, information on 500 companies are being uploaded on the Property Fund website. In addition, the Fund plans to auction up to five 'big' companies, notably Kyiv's President Hotel, Krasnolimanska, and Odesa Port Plant. The national budget forecasts earnings of $500 million through sales of state companies in 2020.
Hong Kong's China Merchants Port is to buy the stakes of France's CMA CGM in Odesa's container terminal and nine other ports around the world. Valued at nearly $1 billion, the deal is to close this spring. Based in Marseille, CMA CGM S.A. is one of the world's top five container transportation and shipping companies.
Ukrposhta is preparing to launch 500 mobile post offices in a program to be financed largely by a $100 million loan from "leading European banks," Ihor Smilianskyi, general director of the state postal service, tells the Center for Transportation Strategies. Separately, Ukrposhta is to increase its capital investment program in 2020 18-fold, to $70 million. The money is to go to IT and to the start of the construction of seven new sorting centers across the nation.
Revenue is to be boosted by about $10 million from rentals or sales sale of surplus postal property. In addition, Ukrposhta's goal is to increase parcel handling in 2020 by 30-40%. If the Rada votes this winter to allow Ukrposhta to operate a European-style postal bank, Ukrposhta would start opening accounts this fall. Smilianskyi says this would earn the post office $85 million a year and draw into the banking system the one-third of the population that are 'unbanked."
In 2020, the government plans to implement 10 public-private concession projects, largely in infrastructure, said Yulia Svyrydenko, Deputy Economy Minister. Addressing a public-private partnership conference in Kyiv, she said international tenders are underway for two projects – Kherson seaport and Olvia port stevedoring.
Tourist visitors to Lviv fell by 10% last year, to 2.5 million, reports the city's Tourism Department. As Ukrainians visited new destinations in the EU, the foreign portion of visitors to Lviv rose to 63%. With direct flights to 25 EU cities, the portion of visitors arriving by plane increased to 31%. Other modes were: train – 48%; car –11.8%; and bus – 11.6%. Top foreign groups were: Poland — 18.3%; Belarus – 6.6%; Turkey – 6.2%; Germany – 5.4%; and UK – 3%.
From the Editor: As any retailer will tell you, consumer confidence moves goods off the shelves. Feel good can also prompt dithering foreign investors to make their move. If all goes to plan, Ukrainians should get a lot of feel good this Sunday – the release of 'all' prisoners in the Donbas and an $18 billion gas transit pact with Russia that should last the Zelenskiy presidency. With best regards, Jim Brooke jbrooke@ubn.news