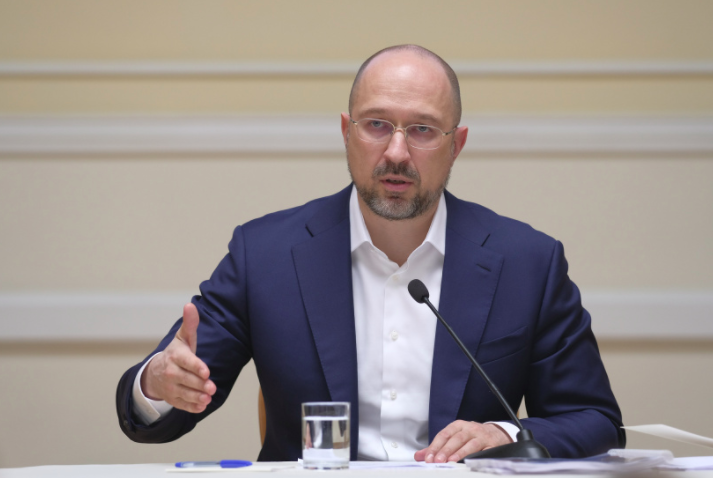 Friday, December 11
Ukraine Wants to Supply Hydrogen to Germany…Germany: Get Straight With Solar and Wind…Russia and Ukraine Fight over Helicopters and Planes…€22 Million Planned for International Schools in Kyiv's UNIT.City…UIA, Windrose Plan Flights to New York
With its East-West gas pipelines, Ukraine would like to become a major supplier of hydrogen to Germany, Prime Minister Denys Shmyhal said Tuesday at the first German-Ukrainian Energy Day. "The development of hydrogen energy is a priority for Ukraine," he said, alluding to the fast growing energy source. "It is an opportunity to use the existing potential of green energy and attract investments in the development of a green economy."
Anka Feldhusen, Germany's ambassador and host of the event, cautioned that Ukraine should first pay its $1 billion debt to wind and solar producers. One of 11 ambassadors to send a letter last month to Shmyhal about the mounting debt, Feldhusen said diplomatically:  "I would not want Ukraine to lose its attractiveness to foreign investors because of this story."
In Ukraine, DTEK is the pioneer in the hydrogen energy field, becoming Ukraine's first company to join Hydrogen Europe, an association where European leaders exchange strategies and forge partnerships in hydrogen technologies. Emanuele Volpe, DTEK's Chief Innovation Officer, said at the conference: "DTEK plans to launch a local hydrogen pilot project that will act as a catalyst for gradual development of the sector and accelerate the introduction of regulatory, technical, commercial, and logistics measures required to give a boost to the industry."
Ukraine's central bank decided yesterday to keep the prime interest rate at 6%, the level unchanged since June. Although inflation in November rose to 3.8%, the National Bank of Ukraine does not see it as an immediate threat. "Cooperation with the [IMF] remains fundamental for the recovery of Ukraine's economy," wrote a message posted on the bank website. "Financing provided by the IMF and other international partners is crucial for the planned budgetary spending."
In a housecleaning exercise, the Cabinet of Ministers decided Wednesday to transfer 18 enterprises of the UkrOboronProm defense conglomerate to the State Property Fund for privatisation.  With a total value listed at $10 million, the companies are expected to be sold largely for their scrap metal and real estate. Of the 18 companies, 11 no longer function. Five lost a total of $530 million during the first half of this year. A legacy of the Soviet military industrial complex of the 1980s, the list includes such entities as the Vinnytsia Aviation Plant,  the Zakarpattia Helicopter Production Association, and the Lviv Radio Engineering Research Institute.
The Russia-Ukraine military divorce deepened last week after Russian Helicopters accused Ukraine's Motor Sich of performing "illegal" overhauls of Mil Mi-17 helicopters for the Afghan Air Force, reports Moscow's Ria Novosti. The Russians charge that the helicopters were designed and built in Russia and that any overhaul outside of the Russian manufacturer "endangers the lives of the American and Afghan soldiers that are operating these helicopters."
FlightGlobal, a US-based news site, recalls that last year, Ukraine's Antonov sought to seize five An-124 cargo jets operated by Volga-Dnepr because the Russian air cargo company performed life extension modifications on the planes without Antonov's permission or participation.
The Black Sea Trade and Development Bank is extending at 9-year, €10 million loan to the Novopechersk School to build a new campus at Kyiv's UNIT.City, nearly tripling enrolment to 1,200 students. Zoya Litvin, head of Osvitoria, the controlling non-profit association, says the K-12 school "will focus on STEM and IT, sectors that will develop the fastest in the future." Litvin's husband, Vasily Khmelnitsky, is developing UNIT.City as Ukraine's largest hub for IT companies. Built on the 25-hectare grounds of a former motorcycle factory, UNIT.City expects to have 15,000 residents by 2025.
Parents of Kyiv's French school are voting through Wednesday on an 18-month, €12 million project to build a 6,000 square meter unified campus at Unit.City. The project for Lycée Français Anne de Kiev would bring under one roof  750 K-12 students who now are divided among three buildings in central Kyiv and Podil. French government guarantees could cover bonds or loans raised to finance construction.
Ukrainians' spending on foreign travel dropped in half this year, to $4.5 billion from $8.7 billion, Dmitry Sologub, a deputy governor of the National Bank of Ukraine, told reporters yesterday. "It was a significant factor in improving our current account," he said. "Travel companies from March to June did not buy foreign currency at all, then they began to buy, but purchases remained low." He expects foreign travel spending to rebound slowly next year, probably to $5 billion.
Starting March 28, UIA promises to gradually, but "completely restore" its international route network, the airline says in a note posted on its siteyesterday. Ukraine's flag carrier plans to restore 43 international routes, including  flights from Kyiv Boryspil to: New York, Toronto, Cairo, Delhi, Dubai, Jeddah, London Heathrow and London Gatwick, and 22 EU cities. Domestic flights will be operated from Kyiv Boryspil to: Dnipro, Ivano-Frankivsk, Kharkiv, Kherson, Lviv, Odesa and Zaporizhia. MXP) – Kyiv, and Kyiv – Nice (NCE) – Kyiv.
Windrose Airlines has applied to the US Department of Transportation to fly passengers and cargo between Ukraine and New York, reports the US-based aviation news site, One Mile at a Time. The airline, controlled by Ihor Kolomoisky, recently leased an Airbus A330-200, a wide body, two-aisle plane which can seat 400 passengers in three classes.  "The airline will apparently use this A330 for charter services to New York and Hong Kong," writes the news site, citing the US filing. "Windrose further anticipates directly operating ad hoc charters to and from the United States using its own metal."
Passenger traffic at Kyiv Sikorsky through November totalled 670,900 passengers – 18% of the level of the first 11 months of last year. In November, Kyiv's right bank airport handled only 13% the volume of November last year. The airport is on track to finish this year with a passenger volume slightly below 2013.
Editor's Note: Where are you going for Christmas? That was the frequent, almost reflexive question last night at the farewell dinner for Italy's highly competent ambassador, Davide La Cecilia. With the exception of Davide, most of us are not going anywhere. With Kyiv recording a record 1,899 coronavirus cases yesterday and countries throwing up barriers right and left, this will be a winter of hibernation. In a sign of the times, Davide's move to Roma is to take up a post coordinating vaccines. Buona fortuna a te, caro amico! Jim Brooke