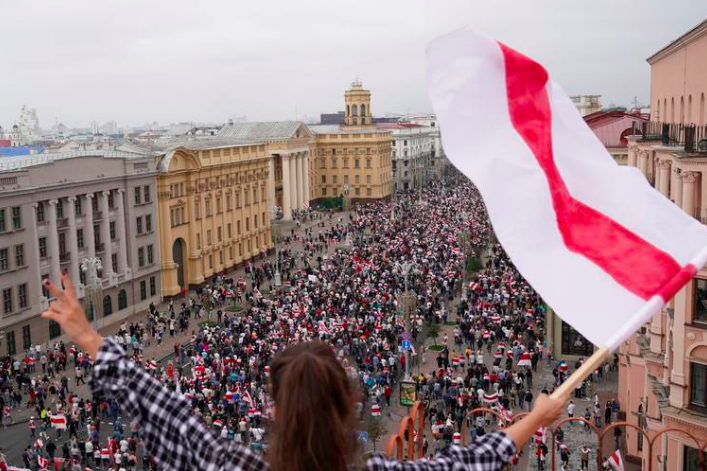 Friday, August 28
Belarus Economic Drop Could Hit Ukraine...US Cybersecurity Expert En Route Ukraine Arrested as Spy for Russia...After 100 Days, Saakashvili Quits Reform Council to Go Home to Georgia...Ze Promises Peace by Christmas...Facing Tonight's Ban on Foreign Travelers, UIA Cuts Flights...
The standoff between Belarus' long-running ruler and mass opposition may soon cripple the finances of Ukraine's northern neighbor and fourth largest trading partner. In the last week, the Belarusian ruble weakened by 8.5%, falling to 2.67 to the dollar. Belarus' foreign currency reserves are down to $4.3 billion –"sufficient to cover just 1.4 months of imports, while three months is considered the minimum," economist Anders Aslund writes in a new Atlantic Council piece: "Belarus Crisis: Can Lukashenka Survive a Collapsing Currency?"
Strikes are affecting three of four key state companies — fertilizer makers Belaruskali and Grodno Azot and oil refineries Naftan and Mozyr. They account for two thirds of Belarus' exports to the West. "A prolonged strike at any of these four state-owned companies would collapse Belarusian export revenues and the Belarusian ruble, bringing Lukashenko to his knees," writes Aslund, a Swedish-American economist with three decades experience in the ex-USSR. "If the currency collapses, the real strife will start."
Ukraine is Belarus' second largest trading partner, after Russia, Dmitry Chervyakov, a consultant with Berlin Economics, tells the Kyiv Post. Last year, Belarus exported $4.1 billion in goods to Ukraine and imported $1.7 billion. Ukraine bought four million tons of diesel and bitumen from Belarus for $2.4 billion and fertilizers for $300 million, largely from Belaruskali, the potash producer. Many of Belarus' imports from Ukraine are transshipped to Russia to skirt bilateral Russia-Ukraine trade bans.
Lithuania is preparing to route Ukraine-bound trucks through eastern Poland if traffic disruptions start in Belarus, Yaroslav Narkevich, Lithuania's Minister of Transport and Communications, tells Russian Railways Partner site. "We intend to discuss with Poland the option of returning our carriers through Poland, bypassing Belarus," he said.  "So far there is no need to redirect the flow of trucks, but we are ready for this." On Aug. 5, four days before the disputed Belarus presidential election, Ukraine's Cabinet of Ministers had approved for Rada debate a liberalization law that would abolish the need for international trucking permits for Belarus-Ukraine trade.
Ukraine has "tightened control" at Ukraine-Belarus border crossings in wake of Lukashenko's charges that Ukraine is trying to destabilize his regime. "We have tightened control at the border with Belarus, since the situation in this country is quite turbulent," Border Guard spokesman Andriy Demchenko told RBK-Ukraine.
Starting Tuesday, Ukrainians can only enter Belarus with a foreign passport, reminds Ukraine's Border Guard Service. A similar rule went into effect six months ago for travel to Russia. The government is trying to phase out the domestic passport paper booklets, which are easy to counterfeit.
In an open letter signed by more than 2,500 Belarusian IT CEOs, investors and developers, democratic normalcy is essential for the future of the industry in Belarus. Otherwise, they warn: "In the near future, we will begin to observe a massive outflow of specialists abroad, the opening of offices in neighboring countries, a slowdown in the growth of the IT sector, a decrease in investment in Belarusian IT companies, and a decrease in tax revenues."
Japanese-owned tech company Rakuten Viber has closed its office last week in Minsk. San Francisco-based Rakuten CEO Djamel Agaoua cited violence against employees in Minsk. Kharkiv and other Ukrainian IT centers are recruiting Belarusian developers to move to Ukraine.
The day before he was to fly to Ukraine, a former US Army Green Beret captain was arrested and accused Friday of spying for Russia for the last 15 years. Peter Rafael Dzibinski Debbins, aged 45, had repeated meeting with Russia's G.RU., or military intelligence, according to the Alexandria, Virginia grand jury indictment posted by The New York Times. By 2010, the Washington Post reports, Debbins had left the Army and was working for a Ukrainian steel manufacturer in Minnesota. Then his Russian intelligence agents encouraged him to get back into government work.
Last spring, Debbins taught a webinar for Ukrainian-American Concordia University. He was billed as an instructor for Cyber Intelligence Initiative of Washington's Institute for World Politics. The course was titled: "How to Approach Enterprise Cybersecurity!" In a congratulatory YouTube video, he urges graduates to have "a hacker's mindset."
Russia's Gamaredon hacking group has prepared "a large coordinated attack on government agencies and critical infrastructure" by sending out email attachments infected with malware, Ukraine's National Security and Defense Council warned last week. The goal may be to disrupt the Oct. 25 local elections. Phony emails were made to look like messages from Ukraine's State Security Service. Council Secretary Oleksiy Danylov warns: "Cyberthreats from the Russian Federation are extremely dangerous for both Ukraine and European countries."
So far this year, one million cases of cyber threats — website attacks, DDoS attacks, phishing and malicious software – have been recorded by the National Coordination Center for Cybersecurity, a unit of the Defense Council. To respond to threats and prevent attacks, the Center is stepping up cooperation with private sector companies. Last month, it signed cooperation agreements with three dozen private foreign and Ukrainian companies.
The Zelenskiy government is tripling the number of state companies protected from privatization – to 659. The Cabinet of Ministers approved the new list Wednesday. It will now go to the Rada. Last year, the Rada abolished a similar list of over 1,000 companied exempt from privatization.
Former Georgian President Mikheil Saakashvili, a major free market force in the Zelenskiy government, announced yesterday that he is returning home to Georgia, reports Georgia Online.  "I know that we can live much cooler, much better, and every Georgian can be rich, and we can do it together!" he says in a video. "I'm coming back!"
Appointed three months ago to serve as chairman of Ukraine's National Reform Council, Saakashvili felt the push of anti-reformers in the Zelenskiy government and the lure of Oct. 31 parliamentary elections in Georgia. Responding to negative reactions, Saakashvili posted on Facebook: "Some of my Ukrainian friends mourn my 'farewell' to Ukraine. I want to tell them: heads up! We will fight both in Georgia and in Ukraine! We will win there and there!"
In Tbilisi, Thea Tsulukiani, Georgia's Justice Minister since 2012, promised to prepare a jail cell for the former president. In 2018, Saakashvili was convicted in absentia in two trials on charges stemming from his decade in office, from 2004 to 2013. The sentences handed down by Tbilisi City Court total nine years. Saakashvili and his supporters say the trials were politically motivated.
President Zelenskiy believes the current one-month-old ceasefire in the Donbas can be extended into a lasting peace by the end of this year. "I want to believe that it will be this year," he tells Eurovnews' Sasha Vakulina in a lengthy video interview. "I really want to believe it, and I DO believe, I do."
Zelenskiy also asks European leaders to spell out the steps for Ukraine to join the EU. "I asked many European leaders this question – what do you want Ukrainians to do, step by step, to become an EU member?" he said in the interview posted Tuesday. Calling on Ukraine to speed up adoption of EU norms, he said: "We just have to become the country that Europe really would want."
Travel companies plan to protest today the ban on incoming foreign travelers. The 1-month ban goes into effect tonight at midnight. Chornobyl tour operators, organizers of medical tourism, the Business Travel Association and owners foreigner friendly night clubs, such as Skybar, Closer and River Port, plan to gather outside the Cabinet of Ministers. Using the hashtag #OpenUkraineNow to coordinate the protest, the Association of Incoming Tour Operators says that after temperature controls started two months ago at airports, there are no known cases of infected tourists entering Ukraine. The ban is on nationals from all countries, not just the 65 countries deemed 'red' by Ukraine's Health Ministry.
Kyiv Boryspil, Ukraine's busiest airport, is installing this week a $37,000 temperature screening system that allows border guards to identify passengers with fever systems as they walk past a stationary camera. "It enables instant, non-contact temperature measurement of passengers from a distance," the State Border Service said of the EU-donated equipment.
Noting that foreigners currently account for 60% of UIA's passengers, UIA said yesterday it is cancelling flights in September between Kyiv and Athens, Barcelona, Berlina, Chisinau, Delhi, Geneva and Madrid. It will reduce frequencies between Kyiv and Brussels, Dusseldorf, Dubai, Istanbul, Paris and Tel Aviv. UIA CEO Yevhen Dykhne says the government ban "will have a negative impact on the aviation industry of Ukraine, which in the absence of any other state support in the crisis caused by the global pandemic, is economically weakened and is in critical condition."
From the Editor: Assuming the US grand jury indictment is true, the Kremlin once again is playing a diabolical game. With one hand, Russia launches cyberattacks against Ukraine. With the other, it sends a compromised American to infiltrate Ukraine's cyber security world.  It all reminds me of the gee whiz stories in the US financial press a decade ago about Eugene Kaspersky. This graduate of a KGB-sponsored technical college, amazingly, had reinvented himself as the CEO of rare Russian multinational. But in 2015, Bloomberg reported "high-level [Kaspersky] managers have left or been fired, their jobs often filled by people with closer ties to Russia's military or intelligence services." US government agencies quietly banned the use of Kaspersky cyber security and anti-virus software. With Best Regards, Jim Brooke