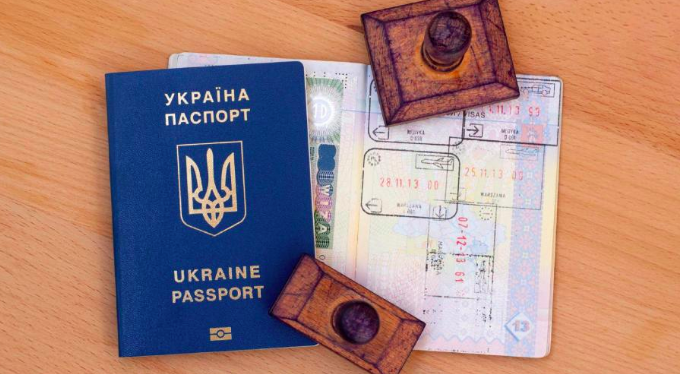 Friday, April 5
 New Trains and Planes to Poland...Ukraine Tops Russia in Black Sea Container Cargo...Ukraine's Danube: Ferry to Romania, Austrian Tourists, and LNG...A River Cruise for the 2020s: Float Through Chornobyl...Next Month: European Cruise Ships Return to Odesa, Come to Kyiv
Starting tonight, customs and passport controls for Kyiv-Warsaw trains will be conducted on the train, at Kyiv's Central Station. Eliminating the border stop at Yagodyn Station, Volyn, is the latest step to streamline travel between Ukraine and Poland. Passengers are asked to board the 19:13 train by 18:45 to have their passports and bags checked on board.
Poland and Ukraine plan to launch a Lviv-Lublin train this summer. Initially, passengers will ride in a Ukrzaliznytsia train to the Lviv border town of Rava-Ruska, and then change to a European gauge Polish train. For most of the 20th century, trains plied the 225 km route, connecting Lviv, the largest city of Western Ukraine, with Lublin, the second largest city of Lesser Poland.
On June 30, Wizz Air starts twice a week, Kyiv Sikorsky-Lublin flight. Today, Wizz Air starts a Kyiv-Kraków flight. With these two new routes, Wizz Air will fly from Kyiv to seven Polish cities.
Ukrzaliznytsya is launching a weekly, 1,400 km, east-west container train from Dniproetrovsk to Sławków, Poland. The freight train takes advantage of Poland's longest broad gauge track, a 1970s-era line that reaches 400 km into southern Poland to Sławków, 50 km west of Kraków.  In Nizhnedneprovsk, the train will collect containers from Ukraine's eastern industrial cities of Zaporizhia, Mariupol, and Nikopol. The train will cut travel time in half, to 40 hours, says Yevhen Kravtsov, chairman of Ukraine's state railroad. The line is the railroad's 19th container train, a fast-growing service.
Dedicated container trains cut train travel times by 70%, Igor Tkachuk, Odesa port chief, tells the Center for Transportation Strategies. From Odesa, port of entry of two-thirds of containers handled by Ukraine's Black Sea ports, container trains now fan out to Dnipro, Ivano Frankivsk, Kharkiv and Kyiv.
"Ukraine ports eye larger share of Asia cargo" headlines The Journal of Commerce, the New York-based shipping and logistics news site. Focusing on competition between Ukraine's Black Sea ports and Russia's port of Novorossiysk, reporter Eugene Gerden writes that since 2017 Ukraine has cuts its container clearing times and fees to half those of Russia. Topping Novorossiysk for the first time, Ukraine's container traffic jumped by 19% last year, to 846,485 TEU. Novorossiysk's container traffic increased by 2.5%, to 754,890 TEU.
Starting April 16, Euro Marine Logistics NV plans to start a twice a month roll on roll off cargo service between Piraeus, Greece and Chornomorsk. Served by an EML vessel, the City of Amsterdam, the route is designed to facilitate the export of new and used cars from the EU to Ukraine. The ship will follow a triangular route around the Black Sea: Piraeus-Chornomorsk-Novorossisk. Based in Belgium, EML is jointly owned by Norway's Höegh Autoliners and Japan's Mitsui O.S.K. Lines.
Cross-Danube ferry service is to start this summer, linking Isaccea, Romania and Orlivka, Ukraine. It will create Odesa region's first border checkpoint with the EU. The 500-meter ferry crossing will replace a 100 km road detour through Moldova's southern tip. On both banks, the roll on roll off facilities are built to handle 250 cars and 1,000 trucks a day. After 20 years of government discussions, a private Ukrainian company built Ukraine's ferry terminal and customs control buildings.  On the Romanian bank, Navrom SA Galati built the terminal at a cost of €12 million, reports Romania Libera. To promote trade, local residents are to be allowed to cross without passports and circulate freely within 30 km of the ferry docks.
Reni, Ukraine's northernmost port on the Danube, is planning to build an LNG terminal and floating berth for bunkering, or fueling, river ships, reports the local branch of the Sea Ports Authority. To cut emissions by riverboats, the EU encourages natural gas-powered vessels. Reni is five kilometers south of the Moldovan border, and about 150 kilometers upriver from the Black Sea. By 2025, ExxonMobil and other multinationals plan to double Romania's annual gas production — to 20 billion cubic meters — by developing gas fields on the continental shelf of the Black Sea. Ukraine's Sea Ports Authority is looking for investors to build the LNG terminal by 2025.
Ukraine's Danube River cruise season opened this week with the docking of the Victoria on Monday in Ust-Dinaisk, Vylkove, a Danube delta city of canals sometimes called 'Ukraine's Venice.' The local port authority reports: "There are 140 tourists on board who arrived in the Ukrainian Venice from Austria." This season, 40 Danube cruise ships are expected to call at Ust-Dunaisk, an increase over 2018. Last year, cruise ship visitors hit 5,338, an 18% rise over 2017.
Floating through the Chornobyl exclusion zone on the Pripyat river would be the lure of a Mazyr, Belarus-Kyiv boat trip now being negotiated by Belarusian Shipping Company OJSC and Ukraine's River Ports Administration. "Fleet, terms, and mechanisms for selling tickets are now being discussed," Alexei Gerashchenko, the Infrastructure Ministry's top official for river transport, tells the Center for Strategic Technologies. About one-third of the 250 km, 10-hour cruise would pass through Chornobyl, now a wilderness considered safe for short term visits.
After dropping to zero last year, two European cruise ships return to Odesa this summer. On May 10, the Maltese-flag Aegean Odyssey is to call at Odesa, bringing 380 passengers. This fall, on Oct. 30, the Bahamian-flag Amera is to call with 800 passengers. In 2013, the modern peak, 106 cruise ships called at Odesa. Russia's attacks on Ukraine killed the business, followed by sanctions rendering off limits the two cruise ports of call in Crimea – Yalta, and Sevastopol.
A turnaround is coming with nine cruise ships booked for 2020, Igor Tkachuk, Odesa port director, tells the Center for Transportation Strategies. His boss, Infrastructure Minister Volodymyr Omelyan tells Black Sea News: "I recently returned from negotiations with large Arab companies [in the UAE].  They are interested in investing in Ukraine. They see the seaport in Odessa not just as a port, but as a convenient place for a marina, where it will be possible to create a wonderful public space, and all the amenities for cruise liners."
Viking River Cruises returns to the Dnipro on May 27 with 11 cruises between Odesa and Kyiv through Sept. 24. With prices for the 11-day cruises ranging from $3,700 to $10,000, most of the staterooms priced under $5,000 are sold out through June. Based in Basel, Viking beckons: "Cruise the Dnieper River to the Black Sea, an ancient and splendid trade route lined with rich cultural treasures, onion-domed churches and rural folkways that recall the days of Vikings, Tatars, and Cossacks. Visit Kiev's Cave Monasteries. Marvel at the riding skill of Cossack horsemen. And trace the footsteps of history at Odessa's Potemkin Steps."