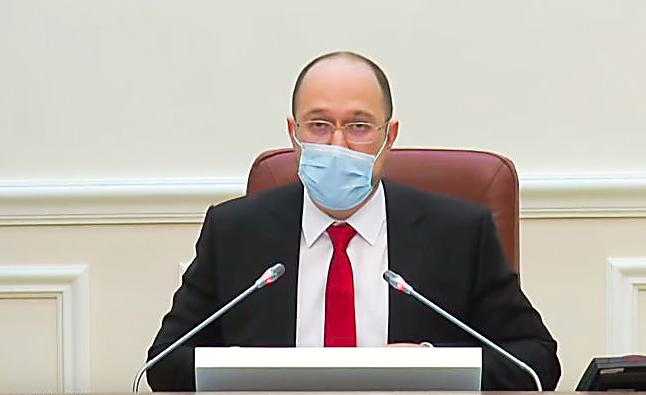 Friday, April 3
Government Quarantine Goal: From Couch Potatoes to Worker Bees...Which is Worse: Quarantine or Coronavirus?...Roadblocks: Chernivtsi Region Retreats Into Self-Isolation...China Reaps Goodwill With Masks and Gloves...Mystery: DTEK Energy's Short Circuit
Ukraine cannot afford to "sit on the couch for two to three months," Prime Minister Shmygal told the American Chamber of Commerce in Ukraine in a video conference. Joined by the new Economy Minister, Ihor Petrashko, Shmygal sketched out a program "to restore economic growth."

Later in a similar video conference with the European Business Association, Shmygal said: "The government is working on a program to create 'quick jobs' in various industries. Hundreds of thousands of people, who have returned to Ukraine and have very high-quality skills, work experience and corporate culture, are a good resource to warm up the economy. Business should try to attract them."
The meetings came after polls indicate people have deep doubts about the economy in April and May.
Which is worse: quarantine or coronavirus? 43% of participants in one poll chose 'economic consequences of the quarantine.' In the same Kyiv International Institute of Sociology poll released yesterday, 17% said the government is successful in preventing economic problems from the epidemic. Of the 1,500 poll respondents, 57% predicted the government would fail in this area.
Only half of businesses can survive one month of quarantine, according to a nationwide survey conducted by the Union of Ukrainian Entrepreneurs. Only 25% could make it through to June. Since the mid-March quarantine, one third – largely small businesses – report a 90-100% drop in income and a 50% cut in staff. Almost 60% of businesses – largely medium and large-sized – have stayed open. Almost half of business owners surveyed oppose the extension of the quarantine to April 24.
Kateryna Glazkova, executive director of the Union, says: "The results of our survey demonstrate the need for radical measures by the authorities to support the economy, such as temporary exemption from business taxes, which, under quarantine, continues to pay salaries to employees."
Under legislation passed Monday by the Rada, the state will pay salaries of registered small business workers who are laid off during the quarantine period.
Before dawn this morning, Chernivtsi became the first region of Ukraine's 24 to go into complete quarantine. Police checkpoints were set up on the five main roads going into the region, limiting traffic to food trucks, transit trucks, farm vehicles, emergency vehicles and cars of local residents. Chernivstsi has 143 cases of people who tested positive for Covid-19, including 10 doctors.
Nationwide, 897 people have tested positive for Covid-19. Of this group, about one half have been hospitalized, and 22 have died. The hot spots are: Kyiv and Kyiv Oblast –224 cases; Chernivtsi Oblast – 143; Ternopil Oblast – 106; Ivano-Frankivsk Oblast – 74 cases. In Kyiv City, the number of confirmed coronavirus cases increased yesterday by 22%, to 161, says Mayor Klitschko. About 60% are interned at four specialized hospitals. One, a 70-year-old man, died.
Two Ukrainian Army soldiers have been diagnosed with coronavirus and 140 are in isolation. In Lutsk, seven doctors have been infected.
Five Antonov Airlines An-124-100 'Ruslan' cargo jets are flying an air bridge from China to the EU, carrying medical protection gear. The Gostomel-based cargo airline is using its fleet of An-124-100 strategic airlift jets to carry face masks, suits, gloves, glasses, disinfectants, medicines and reagents for laboratory tests.
Every other day, a cargo jet from China is landing at Boryspil with medical protection gear, Kirill Tymoshenko, deputy head of the President's Office, writes on Facebook. Separately, Chinese Foreign Minister Wang Yi and Ukrainian Foreign Minister talked by telephone Wednesday and agreed to visit each other's countries.
Boding well for the future of Chinese investment in Ukraine, China is cited in a new poll as the nation most likely to help Ukraine during the coronavirus crisis. Of people interviewed by the Kyiv International Institute of Sociology, the country or organization cited most helpful to Ukraine was: China – 34%; World Health Organization – 11%; EU 10%; US – 9%; and Russia 6%. Yesterday, Ukraine's deputy Foreign Minister of Ukraine Yehor Bozhok wrote on Twitter: "For more than a week now Russia blocks transit through its territory of humanitarian convoys with medical goods directed to Ukraine for fighting Covid-19."
The central bank swapped $241 million in dollar bills for non-cash currency at 11 banks yesterday. Last week, the National Bank of Ukraine traded $130 million in cash for non-cash at banks. Designed to bolster confidence, these operations overcome dollar bill shortages.
 Separately, the central bank bought $34 million on the interbank foreign exchange market, making for a total of $98 million in purchases so far this week. On Monday and Wednesday, no dollars were bought or sold. On Tuesday, the bank bought $64 million. Today's exchange rate is little changed: UAH 27.60/USD.
Ukraine's electricity prices for industrial customers are twice as high as those in Eastern Europe, according to Ukraine's electricity Market Operator. Rates per MWh are: Ukraine –  €51.01; Poland €30.23; Romania – €25.69; Hungary – €25.78; and for Slovakia – €24.1. According to Nord Pool, the European power exchange, tariffs are even lower in Western Europe. Rate per MWh are: Benelux – €22.5; France – €21.86; and Germany- €19.95. To reduce the impact of coronavirus curbs, Denmark, Norway and Sweden have cut electricity rates to minimum levels: €4.58 per MWh.
Fitch downgrades the rating of DTEK Energy, Ukraine's largest private power generator, to C, a level that "indicates that default is imminent." DTEK Energy failed to pay interest on loans and bonds due Tuesday and Wednesday. DTEK's 2024 bond currently trades at 50 points below par.
Concorde Capital's Alexander Paraschiy writes: "The first quarter of 2020 was indeed challenging for DTEK Energy, as the average price of electricity at the wholesale market was rather weak (about UAH 1,360/MWh, which is 29% less yoy and about 4% less compared to a weak fourth quarter of 2019). This, as well as an expected decline in demand for power in Ukraine due to quarantine measures, are likely to have triggered DTEK's decision to initiate debt restructuring talks…DTEK's future sustainability is under question."
Referring to Energoatom, the state-owned nuclear power producer, source of half of Ukraine's electricity, Paraschiy adds: "The new electricity market in Ukraine indicates that the market is too shallow and its prices depend primarily on the behavior of Energoatom. Such dependence on a state-controlled power generator is a big operating risk for DTEK."
The two international cruise ships scheduled to visit Odesa in May have cancelled. From May to October, Odesa was to receive 11 international cruise ships, reports the Center for Transportation Strategies. Fear of coronavirus is moving around the Black Sea. Cruise companies have cancelled port calls in Constanta, Romania and in Varna and Burgas, Bulgaria.  Istanbul has postponed the planned April launch of its new cruise terminal, Galataport.
The closing of Ukraine to international air travel will cost UIA $60 million, "according to the most optimistic scenario," company president Yevhen Dykhne, tells Ukrainska Pravda. For a company that used to operate 1,000 flights a week, UIA now is grounded for at least one month, running off savings and paying employees 2/3 salary. In the last two weeks of March, the government's stop-go-stop orders on air travel unnecessarily cost the company millions, he said. On charges that UIA conducted price gouging in the final days, Dykhne said 'artificial intelligence' set prices to match market demand.
From the Editor: After hitting the economy with a sledgehammer, the government might think of using a scalpel. Sweden is doing that, as chronicled by my former employer, The New York Times: "In the Coronavirus Fight in Scandinavia, Sweden Stands Apart." Today, I am to have a brown bag lunch in a Kyiv park with a Swede – if we are not run off by the fresh air police. With Best Regards, Jim Brooke  jbrooke@ubn.news