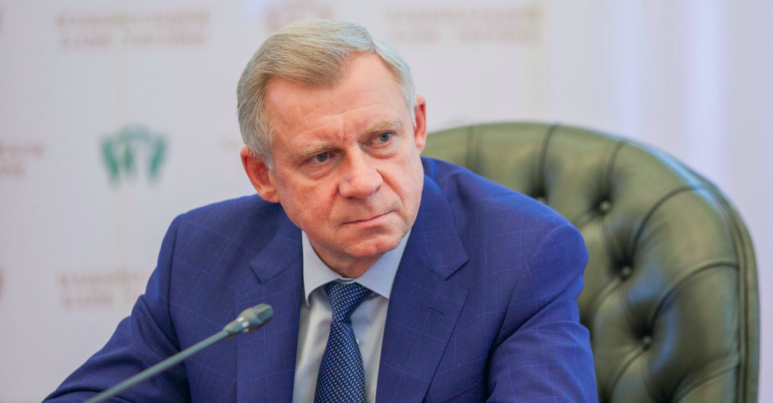 Friday, April 26
Central Bank Cuts Prime...EBRD Wants to Double Investments in Ukraine...Foreign Investors Wait Fall Rada Election...China Signs Deal to Build $340 Million Bridge Over Dnipro...EU, Ukraine Stop Russia Oil Imports...Rada Approves Radical Language Bill
In the first interest cut in two years, the central bank reduced the prime rate to 17.5%, from 18%, effective today. "Currently, a steady downward trend in inflation towards the 5% target allows the National Bank to begin the cycle of reducing the discount rate," Yakiv Smoliy, governor of the National Bank of Ukraine, told reporters Thursday.
Inflation will end this year at 6.3%, Smoliy predicted. Last year's inflation rate was 9.8%. In March, the year over year rate was 8.6%. Asked about the impact of Russia's June 1 restrictions on exports to Ukraine, Smoliy told reporters: "I do not see that this can significantly affect prices in the current year."
The EBRD wants to double its new investment in Ukraine this year to $1 billion, Marina Petrov, a deputy head of the bank's Ukraine office, tells the European Business Association. She said more lending depends on the the future Zelesnskiy continuing to work with the IMF reform program. "We hope that, first of all, the work on the IMF program will continue," she said. "We already see investors ready to come to the economy. The most important thing is not to frighten investors, not to make unexpected economic decisions."
Two thirds of foreign investors are waiting for the outcome of Ukraine's parliamentary elections before making new investments, according to a new survey of 75 investors conducted by Dragon Capital and European Business Association. Conducted the week before the April 21 presidential runoff vote, the survey found that 88% are interested in expanding their investments here. On Thursday, President-elect Zelenskiy accused election authorities of dragging their feet in declaring official results, a delay that would rule out advancing parliamentary elections from the Oct. 27 date. Top investor demands were: creating a real judiciary system, reducing corruption and preserving the independence of the central bank.
With an IMF mission to visit Ukraine next month, a Zelenskiy administration will continue cooperation with the IMF and free market reforms, Finance Minister Oksana Markarova predicts in a Bloomberg TV interview. "Economic policies — monetary and fiscal policies – are in place, and we are optimistic that our policies will continue," Markarova said Thursday. "The messages that we see from President-elect Zelenskiy's team are aligned with the economic policies of our government and also with the full support of the IMF program.
With strong foreign investor interest in hryvnia bonds, there is no immediate need for a Eurobond sale, Markarova said. Separately, the central bank improved its forecast on the level of Ukraine's year end international reserves by 3%, to $21.2 billion.
Separately, Oleksandr Danyliuk, her predecessor as finance minister and now a key economic advisor to Zelenskiy, said Thursday: "As for the IMF: naturally, the position is to continue cooperation. We look forward to a successful review in May." Speaking to members of the European Business Association, he said: "We understand that any threat to interaction with the IMF will destabilize the situation in the country. Therefore, the position of Vladimir Zelensky to prevent this."
China and Ukraine signed a deal for $340 million in financing to build a new highway bridge across the Dnipro at Kremenchuk, replacing a 70-year-old bridge built after World War II. An executive of China Road and Bridge Corporation and Slawomir Novak, head of Ukravtodor, signed the agreement in Beijing at the Second International One Belt, One Way Forum. Construction of a new highway bridge will route transit traffic away from the city center. The old bridge will be retained for railroad use and possible construction of a light rail connecting city neighborhoods on different banks of the Dnipro.
With Chinese-EU container trains starting to roll across Ukraine, Economic Development Minister Stepan Kubiv offered at the forum to build "a trade and industrial corridor China-Ukraine-EU." "Ukraine is ready to offer profitable transport routes on the territory of Ukraine to connect China with the countries of Europe," he said in Beijing. "We offer our Chinese colleagues a joint project portfolio: development of port infrastructure, alternative energy facilities, construction of highways and bridges, development of railway and airport facilities, high technology, cooperation in the aerospace sector, agricultural processing."
Ukraine, Poland, Germany and Slovakia suspended imports of Russian oil on the Druzhba pipeline network Thursday, citing contamination by organic chloride at 100 times normal levels. Used to boost oil output, organic chloride must be separated before shipment as it can corrode and destroy refining equipment, Reuters reports. With Druzhba handling 1% of the world's global oil supply, prices hit $75 a barrel for the first time this year. Russia's Transneft says contaminated oil will stop flowing through the pipeline by Monday. Rare in Russia, chloride contamination last hit oil supplies 10 years ago, but at a lower level.
In Poland's latest Ukraine-friendly move, Warsaw plans to end roaming charges for Ukrainians using their mobile phones in Poland. "Abolition of roaming charges will be very noticeable for ordinary people, including Ukrainians living in Poland," Marcin Przydacz, Poland's top foreign ministry official for Eastern affairs, tells PAP news agency. Faced with a growing labor shortage, Poland encourages Ukrainian labor migration, offering Ukrainian-language on city transport systems and such Facebook pages as "Pick Strawberries in Poland."
President Poroshenko is expected to sign a sweeping language law that will impact business in Ukraine. As approved by the Rada Thursday, the bill requires:
— All foreign businesses operating in Ukrainian must have Ukrainian versions of their websites
— All computer software distributed in Ukraine will have to be either in Ukrainian, English or one of the 24 official languages of the European Union. Russian is not an official language of the EU.
— All print and online media are to be in Ukrainian, or have Ukrainian versions. Exceptions are media in English, Crimean Tatar of one of the 24 official languages of the EU.
— Ukrainian-language content on national TV and radio increases from 75% to 90%; for regional broadcasters, the quota increases to 80%
— All movies produced in Ukraine must be in Ukrainian. All foreign language movies must be dubbed into Ukrainian. Foreign language movies with subtitles can only be shown at film festivals.
— Theater performances must be in Ukrainian, with a few exceptions
— Publishing houses must print at least 50% of their books in Ukrainian. Book stores will have to sell at least 50% of their books in Ukrainian.
— All education is to be in Ukrainian and all service sector employees must first address customers in Ukrainian.