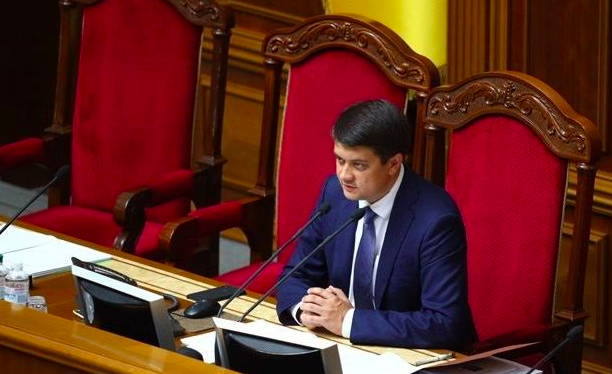 The Rada voted yesterday to change its own rules to fast track passage of the 'anti-Kolomoisky' bill, a piece of legislation weighed down with 16,585 amendments. Appealing for a rule change to limit such 'spam' amendments, Rada speaker Dmytro Razumkov warned: "This is a situation that could block the work of the parliament until the autumn." Passed by 242 of the Parliament's 424 deputies, the bill faces another majority vote before the financial bill can be voted in a second reading. With as much as $10 billion in soft loans at stake, backers hope to pass the legislation before Ukraine's May holidays start Friday May 1.
Breaking with centuries old Easter traditions, Ukrainian authorities are asking Orthodox faithful to stay home this weekend, foregoing visiting churches and relatives with Easter eggs and baskets. "Now the main thing is to isolate yourself," Chief Medical Officer Viktor Liashko tells NV. "I urge everyone to celebrate Easter at home. Don't go visiting your parents. Even if centuries-old traditions are ruined." Last Sunday, the Western Easter, saw widespread compliance, he said.
Going into Orthodox Easter weekend, Ukraine's known coronavirus cases increased by 10% in one day,  to 4,161 yesterday morning. Of the new cases, one quarter – or 104 — are medical workers, reports Health Minister Maksym Stepanov. Last month, his predecessor, Illia Yemets, held up purchases of protective gear while he tried to place a protégé as the deputy in the ministry's procurement company, reports RFE/RL.
In an advance warning, the Kharkiv region village of Vysokopillia is under lockdown after a 71-year-old candle seller at a local church died Monday of complications caused by the novel coronavirus. Separately, pro-Russian Rada member Vadym Novinsky was hospitalized in Kyiv after testing positive for coronavirus. Last week, Novinsky delivered 850,000 medical face masks to Metropolitan Onufry, head of the Moscow Patriarchate Kyiv-Pechersk Lavra. In recent days about 100 monks and visitors to the monastery tested positive to the virus and two monks died.
From the 'beginning of May,' restrictions on mass transit can be eased, Prime Minister Shmygal writes on Telegram. Starting in the 'beginning of June," trains, buses and metro systems can be fully restarted – but "according to the new rules," the Prime Minister writes.
With the government's "Big Consruction" program in full swing, the RDS group of highway construction companies offers to hire 850 workers – a 70% increase in its staffing. The company is building roads in eight regions. Yuriy Schumacher, a co-owner of the group says: "The construction industry is not quarantined! And we want to provide jobs for those who need it most."
Economic impact of world coronavirus curbs will be felt until 2025, Vladyslav Rashkovan, Ukraine's representative to the IMF, said Thursday in a video conference organized by Deloitte. Referring to the IMF's semi-annual world economic outlook, released Tuesday, he said that in three months, the IMF's global economic outlook had flipped: from 3% growth in January to 3% contraction in April. "This is a super-serious change in such a short period," he said. "In fact, this makes the crisis the worst recession since the Great Depression, and much worse than the global crisis of 2008."
Olha Buslavets has been appointed acting Energy Minister by the Cabinet. A five-year veteran of the ministry and a frequent speaker at Ukraine energy conferences, Buslavets most recently served as director general of the ministry's Energy Markets Directorate. "We are experiencing one of the biggest crises in the history of Ukraine, and the crisis in the energy sector is an integral part of it," she said yesterday.  "Within a week, a list of urgent measures that the energy sector needs will be formed. These measures will be aimed at the technical, fuel and economic balancing of the energy sector."
Buslavets' appointment brought into the open the bitter splits within the majority Servant of the People party. Oleksandr Dubinsky, a Rada member allied with Ihor Kolomoisky, attacked Prime Minister Shmygal, a DTEK executive from 2017 to 2019, as favoring Rinat Akhmetov, owner of DTEK. "As for lawmakers who are outraged by the way Shmygal behaves, my advice is: eat dirt," Dubinsky addressed his party colleagues last night through Facebook. "You yourselves have turned into nothing and nobody – bootlickers."
Ukraine's new Energy Minister must take key steps to modernize the nation's electricity generating and pricing system before blackouts start later in this decade, Edward Chow, writes in the Kyiv Post. "Current crisis conditions of low demand, lower prices, and systemic non-payment expose an electricity system on the verge of bankruptcy," writes Chow, an advisor to DTEK, Ukraine's largest energy holding company.  Calling for a deal on green tariffs with  wind and solar investors, he writes that President Zelenskiy's first Cabinet "managed somehow to turn a rare success story in private investment in renewable energy, as flawed as it may be, into a prime illustration of why Ukraine is not ready for foreign investment. Six months of negotiations failed to produce a compromise solution acceptable to both Ukrainian authorities and domestic and foreign investors."
In this era of low gas prices and lack of storage space, European companies could profit by storing excess stocks of cheap gas in western Ukraine's reservoirs,  Wood Mackenzie, the Edinburgh-based energy consulting firm writes in a report: "Ukraine may hold key to Europe's gas storage crunch." WoodMac estimates that Ukraine will have 9 billion cubic meters of storage space free this morning for use by European traders.
Europe's rock bottom gas prices are prompting gas producers in Ukraine to shelve investment projects, the Association of Gas Producers of Ukraine warns in a statement posted this week on its website. "Under the current conditions, there is a real threat of a drastic reduction in production as a result of the partial or complete reduction of investment. Today, the industry is in dire need of incentives, without which it is impossible to expect continued drilling of new wells and exploration at new fields." Incentives should take the form of tax breaks. Last year, Ukraine produced 20.7 bcm, 78% of consumption.
Despite the fall in natural gas prices, DTEK is maintaining its 2020 plan: drilling four new wells and producing 1.7 billion cubic meters of gas. However, DTEK CEO noted in a briefing to reporters Tuesday: "I say this from the perspective of today. The situation is developing so quickly that these plans can be reviewed in a month or two."
Ukraine's Mriya An-225, the world's largest airplane, lands tomorrow at Vatry Europort, 150 km east of Paris, with a cargo of medical supplies from Tiajin, the Chinese port on the Yellow Sea. With refueling stops in Kazakhstan, the Mriya is shuttling back and forth between China and Europe this month. On Tuesday morning, the mammoth plane landed at Warsaw Chopin Airport, drawing a crowd of hundreds of onlookers, with many taking souvenir photos.
From the Editor: Blackouts happen in countries that starve the electricity sector of investment. The new Energy Minister inherits a sector that has largely coasted on its Soviet inheritance – aging nuclear reactors and massive Stalin-era hydro projects. First order of business: negotiate seriously with investors in renewables and reach a compromise on green tariffs. While wind and solar race ahead in the rest of Europe, this sector is frozen here due to the tariff impasse. With Best Regards Jim Brooke jbrooke@ubn.news