Another massacre by Russian troops in Kramatorsk Railway Station.
Monday, April 11, 2022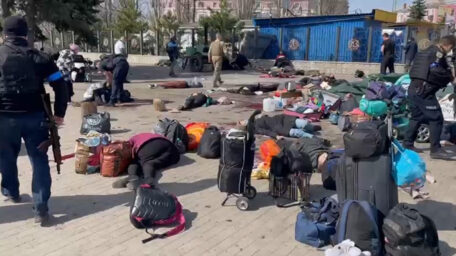 As a result of Russian troops' shelling of the railway station in Kramatorsk (Donetsk region), 52 people died, including five children, and 109 were wounded, said the head of the Donetsk regional military administration, Pavlo Kyrylenko. A missile was fired at a train station where thousands of civilians were preparing for evacuation from the region. The wreckage of a missile had a painted sign on it that read, "FOR THE CHILDREN."  The Kremlin denies that the Russian army uses these weapons, but numerous sources confirm that Point-U ballistic missiles are in the hands of the aggressor. The US Department of Defense has confirmed that the missile strike on the Kramatorsk railway station from a Point U was carried out by Russia and has proof of that.
Support UBN team