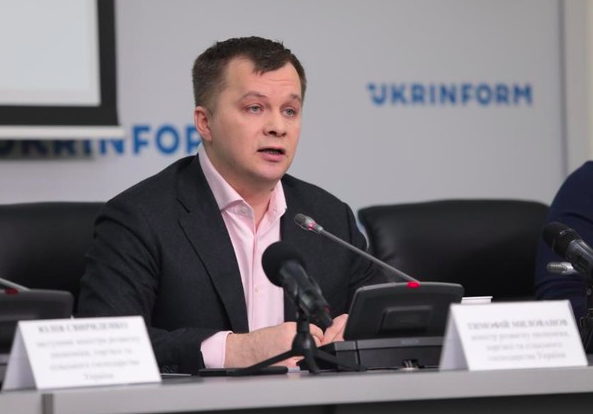 Wednesday, November 25
Reality Check: No IMF Aid This Year...Finance Ministry Raises Interest Rates to Sell Hryvnia Bonds...Capital Investment Drops 29%...Israel-Ukraine Free Trade Pact Starts Jan. 1...Looking Beyond Covid, SkyUp and New Airline Plan New Flights
Ukraine will not receive any additional tranches of IMF low interest loans this year, Tymofiy Mylovanov, former Economy Minister and newly appointed advisor to the President's office said Monday night on the ICTV's Svoboda Slova program. Under the $5.5 billion agreement signed last June, Ukraine received an immediate loan of $2.1 billion. By the end of December, it was to receive two more tranches of $700 million apiece.

Last summer's purge of the Central Bank leadership and the court rulings that undermined Ukraine's anti-corruption agencies apparently turned off the IMF. Last month, the head of Britain's M-I6 intelligence agency reportedly warned President Zelenskiy that his chief of staff, Andriy Yermak, is a Russian agent. Last week, the Kyiv Post published an interview with Stanislav Shevchuk, former chairman of the Constitutional Court, who charged that the Court's "goal is to kill Ukraine's Euro-Atlantic vector."
While the IMF awaits a positive resolution of the Constitutional Court standoff, Mylovanov said Ukraine could get an IMF "staff-level agreement." This could unlock billions in EU and World Bank aid as well as improve access to the international Eurobond market. To facilitate talks with the IMF, Zelenskiy plans to send Oksana Markarova to Washington as Ambassador. A veteran of several IMF negotiations, Markarova served as Finance Minister in early March when Zelenskiy unexpectedly fired her.
Adamant Capital wrote last night: "Key requirements seem to be some kind of progress on resurrecting the [National Anti-Corruption Bureau's] powers and a balanced 2021 budget (deficit, in all probability, needs to be lower than the current 6% of GDP target). Given that the state is currently in dire need of financing (we estimate that at least $5.5 billion of extra cash will be needed by year end to fulfill expenditure obligations), we expect Zelenskiy to do everything in his power for this scenario to materialize."
The Finance Ministry jacked up interest rates yesterday and increase its sales of hryvnia bonds 30-fold, compared to the week earlier. By raising yields by one percentage point, to 10%, the Ministry sold $245 million worth of 4-month bonds. By raising the yield by 125 basis points, to 10.25%, the Ministry sold $119 million worth of 6-month bonds. These two sales, accounted for 90% of the hryvnia sales. In addition, the Ministry auctioned off €157.7 million in 1.2 year bonds at 2.45%, up 23 basis points from the last similar auction.
The companies of Serhiy Tigipko's TAS Group plan to issue about $70 million worth of bonds next year, about 95% in hryvnia, Roman Gorokhovskikh, the Group's international projects director, told the Ukrainian CFO Forum last week in Kyiv. Bonds will take the same amount of time to prepare as bank loans – 3-4 months — but will offer cheaper money, he said. Rather than offer bonds for the group, TAS will offer bonds for individual companies, offering yields between 3% and 10%, depending on individual company ratings.
Capital investment dropped 29% yoy, to $9.5 billion, for the first three quarters of this year, reports the State Statistics Service. Self-financing by companies accounted for 69% of total capital investment. Other sources were: local budgets – 8.6%; bank loans – 7.5%; state budget – 6%; family savings for residential housing construction – 5.2%; and foreign investors – 0.5%. Last year, capital investment was up 11% over 2018.
The Israel-Ukraine Free Trade Agreement starts Jan.1, President Zelenskiy tweeted yesterday. "The 'green light' to the growth of Ukrainian exports, closer cooperation in the fields of high-tech, engineering, investment," is how Zelenskiy described. Although Zelenskiy signed the agreement in August of last year, Knesset ratification was held up by three parliamentary elections in one year in Israel. Zelenskiy hopes the deal will double bilateral trade from last year's level of $1 billion.
Ernst & Young, is to prepare a tender for the concession to a private operator of the rail-ferry complex at Chornomorsk port, Infrastructure Minister Vladislav Krykliy announced yesterday. The tender to upgrade and operate the terminal will be held by June and should generate commitments to invest at least $5 million, Krykliy said. Separately, the Ministry plans to put up for tender by December a concession to run the port's container terminal. The Global Infrastructure Facility, a World Bank partnership with country donors, is advising and partly funding the tender process. Opened in 1962 as Illichivsk, Chornomorsk has ferry service with Poti, Georgia; Karasu, Turkey; and Varna, Bulgaria.
Concession projects also are planned for parts of these ports: Odesa on the Black Sea; Berdyansk and Mariupol on the Sea of Azov; and Izmail and Reni on the Danube. Three small, state-owned ports are to be put up for sale: Bilhorod-Dnistrovs'kyi, Skadovsk and Ust-Dunaisk.
Over the next three years, the government plans to oversee investments in upgrades at 14 regional airports: Cherkasy, Chernivtsi, Dnipro, Ivano-Frankivsk, Kherson, Kryvy Rih, Mykolaiv, Odesa, Poltava, Rivne, Sumy, Vinnytsia,  Zakarpattia, and Zhytomyr. In Zakarpattia, Uzhgorod airport is to be replaced, probably on the site of an old Soviet airbase south of Mukachevo. Due to be carried out with a mix of public and private funds, the 14 airports are on a list of 103 priority investment projects approved last week by the Cabinet of Ministers.
Looking beyond coronavirus, a new Ukrainian airline, Bees Airline, plans to start service next month, offering charter flights between Kyiv Sikorsky and Egypt's coastal resort cities. Managed by Yevgeny Khainatsky, SkyUp's former managing director, Bees has leased and painted yellow and black two Boeing 737-800 jets formerly used by UIA. Next spring, Bees plans to add two more Boeings and possibly fly to Georgia.
SkyUp Airlines plans to start flights from Kyiv Boryspil next spring to Berlin Brandenburg Airport. Opened one month ago, this new airport replaces Schönefeld, Tegel and Tempelhorf airports. On Dec. 27, SkyUp inaugurates service to Kayseri, Turkey. Last month, SkyUp launched its 'City Break' long weekend option with flights to Dubai.
Poland has agreed to allocate 5,000 additional permits for Ukrainian trucks, Minister Krikliy announced on his Telegram channel. Good through January 31, the offer comes after Ukraine charged that by cutting trucking permits for Ukraine, Poland was violating Ukraine's liberalized trade agreement with the EU. Poland is short of truck drivers. By squeezing the permits, Poland tries to get Ukrainian drivers to drive for Polish companies.
Editor's Note: Everyone is so wary of conspiracy theories these days, that they may be missing the big one staring them in the face. If reports filtering out of Britain's MI-6 are to be believed, the President's Chief of Staff, Andriy Yermak, is a 'Russian asset.' Shortly after Yermak took the post last winter, pro-Western ministers, agency heads and central bank governors were eased out — one by one by one. Then, if the former Chairman of the Constitutional Court is to be believed, the Court's untouchable judges started a holy war on the main pillars of post-Maidan governments. On Monday afternoon, while watching the geese at the Rivne Zoo, I was reminded of that elementary dictum, valid for all junior detectives: "If it walks like a duck, if it swims like a duck, if it quacks like a duck, then maybe…" With Best Regards, Jim Brooke