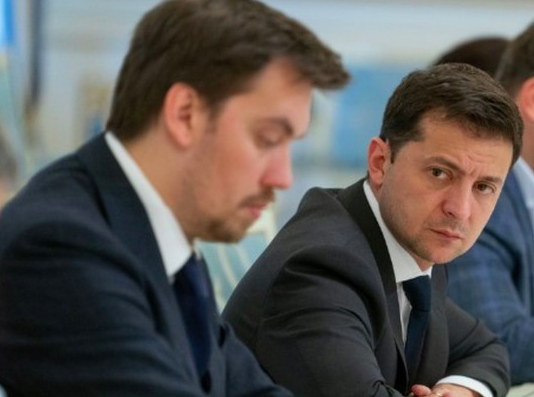 President Zelenskiy plans to replace Prime Minister Honcharuk at a special meeting of the Rada this afternoon, Bloomberg reports, citing lawmakers interviewed Tuesday evening after a ruling-party meeting. Also to go in the cabinet shuffle is Finance Minister Oksana Markarova, one of two ministers carried over the from the Poroshenko government. The likely successors are: for prime minister, Honcharuk's deputy, Denys Shmyhal; and for finance minister, Ihor Umanskyi, who served as finance minister a decade. Zelenskiy, an actor by profession, reportedly is irritated by his government's reduced public approval ratings.

Ukraine has its first confirmed coronavirus case, a man from Chernivtsi who vacationed for a week with his wife in Italy, Deputy Health Minister Viktor Lyashko told the Cabinet of Ministers Tuesday. The man was hospitalized Saturday night. His wife, who shows no symptoms, is living in isolation in their apartment in Chernivtsi, western Ukraine.
Due to the high number of coronavirus cases in northern Italy, about 2,000, Ukraine's SkyUp airlines is suspending its flight from Kyiv Boryspil to Turin, northern Italy. SkyUp, which received its 11th Boeing 737 over the weekend, did not comment about its ambitious plans to expand flights to Italy. Without counting Turin, SkyUp's reservation system calls for the low cost airline to more than double its Italy destinations — from three today to eight at the end of March. After the January collapse of Ernest Airlines, SkyUp moved to take over the Ukraine-Italy market, which is half tourism and half migrant workers, largely to northern Italy.
Due to the spread of coronavirus, Ryanair, Europe's largest discount air carrier, will cut its flights to and from Italy in two weeks by 25% starting. In a press release, the company cites low passenger demand and no shows for flights. Ryanair does not fly from Ukraine to Italy. Over the last two months, Ryanair shares have fallen by 21% on the London Stock Exchange.
Ukrainian Week in the European Parliament has been postponed indefinitely due to concerns over coronavirus. The week was to have run from Tuesday through tomorrow. Ukrainian organizers cite "European Parliament restrictions on mass events because of the coronavirus outbreak."
In the changing economy of coronavirus, dropping oil prices may cancel out dropping metal prices to minimize the impact on Ukraine's trade balance, Alexander Martynenko, head analyst for ICU, tells UNIAN. But, the main impact could be on the price of capital as investors choose safety over emerging markets. "For Ukraine the cost of external borrowing may increase or access to international markets may be completely closed for another loan," he said. "If at the same time there is a delay with help from the IMF, then the pressure on the hryvnia will increase, and this will entail an acceleration of inflation."
By offering euro denominated bonds, the Finance Ministry sold at auction Tuesday four times the hryvnia equivalent of the previous week. The auction netted UAH 6.6 billion, the equivalent of $268 million. The big seller was the 9-month euro bond — €201 million were sold at 2.2%. For the 6-month hrvnia bond, the government sold $42 million worth at 9.9%. "Despite turbulence in the capital markets due to changes in investor sentiment, the Ministry of Finance continues to successfully execute the state budget financing plan," the Ministry reports on  Facebook.
Fast track visas for foreigners who invest more than $100,000 in Ukraine would start next year, under a Cabinet of Ministers resolution approved Tuesday. The Ministry of Economic Development, Trade and Agriculture is to submit proposals to the Interior Ministry's State Migration Service, which would draw up regulations.
A downtown Kyiv city block of government offices will be transferred to the State Property Fund for privatization, Minister Dmytro Dubilet, writes on Facebook. Without giving the address, he says the 4-5 buildings are an eyesore in central Kyiv and will be "privatized at transparent auctions."
Pushing privatization, the Cabinet of Ministers transferred Tuesday 435 state-owned companies and properties to the State Property Fund for sale through auction. With this number, "the government has  delivered 961 objects in six months, which is 10 times more than 10 years before," Prime Minister Honcharuk reports.
Four new big companies – valued over $10 million — are included: the Bolshevik plant (First Kiev Machine-Building Plant); Khlib Ukrainy, or Bread of Ukraine; State-Food Grain Corporation; and Artemsil, the salt mine. Located in Soledar, Donetsk Oblast, Artemsil is the largest producer of table salt in Eastern Europe. Founded in 1881, Artemsil exports to 16 countries, and can produce 7 million tons of salt a year. To prepare Artemsil for sale, the government stripped it of its legal monopoly.
The largest company of the new group is Kyiv-based State Food and Grain Corporation, with 47 elevators and 227 weighing complexes. "It is the largest corporation — a grain exporter in Ukraine –and the largest flour producer in the country," Prime Minister Honcharuk says. "On paper, for some reason, it is unprofitable and inefficient. Through privatization, the company will be able to modernize its facilities, create new jobs and pay more taxes to the state budget." To prepare for privatization, the government appointed in December Simon Cherniavsky as board chair. Previously Cherniavsky turned around the Mriya agricultural holding after its 2015 collapse.
A Kyiv court ruled Friday to prohibit the State Property Fund, owner of 78.3% of shares of power generator Centrenergo (CEEN UK), from dismissing any member of its management board, including acting CEO Volodymyr Potapenko. Ihor Kolomoisky, a major buyer of power from Centreenergo has praised Potapenko as an "understandable" person.
Concorde Capital's Alexander Paraschiy writes: "We did not expect that Zelenskiy will resist the cabinet's initiative to replace the Kolomoisky-controlled management…we are sticking with our negative view on Centrenergo's fundamentals and its near-term privatization prospects."
Directed by a self-styled 'Wolf of Kiev," hundreds of multilingual sales men and women working in a call center atop Mandarin Plaza have been operating "industrial-scale fraud," stealing millions of dollars from elderly victims, largely in Scandinavia, the Organized Crime and Corruption Reporting Project reports in a 5,000-word story headlined: "Trail of Broken Lives Lead to Kyiv Call Center." Armed with a whistleblower's insider dossier, 21 reporters interviewed 180 victims around the world for stories that ran Sunday in Stockholm's Dagens Hyheter and in Britain's Guardian newspaper.
The news reports indicate that the ringleaders of the "Milton Group" are David Todua, a Georgian-Israeli, and Jacob Keselman, a Ukrainian-Israeli who styles himself as 'the Wolf of Kiev' on his Instagram account. On Monday, Sweden's Foreign Minister Ann Linde met with 'high level officials' in Kyiv and demanded action, reports the Crime and Corruption Reporting Project.
From the Editor: Given Ukrainian prosecutors' squeamishness about jailing white collar criminals, they could win painless popularity points by cracking down hard and fast – in front of TV cameras — on the fraudsters working in the call center at Mandarin Plaza. With the whole world watching, inaction will make Ukraine look like a sunny place for shady people. With Best Regards, Jim Brooke jbrooke@ubn.news