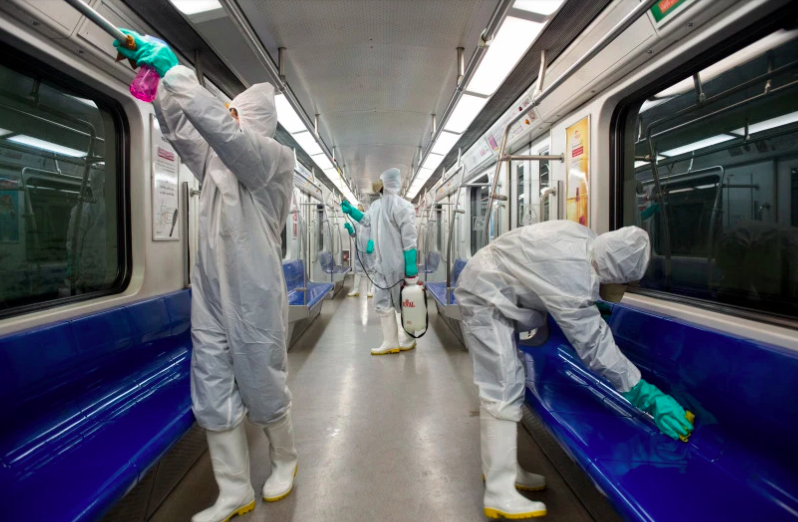 Starting today, Ukrzaliznytsia closes all train stations and passenger rail service across the nation. To prevent the spread of coronavirus, the state railroad is stopping all suburban, regional and international passenger service. Freight continues unimpeded. Ukrainian Railways is the world's sixth largest passenger transporter in the world and the seventh largest freight transporter. Also stopped are: regional buses, domestic flights and non essential intercity car trips.

Also starting today, Ukraine's three underground subway systems – in Kyiv, Kharkiv and Dnipro – are closed through April 3. In Kyiv, passengers may only board surface transport – buses, trams and trolleybuses – wearing masks. No more than 10 people are to ride in one vehicle. Police are to enforce compliance.
Behind the restrictions are fears of coronavirus spreading east from the EU to Ukraine. Yesterday, Ukraine recorded its second coronavirus death, a 33-year-old woman in Chernivtsi, 500 km southwest of Kyiv. Ukraine now has 14 confirmed cases. This includes five new cases in Chernivtsi –two adults, aged 18 and 31; and three children, aged 10, 1 and six months.
Defending a slow devaluation of the hryvnia, the National Bank of Ukraine sold $300 million yesterday. On Facebook, the bank noted that it bought $8 billion net last year, when the hryvnia was strong. With reserves of $25 billion, "today we have sufficient airbags to smooth out hryvnia fluctuations are already in the other direction," the central bank said. Recently, the bank's purchases have been: March 16 — $62 million; March 13 — $150 million; March 12 — $220 million; March 11 — $350 million; and March 10 — $270 million.
In the latest mini-devaluation, the central bank set this morning's exchange rate at 27.06 to the dollar – 8% below the trading level of the March 9 holiday. After a strong year, the hryvnia now has returned to the level of last April. In street level exchange shops, the exchange rate yesterday was 28 hryvnia to the dollar.
National Bank of Ukraine officials blame part of the devaluation on a shortage of dollar bills caused by new air freight restrictions. "There are some difficulties with the U.S. dollar cash, but this is only due to the fact that foreign currency was imported into the banking sector before the quarantine events by airplanes from abroad," Kateryna Rozhkova, first deputy governor of the central bank, said in an online press briefing. "We are now working with banks to ensure settle this issue and to establish another system for delivering cash foreign currency to Ukraine. Therefore, again, do not panic – just wait."
No foreign exchange curbs are planned by the central bank, Oleh Churiy, another deputy governor, told reporters in a live press conference. "The NBU does not consider imposing any restrictions," he said. "We believe that the banking system is liquid." Addressing the shortage of dollars and euros, he said: "In coming days, a large amount of cash foreign currency is expected to be delivered." Similarly, the bank's website reported: "Due to the termination of air travel and the closure of borders, cash dollars and euros are being delivered to Ukraine with a delay."
Ukraine is swept up in a far larger outflow of dollars across Emerging Markets since late January, the Institute of International Finance reported Tuesday. "Our high-frequency capital flows trackers point to a sudden stop in EM due to the combination of uncertainty around the spread of COVID-19, and large oil price and financial shocks," says the Washington-based association of 500 international financial institutions. "The trackers point to an unprecedented shock to nonresident flows to EM since the COVID-19 outbreak became a global concern in late January. Cumulative capital outflows since the COVID-19 episode began in late January are already twice as large as in the global financial crisis and dwarf stress events such as the China devaluation scare of 2015 and the taper tantrum in 2014."
Slowing the devaluation of the hryvnia, Ukraine experienced a trade surplus in January, reports State Statistics Service. For Ukraine, a net energy importer, low oil and gas prices helped to boost the trade surplus to $138 million. European natural gas prices are at a 10-year low and oil prices have fallen in half since January. Exports to China, Ukraine's top trading partner, hit $448 million in January – a 79% increase y-o-y. Last year, Ukraine exported $51 billion worth of goods, and imported $61 billion.
A government ban on Ukraine's major food export products — grains, oilseeds, vegetable oil, and poultry – "may completely shut down the industry and lead hundreds or thousands of businesses to bankruptcy, depriving thousands or even hundreds of thousands of their jobs," warns Alex Lissitsa, president of the Ukrainian Agribusiness Club Association. President Zelenskiy has asked the Cabinet of Ministers to decide a list of food items that could be prohibited from export, in the event shortages appear.
If the coronavirus restrictions "are not prolonged" Ukraine's economy will shrink by -1.6% in the first quarter and will end the year with 1.9% growth, estimates Adamant Capital. "We expect it take a substantial toll on the economy. Domestic trade, education, transportation, hotel and restaurant services, and entertainment are likely to be among the larger sufferers, though spillover effects to other sectors (such to finance and real estate) are likely," the Kyiv-based investment house reported Tuesday. Last year's growth is estimated to be 3.6%.
Given the world's fast-moving economic crisis, Ukraine should lobby the IMF for a $10 billion Extended Fund Facility, nearly double the $5.5 billion deal now under discussion, argues Timothy Ash, senior sovereign analyst for Blue Bay Asset Management. "Still well below Argentina's 10 times quota allocations," Ash writes from London. "Increasing the sum I think would also impart greater urgency on the part of Rada deputies to pull their fingers out in terms of outstanding prior actions on the EFF."
Pay to play? The Rada may tie a vote to create a farmland market to IMF approval of financial aid, a ruling party 'source' tells Ekonomichna Pravda online newspaper. Many economists believe a farmland market would inject billions of dollars of investment into rural Ukraine, raising yields and living conditions. Many politicians are not convinced. The farmland market bill that is to emerge in two weeks in the Rada is expected to ban foreigners from buying land and to limit private holdings to 10,000 hectares.
 From the Editor: With bars, night clubs, theaters, shopping centers, restaurants and the metro closed, what's a couple to do? President Zelenskiy, father of two, has a hint. He tells ICTV: "Stay at home, read books, watch movies. As for young people…no one has canceled the demographic crisis in Ukraine. I think the time has come to fight this problem too." This weekend, battalions of wannabe babushkas are expected to be lobbying for a Christmas baby boom. With Best Regards, Jim Brooke (father of four)  jbrooke@ubn.news