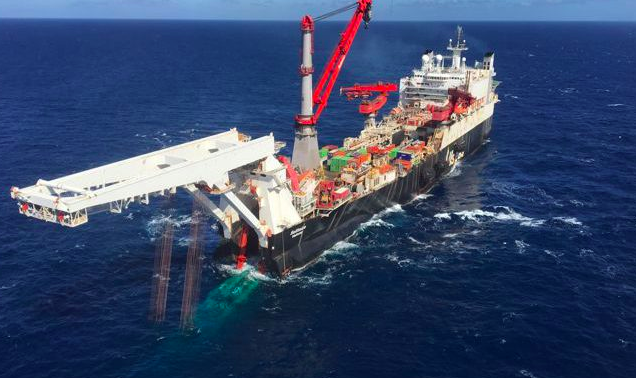 Washington is preparing to enact sanctions against Nord Stream 2, probably against the investors and the pipe laying companies, The Wall Street Journal reported Monday in a lengthy article. Officials in Germany, the world's biggest natural-gas importer, say American liquefied natural gas is 20% more expensive in Europe than Russian pipeline gas. Separately on Monday, Rick Perry, the US Energy Secretary, told reporters that the Trump Administration is 'still considering' sanctions.

In response, President Putin's press secretary lashed out Tuesday to reporters in Moscow. "The hostile and uncompetitive attitude of the United States to this purely economic project is well known – this is not news," Dmitry Peskov said. "We are all aware of the fact that we are dealing with attempts at unfair competition, and sometimes with actions that are actually comparable to international racketeering and raiding." The 1,220 km Russia to Germany gas line is one third built, Gazprom said last week.
US exports of liquefied natural gas to the EU almost tripled during the last seven months, compared to the same period in 2017, reports the European Commission. US exports from late July to early March totaled 7.9 billion cubic meters, accounting for 12% of Europe's LNG imports. The European Commission said: "The European Union is ready to provide more import of liquefied natural gas from the US under market conditions and at competitive prices. This will allow US exporters to further diversify the European market, thereby contributing to the EU's objectives of security of supply and diversification."
Nord Stream-2 could reinforce the EU's dependence on Russian gas supplies and threaten the EU internal gas market, according to a resolution approved Tuesday by the European Parliament in a 402-163 vote. The wider resolution said the EU should remain open to imposing new sanctions on Russia if Moscow continues to violate international law. In advance, Sandra Kalniete, the rapporteur and a European Parliament Member from Latvia, said: "The time for nice and diplomatic language is over. There is very little room for any cooperation as long as Russia continues to occupy parts of Ukraine and attacks other European countries."
The volume of Russian gas flowing across Ukraine to Europe was up by 15% in the first two months of this year, compared to the same period last year. Ukrtransgaz, the state gas transmission company, said that 13.8 billion cubic meters of gas passed through Ukraine's pipeline system to the EU and Moldova. Officials for Naftogaz, the parent company, predict that volumes could drop to zero next year.
Ukrainians cut their gas consumption by 9% during the first two months of this year, compared to the same period in 2018, reports Ukrtransgaz. The state pipeline operator did not say why consumption dropped to 7.9 billion cubic meters. Household gas prices were hiked in November, a move that spurred conservation. Last year, Ukraine raised its gas consumption slightly, by 1.3% year over year, to 32.3 billion cubic meters of gas. Since 2015, 525,000 Ukrainian families have received "Warm Loans" – government credits to winterize their homes and to buy energy efficient hot water boilers.
Mark Rollins, the British energy executive who has served as chairman of the Ukrnafta supervisory board since November 2015, will have his powers 'terminated' in a shareholders meeting on April 30, reports Ukrinform. The state news agency did not say why the former Shell executive would leave his post overseeing Ukraine's largest oil and gas producer.
In a wider shakeup of Ukraine's state-owned energy companies, the government has not renewed the contract of Andriy Kobolyev, CEO of Naftogaz. Kolobyev's contract expires in 10 days. This Friday, Oleg Prokhorenko steps down as CEO of UkrGazVydobuvannya, the state gas producer. Prime Minister Groysman criticized Kobolyev for receiving an excessively high salary and Prokhorenko for not raising gas production fast enough.
Fifteen Ukrainian IT companies are on a worldwide list of top 100 tech companies rated for consistent performance over the last decade. Inclusion on the list is based on rankings given in past years by the New York-based International Association of Outsourcing Professionals. Ten companies have their headquarters in Ukraine: AMC Bridge, Ciklum, ELEKS, Infopulse, Intellias, Miratech, N-iX, Program-Ace, Sigma Software, and Softengi. Five others do much or most of their work in Ukraine: EPAM, Luxoft, Softjourn, Svitla, and TEAM International Services. The first list included only four Ukrainian companies.
Landlines are fading out fast, especially in villages where mobile access is increasingly available and affordable, reports the State Statistics Service. For rural households, the number of landlines dropped by one-quarter last year, to 564,000. In cities, households with landlines dropped by 18%, to 3.8 million. Overall, about 7 million homes and offices in Ukraine have landlines.
UIA plans to go ahead with receiving its first Boeing 737 MAX 8 from Seattle in coming days and to receive two more by the end of this year, the airline's spokeswoman Yevhenia Satska tells Ukrinform. In the last five months, two MAX jets have crashed, killing a total of 346 people. In response, air safety authorities around the world have grounded about two-thirds of the 370 jets in use. "UIA is closely following the investigation, official reports from the FAA and the Boeing concern, and is in constant dialogue with the aircraft manufacturer," the airline's press service tells Interfax-Ukraine.
SkyUp plans to go ahead with receiving two Boeing 737 MAX 8 and three Max 10 in 2023. Evgeny Khainatsky, the discount airlines' general director, tells Ukrinform that five years will be enough time to work out any problems with the jets. Prized for fuel efficiency, there are about 5,000 MAX 8 jets on order with Boeing.
The government has approved a $11 million project to create an International Pilot Training Center to train pilots under EU standards to fly for Ukrainian and European airlines. Training would be divided between Kyiv's Hostomel Antonov airport and the National Aviation University's flight academy at Kropyvnytskyi airport, Kirovohrad. The money would be spent to upgrade the Kropyvnytskyi landing strip and to buy two flight simulators and 24 single engine, two-seater planes: 12 Italian-made Tecnams, eight Ukrainian-made Skyeton K-10s, and four American-made Cessna 172s.