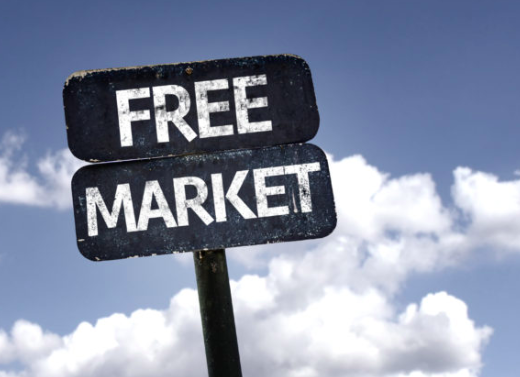 With the IMF as 'strategic partner,' President Zelenskiy's plans an aggressive program of selling state companies, privatizing state banks and creating Ukraine's first farmland market, Oleksiy Honcharuk, the 35-year-old head of Zelenskiy's economic team, says in an interview with the Bloomberg headlined: Ukraine Turns to Blueprint That Transformed Ex-Communist Europe. Honcharuk, considered a leading candidate for Prime Minister, outlined a free-market path for Ukraine that worked in the 1990s for the nation's western neighbors – Poland, Hungary, and Slovakia.

"The banks should be sold first," Honcharuk said, referring to four state banks that account for 70% of Ukraine's non-performing loans: Oschadbank, Ukreximbank, Ukrgasbank and PrivatBank.  "I want 10 big systemic banks to enter Ukraine." Finance Minister Oksana Markarova and the current central leadership are to be retained as the government moves toward a fiscal surplus and negotiates a 3-4 year IMF program, said Honcharuk, previously the head of an EU-funded think tank. To not lose momentum, a farmland market should be launched, with World Bank help, by the end of this year.
To inject market practices into state companies, minority stakes could be put up for sale in Ukrzaliznytsia, the national railroad, and Ukrposhta, the postal service. Honcharuk said the new government will be formed in August and the Rada will convene in early September. The Bloomberg interview moved markets, pushing Ukraine's GDP-linked warrants up for the 15th day, hitting 85.85 cents, a record since they were issued in November 2015.
In other investor action Tuesday, the Finance Ministry sold a record amount of hryvnia bonds – 17.2 billion, about 2.5 times the amount sold at last week's auction. "Maturities longer! Borrowing rates drop again!" – Finance Minister Markarova headlines on her Facebook page. Across the board, interest rates fell by 20 to 50 basis points. With today's auction, the nominal volume of the 5.5 year bond, maturing in February 2025, hit UAH 20.35 billion, or $810 million This allows Finance officials to start talks on including this bond an index. To be listed on an index, a bond volume should be at least $1 billion.
Partly as a result of foreign investment in Ukrainian bonds, the hryvnia strengthened Tuesday to its highest position against the dollar in three years. Since Jan. 10, the hryvnia has appreciated  10.7% against the dollar, hitting an exchange rate of 25 hryvnia to the dollar.
To move state property into private hands, government entities plan a series of sales and leases for August. Liquidating properties of failed banks, the National Bank of Ukraine is putting up for sale the Shevchenkovsky business center, a 16-story, 15-year-old, Class B office and retail tower on Odesa's Prospekt Gagarina. Separately, the Guarantee Fund is selling six apartment offices in historic buildings in Kyiv – one on Pushkinska and five others on Khreschatyk Passazh.
At Kyiv Boryspil airport, the State Property Fund will lease 13 properties – ATMs stations, shops, bank offices, car rentals, offices, and business class lounge facilities. Four more properties go up for lease at Lviv airport. Last week, the Guarantee Fund sold $17 million worth of assets of failed banks. Judges appear to be reading the election returns, refraining from blocking sales.
To synchronize the EU and Ukrainian electricity networks, the EBRD is loaning €149 million to Ukrenergo to buy 26 transformers and to upgrade 12 high-voltage substations. The investment also will strengthen Ukrenergo's capacity to balance surges of wind and solar power coming onto Ukraine's electricity grid. The money also will go to aligning Ukraine's practices with the EU's 3rd Energy Package. The electricity market launched July 1 is designed to promote electricity trading between the EU and Ukraine. On Monday, Finance Minister Markarova signed an order to convert Ukrenergo into a private joint-stock company. This move should bring some market practices to the management of a state company that operates the nation's main transmission lines, national and international.
A deal to increase Ukraine's poultry exports to the EU by 2.5 times was signed Tuesday by Stepan Kubiv, Minister of Economic Development and Trade. Within the first seven months of this year, Ukraine has used 75% of its poultry quota, estimates Ukraine's Agrarian Club. The new quota comes after European chicken farmers complained that MHP, Ukraine's largest poultry producer, was using a 'loophole' to go over the export quota to the EU. The solution was to close the 'loophole' and raise the export quota.
With private investment, Ukraine can increase by 50% the volume of cargo handled by its top 10 sea ports, Raivis Veckagans, CEO of the Sea Ports Authority. Ukraine can handle 200 million tons of cargo by 2038, Veckagans told reporters Tuesday at a press conference called to back laws sent to President Zelenskiy. The laws would cut costs and speed up cargo handling, improving Ukraine's ranking for competitivity, he said.
Boosted by a 34% jump in food exports, cargo handling at the nation's ports was up 15% in July, compared to one year ago. Iron ore was up 30%. Containers were up 19%. The fastest-growing ports are:  Pivdennii (Yuzhne) — up 29%; Chornomorsk – up 22%; Odesa – up 12%.
Ukrainian public optimism has reached the highest level in eight years, according to the latest survey by the Rating Sociological Group. Of 2,000 people interviewed during the second week in July, 35% said the country was heading in the right direction, the highest since 2011. About 39% believe the country is going in the wrong direction, also an 8-year low.
This optimism unnerves Ukraine's pessimistic intellectual elite. "What concerns me [is the] optimism," Mykhailo Minakov, the Kennan Institute's Senior Advisor on Ukraine, said in a recent telephone briefing with analysts on Ukraine's elections. "So far, we have an unprecedented level of optimism among the Ukrainian population about the development of [the] country. We've never had it like this, according to the sociological polls, in all the 28 years or from [the] the early 90s….Which makes it a very big responsibility of the current winners, of President Zelenskyy and his party, not to spoil the challenge." Concorde Capital analyst Zenon Zawada sees relief ahead: "We are confident that this optimism will evaporate by the year-end."
From the Editor: It is depressing to see Ukraine's pundits treat optimism as a disease. Other than sitting on the sidelines writing elegant critiques, pessimists rarely create anything. Now that the pessimists have revealed themselves by ringing alarm bells, it raises an interesting question: which came first – a depressed populace? Or a depressing media and a depressing intellectual elite? Optimistically yours —  Jim Brooke – jbrooke@ubn.news