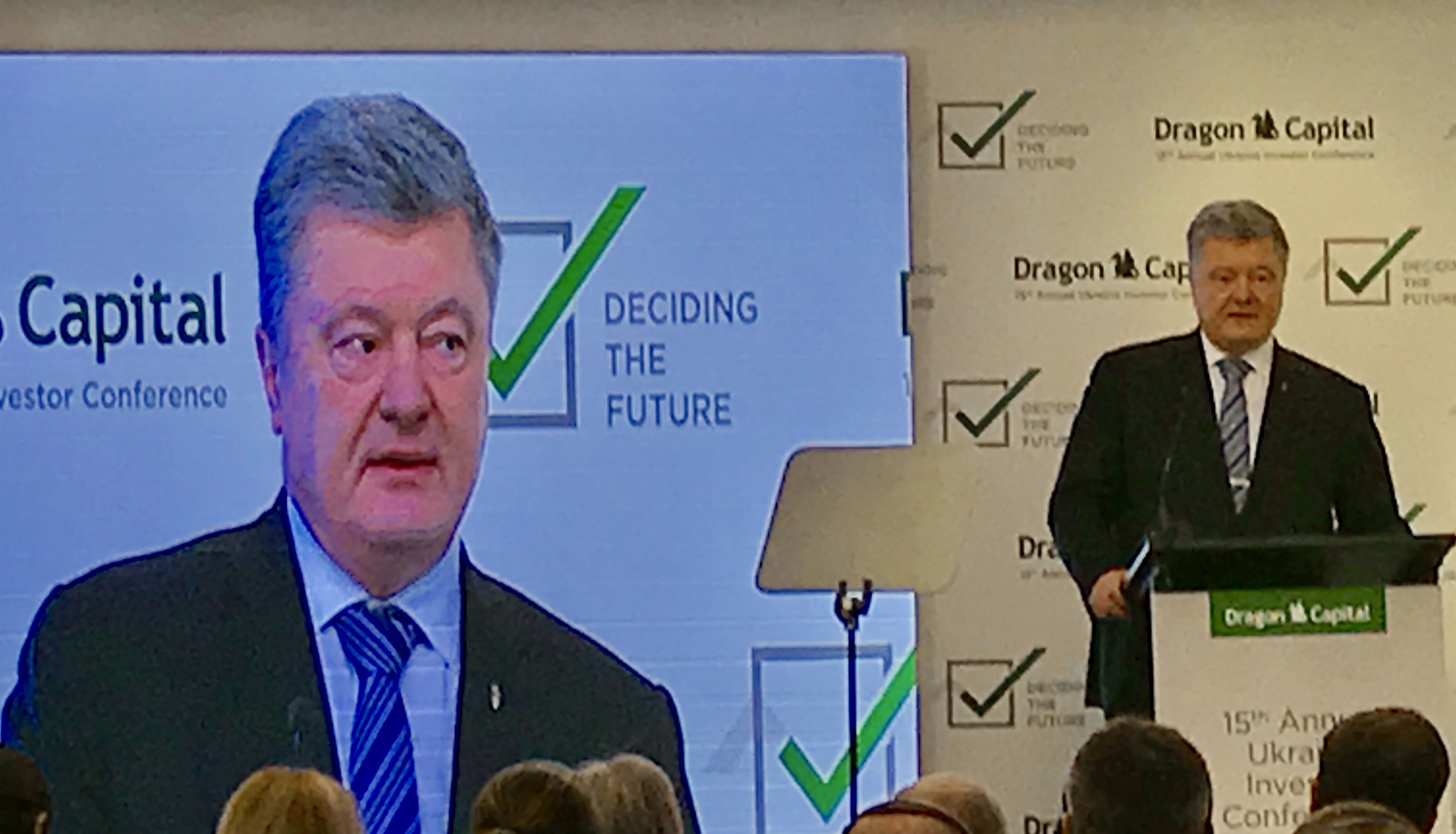 Wednesday, February 13
Government Fires Both Barrels at Populists…Low Interest Loans to Ease Debt Burden…Izmail Airport, Port Dredging, Danube Ferry and New Road Open Bessarabia to Tourism…More Rail Relief for Besieged Mariupol…A Boeing Maintenance Hub For Kyiv
With the Presidential election seven weeks away, Ukraine's leaders bluntly warned of the dangers of populism in speeches at Dragon Capital's 15th Investor Conference. Recalling past attempts at controlling sugar, meat and gasoline prices, President Poroshenko said these failed experiences taught populist candidates 'nothing.' In a reference to Yulia Tymoshenko's promise to force household gas prices far below market levels, he said: "Populism is feeding on poverty and social injustice"

Prime Minister Groysman warned: "Any step in the populistic direction will cost the Ukrainian people dearly." He said EU countries could afford such experiments because they have decades of democracy and high standards of living. "Ukraine does not have this choice," he said. Noting that "after 2014 we escaped the hands of the populists," he told the investor audience: "Our government is pro-business, pro-entrepreneurial."
To escape poverty, Ukraine needs to grow by at least 5% a year, the Prime Minister said. After growing by about 3.3% last year, Ukraine's GDP growth will slow this year to 2.8%, according to consensus forecasts. Vowing to continue free market reforms, Groysman said: "For us, a priority is the growth of the economy above 5%. This requires investments. In order for investments to come, we need clear rules and guarantees of the security of these investments."
Interest rates could be lowered later this year if inflation stays on track to end the year at 6.3%, Yakiv Smoli governor of the National Bank of Ukraine, told Dragon. Last month, year-on-year inflation was 9.2%, down from 9.8% in December.
Within two months, Ukraine hopes to win the second tranche of EU €500 million macro-financial aid, Finance Minister Oksana Markarova told reporters at Dragon. At the same time, she is negotiating a new loan guarantee with the World Bank and new low interest loans with G7 countries. In December, the World Bank extended a $750 million guarantee, enough for the government to borrow $1 billion at low rates. "Our priority is concessional lending," Markarova said. She aims to use low-interest loans to help Ukraine lower its indebtedness to 50% of GDP by 2021.
Foreign tourism flows to Ukraine should double to 30 million visitors, President Poroshenko said, hailing the job creation power of tourism. "Not only to major cities – I don't want any part of Ukraine be in the periphery," he said perhaps thinking of his next stop of the day: Ukraine's Danube river port of Izmail, 580 km by plane from Kyiv. Located in Ukraine's southwesternmost corner, Izmail is a jumping off point for tourism into the UNESCO-listed Danube Delta Biosphere Reserve, home to 1 million birds in the summer.
Izmail airport, closed for a decade, will reopen, Yuro Dimchoglo, deputy chairman for Odesa Regional Council, tells the Center for Transportation Studies. "We are planning to relaunch the airport," he said referring to the 1,840 meter concrete strip which handled flights from Kyiv and Istanbul until 2009. This summer, European discount airlines are expected to start flying to Odesa and officials want to develop tourism in Bessarabia. On an Embraer 190 or an Antonov 158, Izmail would be a 45-minute flight from Kyiv, or a 15-minute hop from Odesa, 200 km to the east. While Odesa officials work on lining up the $1 million needed for airport upgrades, they also talk with a local air company, Odessa Aviation, about starting flights.
Romania's Complex Delta has completed the biggest dredging in a decade of Izmail port, the removal of 185,000 cubic meters of river silt. "For the first time, a foreign company was attracted to the dredging process in the Ukrainian port on the Danube," says Rajvis Veckagans, chairman of Ukraine's Sea Ports Authority.  This year, Ukraine's Danube-Black Sea channel is to be dredged. Visiting Izmail port on Tuesday, President Poroshenko said that 40% of the nation's trade goes through its ports and that "the domestic transport industry…should take an active part in the development of the transport corridor of the Europe-Asia connection." Chinese investors have shown interest in buying the Ukrainian Danube Shipping Company if the Izmail-based state company is ever privatized.
Ukraine's long delayed car and truck ferry across the Danube, from Olivka to Isaccea, Romania, should start this summer, Maxim Stepanov, chair of the Odessa Regional Administration, writes on Facebook. He posted photos of Orlivka's newly completed ferry terminal buildings for passport control and the road ramp to the Danube. On Tuesday, President Poroshenko inaugurated the newly rebuilt European route E47, a road that cuts the Odesa-Orlivka drive time to four hours. But to reach Isaccea – 800 meters across the river – drivers have to make a 2h15, 95 km detour, through Moldova. Ferry service would provide a big shortcut for truckers and tourists.
On the opposite end of the country, in Mariupol, work is underway to ease isolation caused by Russia's harassment of merchant ships. To remove a rail bottleneck, Ukrzaliznytsia plans to double a final 25 km section of single track on the 480 km Mariupol-Zaporizhia line. This €4.5 million project would allow daily trains to increase from 30 today, to 49 in the future — 42 freight and seven passenger, Viktor Dovhan, deputy infrastructure minister, writes on Obozrevatel news site. Dovhan also said the state railroad might purchase four more GE diesel locomotives to service the line.  Separately, Evhen Kravtsov, Ukrazaliznytsia, promises a "completely renovated Kiev-Mariupol night express," referring to a ride that takes 17 hours.
Driving investment in rail, cargo at Mariupol seaport was down 27% in January, year over year, to 335,000 tons, the port administration reports. By contrast, cargo was down 10% in 2018, over 2017. After Russian harassment of Ukraine-bound ships proved enduring, some shippers reacted by boycotting the port, Ukraine's largest on the Azov. Far from marginal, Mariupol carried the largest volume of metal exports for Ukraine last year – 4.1 million tons, just over the 4 million from Odesa.
Two Boeing 737-500 jets are undergoing maintenance and painting in Kyiv, a first step toward creating a Boeing maintenance hub next to Sikorsky (Zhuliany) Airport, reports BiznesTsenzor site. Using the same runway as the airport, Kiev's Civil Aviation Plant 410 plans to expand beyond servicing Antonovs to service 40 Boeings a year by 2024. Ryanair, Europe's largest carrier, has an all-Boeing 737 fleet. Last November, David O'Brien, the airline's chief commercial officer, told President Poroshenko that the carrier has a five-year, $1.5 billion investment strategy for Ukraine. It includes basing and maintaining 15 Boeings in Ukraine.