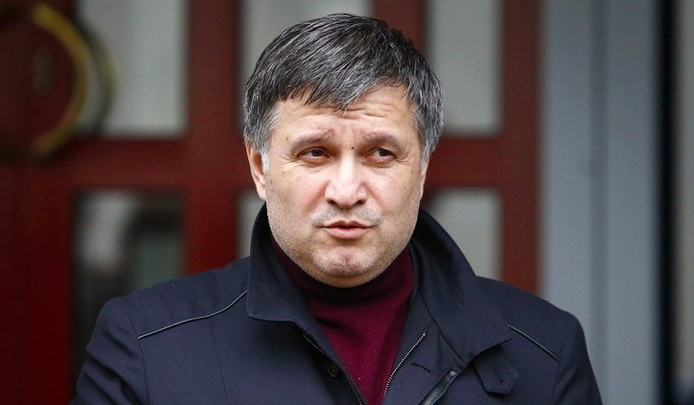 Ukraine's coronavirus quarantine could last through May 12, the end of the May holidays, Interior Minister Arsen Avakov said in a video recording released Monday.

Within two weeks of the March 12 quarantine declaration, 60% of Ukrainians interviewed by Info Sapiens agency say they are suffering financial losses. About half of 809 people interviewed by telephone said they stopped going to work or school. Of interviewees who had jobs, only 46% say they will receive full salary for March. Of the group that lost jobs or income, 45% say they only have enough money for March. And 34% say they have money to get through March and April.
Ukraine's officially confirmed Covid-19 cases hit 645 yesterday evening, a 54% increase in 48 hours. There are now 17 dead. In Kyiv, there are 107 confirmed cases, Mayor Klitschko told reporters yesterday. Klitschko said fines for people with Covid-19 who do not self isolate range from $600 to $1,200. Police and National Guard are now randomly checking the temperatures of drivers and passengers of cars entering the city.
Ukraine's GDP will drop by 4.8% this year, according to assumptions in the revised budget, Prime Minister Shmygal said Monday on the Freedom Speech TV show. Earlier in the day, the Economy Ministry forecast the drop at 3.9%, a turnaround from the 3.7% growth forecast made in February.
The budget deficit will increase five-fold this year, to 10% of GDP, predicts Maria Repko, Deputy Director of Kyiv's Center for Economic Strategy. Spending on medical care will double, while revenues will drop along with the GDP, she said Monday in an online conference. To win the IMF package, Ukraine committed last fall to a budget deficit of 2% of GDP. Given the world financial crisis, the IMF is expected to waive that requirement.
Favorable reviews greeted the Rada's approvals on Monday/Tuesday of a farmland market and of the 'anti-Kolomoisky bill,' protecting PrivatBank from a return to its former owner.
"Zelenskiy pulled this one out of the bag, and breathed new life into his presidency," Timothy Ash writes from London. "The land law is more restrictive than many had hoped, but after 30 years of obstruction to a land market from the Rada and Ukraine's political elites, finally Ukraine has something of a market in land. This is a base to go forward."
Referring to the law designed to block Ihor Kolomoisky from winning back control of PrivatBank, the nation's largest bank, Ash wrote: "The fact that Ukraine will be back on an IMF program, is a huge defeat for Kolomoisky who will now have to contend with continued IMF oversight on Ukraine." 
On Monday morning, Concorde Capital's Alexander Paraschiy wrote that Ukraine's chance of a default was 50-50. On Tuesday morning, he wrote: "With the approval of land reform and the first reading of the anti-Kolomoisky bill, Rada has demonstrated its dedication to implementing all the prior actions demanded by the IMF…These recent developments allow us to reduce the probability of Ukraine's soon default from 50% to 10%."
Directors of Ukrainian farming companies see the July 2021 start of a limited land market as a – small – step in the right direction. Noting that land sales are limited to 100 hectares to Ukrainian buyers, Alex Lissitsa, genera director of IMC hails the law for "crossing the line that could not be crossed for almost 30 years." He writes on Facebook: "Until 2024, there will be essentially no transactions on the land market…business is not sure whether the start of this reform will be postponed again. This has happened in Ukraine many times under the guise of 'not ready' and 'out of time..'"
Today's official exchange is 27.63 hryvnia /USD, the second day of hryvnia strengthening after the Rada votes of Monday. On Tuesday, for the first time since the March financial crisis started, the central bank bought dollars. "$64 million – not sold, but bought — by the National Bank in the interbank foreign exchange market," the bank posts on  Facebook. "Positive news from the Verkhovna Rada, which brought Ukraine closer to the new program of cooperation with the IMF, probably encouraged the foreign exchange market."
Ukrzaliznytsia could lose up to $350 million through June 30, Željko Marček, acting Board Chairman, tells Magistral, the state railroad's news organ. Starting in mid-March, UZ suspended international and inter-regional train service. Although the railroad loses money on regional trains, the end of passenger revenue means the deficit only grows larger.
With e-commerce booming and shopping centers closed, warehouses may emerge as winners, Bloomberg reports in a story: "The Hottest Trade in Commodities Is Finding Space to Store Them." "The cost of storage is exploding," says the story which ranges from oil tank farms to cold storage warehouses. In Kyiv, CBRE Ukraine releases a new warehouse report: "Acute Shortage of Available Space Nudges Prime Rent Upwards." Last year "shortage of available warehouse premises reached a critical point, with vacancy falling to almost none," reports the real estate consultancy. "In 2020 only new sizeable project is expected to be delivered with little influence on any market indicators."
Confined to their apartments and houses, Ukrainians are talking more on the phone, report the three major mobile operators, Kyivstar, VF Ukraine and lifecell. "We see a real surge in voice traffic with the beginning of quarantine in Kyiv – they talk twice as much here," Andriy Otroschchenko, Vodafone marketing director, tells UNIAN. Nationwide, Kyivstar's voice traffic is up 17% since quarantine was imposed. Lifecell is up 12%.
Roshen, Ukraine's largest candy maker, reports that sales fell 10% in the first two weeks of quarantine. "With the beginning of quarantine measures and the global economic crisis, we are witnessing a decline in purchasing power and, accordingly, demand for confectionery products," the company tells Interfax Ukraine.
Belavia Airlines, a major air link for Ukrainians traveling to Russia, has suspended all flights to Ukraine until April 24 and all flights to Moscow until April 30.
SkyUp Airlines has made over 100 special flights to 30 countries bringing home almost 19,000 Ukrainians over the last nine days, Oleksandr Alba, co-owner of Ukraine's low cost carrier, writes on Facebook. He writes: "Thousands of people were able to return home to their relatives, when the whole world is dead."
From the Editor: Quarantine Self Improvement Resolution No.1: Practice a foreign language. The Ukraine Business News is now in English, Ukrainian, Russian and German on our website: www.ubn.news. Or in Ukrainian and Russian on Novoe Vremya Business: https://nv.ua/biz.html. With Best Regards, Jim Brooke  jbrooke@ubn.news