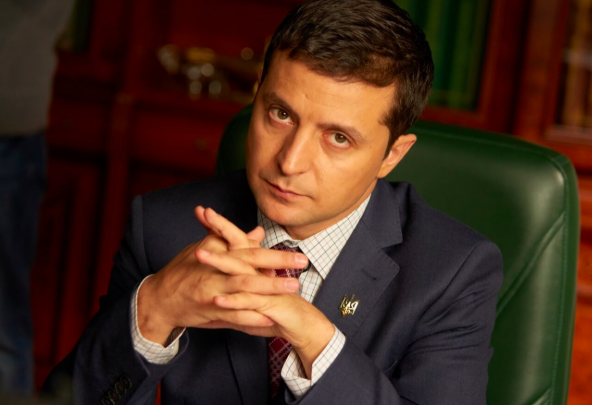 Tuesday, May 28
Zelenskiy Advisors Whack Down Kolomoisky's Default Call...Kremlin Blocks LPG from Kazakhstan...Singapore's Delta Wilmar Bets on Food Processing, Buys Chumak...World Bank OK's $200 Million Ag Loan...After EU Gas Prices Drop in Half, Naftogaz Cuts Prices 8%...Halliburton Eyes $100 Million Fracking Deal with UGV
President Zelenskiy's economic advisors spent Monday slapping down Igor Kolomoisky's suggestion that Ukraine follows Greece or Argentina by reneging on paying on its foreign debt. Zelenskiy himself was silent on the controversy, partly because he spent Monday visiting Ukrainian troops at a front line position in Luhansk. Today, the President is to meet in Kyiv with the IMF review mission.

Defaulting is the view of a "detached oligarch," former Finance Minister Oleksandr Danylyuk told Bloomberg. Danylyuk, who is to join the new administration as head of the National Defense and Security Council, added: "Default is not in the interest of the state. Any responsible government must avoid it." Earlier in an interview with Obozrevatel, he said: "Cooperation with the IMF will be continued."
Danylyuk offered a now standard prediction that once a new government is formed, after the July 21 elections, Ukraine will negotiate to transform the current 18-month standby agreement with the IMF into a longer, extended fund facility. In the meantime, he said: "Currently we have a functioning government that will work until the formation of a new government. There is a functioning Verkhovna Rada, which can and will pass laws that are international obligations."
Another Zelenskiy economic advisor, Oleg Ustenko, executive director of the International Bleyzer Foundaion, told Interfax-Ukraine: "This is definitely not the time to refuse to cooperate with the IMF. This would cut us off from foreign markets for borrowing capital. This is extremely dangerous, considering that investment is the main bet now on the opportunity to get the impetus for further economic growth. And this is quite clearly articulated by President Zelenskiy."
On Monday, the IMF team, led by Ron van Roden, its longtime point man for Ukraine, met Finance and Social Policy Ministry officials. Afterward, Social Policy Minister Andriy Reva said: "There are no threats to economic stability in Ukraine." Referring to the default call that Kolomoisky made in an interview with the Financial Times, Reva added: "There are now many different radical statements that I would ask to treat as residual electoral events."
Volodymyr Groysman, who is expected to serve as Prime Minister until a new government is formed, probably in August, writes on Facebook: "Even talk of default does not add stability, it is harmful…A default is a global crisis, remember the 1990s. I believe that there are already enough crises for Ukrainians."
Yulia Tymoshenko, an opposition politician often tagged as a populist, flatly rejected a default. "It should not be allowed in any case and under any circumstances that default is declared in Ukraine," she was quoted on the website of her Batkivshchyna Party. "This means a loss of confidence of all investors around the world in Ukraine for many years. No one can predict the hryvnia exchange rate. The exchange rate of the national currency usually plummets during default… default means a complete destabilization of Ukraine's entire life, and this is an economic decay that will last for years."
In advance of Russia's June 1 bans on energy sales to Ukraine, Moscow is already barring Kazakhstan's state railway from sending liquefied petroleum gas and coal through Russia to Ukraine, Reuters reports. Last year, Kazakhstan supplied 15% of Ukraine imports of LPG, gases used for heating, refrigerants and aeroseol propellants. Russia's transit ban hits the major supplier, Tengizchevroil, owned by Chevron, ExxonMobil, LUKOIL and KazMunayGaz. Last year, Kazakhstan also shipped 455,000 tons of coal to Ukraine. Sergey Fedorenko, commercial director of UkrGasVydobuvannya, writes on Facebook: "Deliveries of the largest liquefied natural gas producer in Kazakhstan have been stopped to Ukraine."
Increasing investment in food processing, Delta Wilmar has bought Dragon Capital's stake in Chumak, Ukraine's leading producer of ketchup, mayonnaise, and tomato paste. "It perfectly fits our group strategy of further downstream integration into food processing with high added value," said Yuriy Golianych, general director of Delta Wilmar, the Ukraine unit of Singapore's Wilmar International Ltd, widely considered to be Asia's largest agribusiness group.
Separately, Delta Wilmar is building a $32 million vegetable oil processing plant at at Pivdenii, Ukraine's largest port. Also at the port, formerly called Yuzhne, Delta Wilmar plans to build a plant capable of processing 2,000 tons of soybeans a day.
Setting a target of boosting Ukraine's farm productivity by 30% by 2025, the World Bank approved Friday a $200 million loan for wide-ranging support to small and medium farmers. Noting that agriculture accounts for 42% of exports, the program aims to help farmers meet import requirements of the EU, China, the Gulf, the US, and Canada. An advocate of a private farmland market for Ukraine, the World Bank will pay for preparatory steps: transparency in land lease markets; registration of all state land; and strengthening land rights by raising owner awareness of their rights.
With European gas prices falling, Naftogaz is cutting gas prices by 8% for households and industrial users, to about $220 for 1,000 cubic meters. Since September, the EU natural gas import price has almost dropped in half. This came too late for President Poroshenko who took a highly unpopular move in November to raise gas prices 23.5% toward European levels. He lost the election in April.
Halliburton Ukraine has signed an initial agreement for a $100 million deal with Naftogaz to introduce modern 'fracking' techniques to Ukraine, 3D modeling of gas fields and lateral drilling for 26 wells. The deal between the Ukraine unit of the Texas company and UkrGazVydobuvannya, the Naftogaz production company, is designed to unlock 2 billion cubic meters of gas, the equivalent of 13% of UGV's production last year.
Following Monday's launch of government bond trading through the Clearstream depository, primary placements of hryvnia government bonds are to be also handled by the international trading platforms Refinitiv and Bloomberg Tradebook by the end of this summer, according to the National Bank of Ukraine. Currently, Ukrainian stock exchanges handle most primary and second trades of Ukrainian government bonds, about 100 billion hryvnias in trades during the first quarter of this year. Interfax-Ukraine reports that Ukraine's Securities and Stock Market Commission says foreign-based trading platforms need to get permission to handle the trades.
With all air passengers counted for last year, Ukraine stands out as the air traffic leader of the former Soviet Union, ex-Russia. Of the 20 airports handling 1 million passengers of more, five are in Ukraine. Kyiv Boryspil leads the list with 12.6 million. Here is the ranking, in millions of passengers: Kyiv Boryspil — 12.6; Riga – 6.1; Almaty – 5.7; Vilnius – 4.9; Minsk – 4.5; Baku – 4.4; Astana — 4.3; Tbilisi – 3.8; Tallinn and Tashkent – 3; Kyiv Sikorsky – 2.8; Chisinau – 2.8; Yerevan – 2.7; Ashgabat – 2.5; Bishkek – 2; Lviv – 1.6 ; Odesa – 1.4; Dushanbe – 1.3; Kaunas and Kharkiv – 1.
From the editor: UBN is the media partner for Ukrainian ID, the international economic and humanitarian forum, known as the "Ukrainian Davos." The conference runs June 7 – 8 in Kaniv, Cherkasy, under the theme: Revolution of Values. This year, organizers plan to gather 300 opinion leaders to discuss in the sylvan setting of the hilltop Taras Shevchenko Conference Center. For more information, visit https://ukr-id.com/en/#about_forum