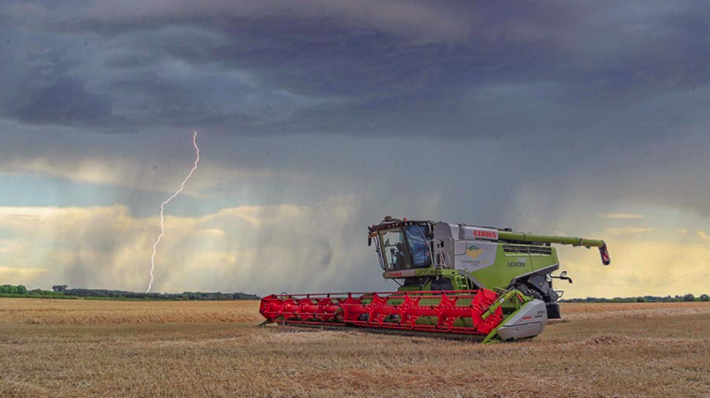 The soaking rains of May are prompting the Ukrainian Grain Association to boost its grain, legume and oil seeds harvest forecast by 4%, to 98 million tons, near last year's record level. With the bigger harvest, exports will increase to 58.5 million tons. Last year's exports were 23% higher than the 2018/2019 marketing year. "Improved soil moisture almost all over the country" is easing drought fears and boosting yields, says Mykola Gorbachev, president of the association of producers, processors and exporters.

With farmers putting more land into corn, this year's corn crop should be 6% above last year's record of 35.2 million, the Association predicts. Prices of corn and wheat, Ukraine's two largest export crops, have held up during the global coronavirus epidemic, reports Alfa-Bank Ukraine. Since the start of the year, corn prices are up 2% and wheat prices are up 3%. Ukraine is the world's fourth largest exporter of wheat.
Grain exports are up 16% y-o-y, the Agriculture Ministry reports. With one month to go in the July/June marketing year, Ukraine has exported a record 54.3 million tons. As China cuts imports of US grain, Ukraine is becoming an increasingly important player in the world grain trade. During the first 11 months of the marketing year, Ukraine exported: corn – 28.6 million tons; wheat — 20.2 million tons; barley – 4.8 million tons; and wheat flour and other grains – 314,500 tons.
Due to higher yields, Ukraine is to boost its soybean harvest by 14% this year, predicts the Ukrainian Grain Association. With yields up by 6%, to 2.5 tons per hectare, the harvest of soy, a legume, is expected to hit 4.2 million tons, about 8th place worldwide. Yesterday, China's government ordered large state-run agricultural companies to "pause" soybean purchases from the US, Bloomberg reports.
Farmer groups are protesting an Economy Ministry move to reserve 70% of the nation's nitrogen fertilizer market for national producers. They say that imported fertilizers are generally 30% cheaper. They charge quotas would benefit two oligarchs: Dmitro Firtash, owner of the Ostchem group, and Ihor Kolomoisky, owner of DniproAzot. After 1,000 farmers picketed the Cabinet of Ministers Thursday, the government appears to be backing away from the quota plan.
Since 2014, hundreds of millions of dollars have been invested in Ukraine's port logistics, tripling the capacity of modern elevators to 90 million tons, says Rainer Staltner, representative in Austria of the Chamber of Commerce and Industry of Ukraine. Given current export volumes, near 60 million tons, there is no urgent need for more investment in elevators, he told a webinar on food exports, reports Ukrinform.
Strong food exports and plummeting oil and gas import prices pushed Ukraine into a current account surplus in April, reports the National Bank of Ukraine. The surplus of $1.4 billion was a switch from a deficit of $292 million in March. For the first four months of this year, the current account surplus was $1.8 billion, compared to a deficit of $242 million during the same period last year. Alfa-Bank Ukraine reports that since the start of this year, gas prices are down 71%, and oil prices are down 43%.
For goods, the foreign trade deficit dropped in half during the first four months y-o-y, from $3.3 billion last year, to $1.5 billion this year. For services, the surplus more than doubled – from $626 million last year, to $1.4 billion this year.
Ukraine's annual hot weather summer ban on trucks started yesterday. For fear of damaging soft asphalt, trucks are banned from 10 am to 10 pm when air temperatures rise above 28C (82F). Around the country, 982 sites are set aside for truckers to park. To combat the problem of overloaded grain trucks, the government is installing 'weight-in-motion' sensor devices with cameras to catch violators.
Pivdenniy, Ukraine's busiest port, handled a record 2.1 million tons of cargo in May, the highest level since the port opened in 1978 as a satellite of Odesa. Formerly called Yuzhne, the port also unloaded 959 gondola cars a day, a new record for handling the roofless rail cars used for transporting coal or ore.
Ukrzaliznytsia re-launched inter-city train service yesterday, ending a 10-week suspension to combat the coronavirus pandemic. To prevent contagion, passengers wore masks and only half of seats were sold.
Interregional buses and 439 electric commuter trains resumed service yesterday in 10 of Ukraine's 24 regions, largely in the east and south. They are Cherkasy, Donetsk, Ivano-Frankivsk, Kharkiv, Luhansk, Odesa, Poltava,  Ternopil, Zhytomyr, and part of Khmelnitskiy.
The Cabinet of Ministers is preparing to lift the ban on foreign citizens entering Ukraine, Infrastructure Minister Vladyslav Krikliy writes on his blog.  "The world is gradually recovering from the pandemic and the planes are returning to the sky again," he wrote. Infrastructure Ministry and Ukraine's airlines, he said, "are considering the possibility of restoring flights with Finland, Sweden, Denmark, the USA, Canada, Lithuania, Latvia, India, China, Azerbaijan, the Netherlands, Belgium, France, Moldova, Poland, Austria, Italy, Portugal, Albania, Slovakia, Kazakhstan, Armenia, Hungary, Egypt, Tunisia and the UAE."
The government is drawing up an airline support package, Krikliy said yesterday on the "Breakfast with 1+1" TV show. The goal is "so that we do not have bankrupt airlines and have the opportunity to resume regular flights at a certain time."
Belavia, LOT, WizzAir and Motor Sich plan to start re-flights from Kyiv Sikorsky airport June 16, reports the airport, located in Kyiv's right bank Zhuliany neighborhood. The four airlines accounted for over 95% of the airport's traffic, until it was closed in mid-March. From Kyiv, the destinations will be: Belavia – Minsk; LOT – Warsaw; Motor Sich – Zaporizhia; and  WizzAir – Athens, Billund, Berlin, Bremen, Gdansk, Hannover, Larnaca, Lisbon, Nuremberg, Riga, Vilnius, and Vienna.
In the weeks before scheduled air service returns, the Infrastructure Ministry is organizing more 'evacuation' flights to help Ukrainians come home. Generally, tickets also are sold to people who want to leave Ukraine. Saturday's UIA flight to New York JFK was entirely filled, one passenger tells the UBN.  Flights are planned to Munich, Frankfurt, Barcelona, ​​Tel Aviv, London, Berlin, Warsaw, New York, Amsterdam, Helsinki, Alicante, Naples, Istanbul, Sofia, Hamburg, Dubai, Rome, Yerevan, Vienna, Delhi, Paris, Miami, Amman, Sharm el-Sheikh, Stockholm, Vilnius, Oman, Riyadh, Madrid, Dusseldorf, Hurghada, Tashkent, and Toronto.
Turkey will open its borders to foreign tourists, including Ukrainians, on July 1, reports Ukraine's Foreign Ministry. Cross-Black Sea flights will resume and Ukrainians can enter Turkey under the existing visa free, passport free system.
From the Editor:  Moving from town to town this spring, the Covid-19 Grim Reaper took its terrifying toll from Ukraine's terrorized populace– nine deaths a day since that first fatality back in March – on Friday the 13th! All this would be really, really scary, but for the fact that 1,600 Ukrainians normally die every day. So, now that Covid-19 has re-taught us to wash our hands and cover our mouths when coughing and sneezing, let's focus on recovering from the government-caused malady: the 2-3 month economic shutdown. With Best Regards Jim Brooke jbrooke@ubn.news