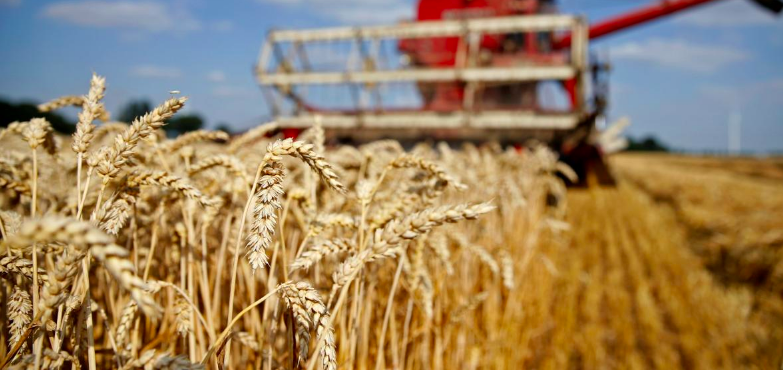 Tuesday, June 18
Ukraine Tops Russia As World's Largest Grain Exporter...Logistics: Top Ag Challenge...In a First, More Private Freight Rail Cars and State-Owned...Needed: Private Locomotives...Cement Highway to Link Top Ports...EU Energy Cos. Start Storing Gas in Ukraine
Ukraine's grain exports are up 26% this year, compared to the same point in the last July 1 – June 30 marketing year. With 48.3 million tons exported as of Friday, Ukraine may hit the symbolic goay of 50 million tons at the end of this month. With Russia expected to export 46 million tons of grain, Russia's press is in denial about Ukraine's surge. "Russia on Track to Remain World's Biggest Grain Exporter" The Moscow Times headlined last month. Oddly, the final paragraph conceded that Ukraine's agriculture ministry predicts "that exports could be as high as 50.4 million metric tons, which would make Ukraine the world's biggest exporter."

Farmers in southern Ukraine have started the 2019 grain harvest, threshing the first hectares of winter barley. Seeding of other crops has been completed, with the acreage in corn expanding by 2% to 4.8 million hectares. The agriculture ministry predicts that this year's grain harvest will be 70.8 million tons, 1% bigger than last year's 70-million ton record crop.
The biggest change in farm exports this year will be a 40% jump – to 3.5 million tons — in sales of rapeseed, used to make canola cooking oil. Minor changes are forecast for other crops surveyed for the September 2019-August 2020 agricultural year by the U.S. Department of Agriculture.
As world sugar prices recover from last August's 10-year low, Ukrainian producers exported 30% more sugar in May, compared to April. Ukraine is the world's 10th largest sugar producer. Last summer's price of 10 US cents a pound prompted many farmers to cut their sugar beet plantings this year.
Ukrainian farmers signed this spring the first international crop receipts loan, reports the IFC Ukrainian Crop Receipt Project. Unable to mortgage land for credit, farmers can get cash in advance for receipts on future crops. In return for a forward contract, Everwelle, an Estonian grain trader, loaned Salix of Lviv the hryvnia equivalent of $45,000 at 12% per annum – half the domestic loan rate.
Grain delivery to ports remains the main challenge to Ukraine's farm sector, according to report in World-Grain.com on the recent International Grain Ukraine Conference in Odesa. "The rail fleet is old, with 70% of grain carriers more than 20 years old. There is also a chronic shortage of locomotives," reports Susan Reidy, a correspondent for the Kansas City-based news site.
Freight car production is up 63%, to 2,297 rail wagons, at Ukraine's main manufacturer, Kriukiv Railway Car Manufacturing Plant in Kremenchuk. With more orders from Ukrzaliznytsia, production levels are double 2017.
Partly due to purchases from Kriukiv, Ferrexpo is increasing by 35% this year its fleet of rail cars to move iron ore. By the end of this year, the LSE-traded mining company is to have 3,000 gondola cars, Vitaliy Oleinik, logistics manager of Ferrotrans tell the Center for Transportation Strategies.
For the first time in a century, Ukraine has more privately owned rail wagons for grain than state-owned, reports the Center for Transportation Strategies. As shippers build up their fleets, private carriers now have 11,800-grain cars, compared to 11,500 owned by Ukrzaliznytsia, the state railroad. Admitting to a critical lack of working locomotives, Andriy Ryazantsev, the railroad's new director of business development, says the challenge is to make sure the new cars do not become "warehouses on wheels."
Due to the state railroad's lack of locomotives, grain and metals companies miss export contracts and power plants run out of coal, Alexey Chernyavsky, head of the Ukraine Energy Association, writes in Tsenzor.net "Why the power industry needs private traction." He says almost all of the railroad's 1,785 locomotives are past their manufacturer retirement dates. Only half – or 945 – actually work. The railroad needs to buy 100 new locomotives a year, but can only afford 50. "The only way to solve the shortage of locomotive traction is to allow private diesel and electric traction on the Ukrzaliznytsia routes," he writes. Last December, the Rada failed to pass such a law. President Zelensky says he hopes the Rada elected July 21 will vote to allow private freight trains.
The government has decided to rebuild with concrete 300 km of the M14 international highway, linking Ukraine's five largest Black Sea ports: Odesa, Chornomorsk, Pivdennii (Yuzhne), Mykolaiv and Kherson. On summer days, overloaded grain trucks grind up asphalt softened in the heat. This is "the first investment project in Ukraine that provides for the creation of a first-category highway with a length of almost 300 kilometers of cement concrete," Oleg Varivoda, head of the Odesa region road service, writes on Facebook of the Cabinet of Ministers' plan for the rebuilt Odesa-Kherson highway.
To speed east-west road traffic between Ukraine and Poland, Ukravtodor is posting a $30 million tender to build a 4-lane, 14 km bypass around Rivne, the western city midway between Kyiv and Lublin. Work would start this fall on the M-06 international highway, reports the state highway agency. On the same highway, China's Sinohydro is to complete by next summer a 4-lane, 22 km cement bypass around Zhytomyr. This €42 million project is largely financed with loans from the EBRD and European Investment Bank. Ukravtodor also oversees the design and preparation of highway bypasses around Lviv, Ternopil, Odesa, Kremenchuk, and Boryspil city.
Ukraine warns EU nations to stock up on gas as it is "highly probable" that Russia and Ukraine will not conclude a new gas transit pact before it expires Jan. 1. "As long as Russia postpones negotiations on a future contract, the gloomy scenario of a gas crisis should be considered seriously," Elena Zerkal, Ukraine's deputy foreign minister tells Bloomberg. "That's why every European nation, including Ukraine, is increasing its gas reserves in storage." On Thursday, Russia's Energy Minister Alexander Novak postponed talks until mid-September, saying the 3-month delay is needed for Ukraine to hold parliamentary elections and to form a new government.
Ukrtransgaz invites EU energy companies to store up to 4 billion cubic meters of gas in its 10 underground storage facilities. Since April, Ukrtransgaz offers a 'customs warehouse' regime where the gas that is imported for re-export is not taxed during the first three years of storage. In the first two months, 24 foreign companies concluded storage agreements, stocking 515 million cubic meters in the reservoirs, largely empty gas fields in western Ukraine.
"Will Ukraine have the last laugh?" headlines a story on the prospects for President Zelensky in fDi Magazine. "The most popular FDI sectors in Ukraine are software and IT services (accounting for 21% of greenfield FDI projects between 2014 and 2018), agribusiness (18%), industrial equipment and renewable energy (both 12%)," according to a fDi Markets study. Another study, by fDi Benchmark, places "Ukraine at number one for attractiveness for IT technical support centres when measured against other central and eastern European locations – ahead of Poland, Romania, and the Czech Republic."
Note from the Editor: The UBN is the media partner for another London conference on Ukraine: the Ukraine Renewables Forum on June 24. Convened by the Strategy Council, the forum will bring project developers in Ukraine together with financiers and project sponsors from Britain, Europe, and North America. For more information, visit: strategy-council.com/en/events/the-ukrainian-renewables-forum/  
Best Regards Jim Brooke – jbrooke@ubn.news.