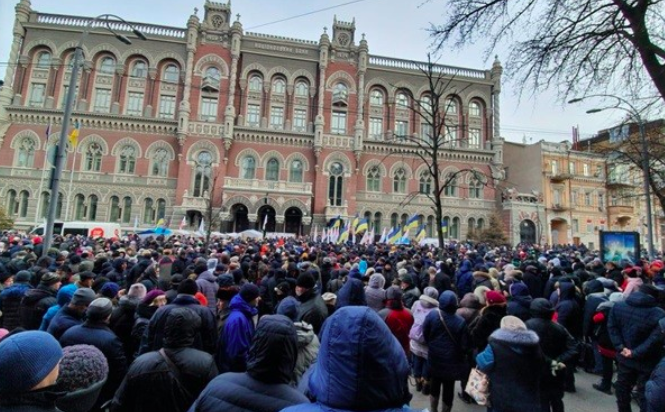 Ukraine's central bank directly accused oligarch Igor  Kolomoisky Wednesday of orchestrating an attack of slander paid protests and "an attempt by hired thugs to forcibly invade" the headquarters of the National Bank of Ukraine. The goal is to "interfere with Ukraine's cooperation with international partners and, above all, the IMF." Noting that Kolomoisky "owes the state $5.5 billion he siphoned off from PrivatBank before it was nationalized," the statement by the central bank Board says he aims to "avoid responsibility and obligation to return money siphoned off from PrivatBank."

President Zelenskiy, on a visit to Lithuania on Wednesday, said of central bank governor Yakiv Smoliy: "No businessman can replace or fire this person. I believe the central bank governor is protected and he can work." Talking to journalists in Vilnius, Zelenskiy said of Smoli: "We're in constant contact." During the presidential race last spring, Kolomoisky was Zelenskiy's main media backer. As a candidate or as president, Zelenskiy has avoided criticizing the oligarch by name.
At the central bank, the governor maintained that the president, the new government and the central bank are united with the IMF in "demanding that the former owners of the banks to return funds that were channeled out." After the US Thanksgiving break, he said he expects the IMF to issue a positive statement about talks with Ukraine. Smoliy added: "Talks with the IMF are ongoing, and we hope they will be completed successfully." With the IMF program believe to be $5-6 billion, the IMF wants Ukraine to work to recover some of the $15 billion that evaporated in the 2014-2015 banking crisis.
Analysts criticized the frontal attack on the central bank, an institution widely seen as efficient and transparent.
Concorde Capital's Alexander Paraschiy writes: "Such pressure on an independent regulator brings little positives to rule of law, Ukraine's investment case and the prospects of cooperation with the IMF… the NBU's goal with its Nov. 27 statement looks like an attempt to draw the attention of influential officials, both in Ukraine and the West, amid some behind-the-scenes political dynamics."
Timothy Ash writes from London: "It is simply extraordinary that a central bank is put under such pressure, such a sustained campaign of intimidation… the President thus far has done very little to counter – aside from a few mild statements of support. Zelenskiy can talk about supporting central bank independence, but that independence appears to be under actual physical attack."
Valeriya Gontareva, who was central bank governor at the time of the PrivatBank nationalization, said Wednesday at the London School of Economics, where she now is a research fellow: "Intimidation of reformers is a reality in today's Ukraine." After arsonists recently burned her suburban home in Kyiv and torched a family car, Gontareva was the victim of a suspicious car accident in London. Facing a fourth operation on her legs, Gontareva blamed Kolomoisky and said "I'm really very scared."
As part of the government's effort to bring private-sector management skill and experience to state entities, the Infrastructure Ministry has posted a tender for representatives on supervisory boards for Boryspil airport, Sea Ports of Ukraine, and Ukrposhta, the state postal company.  The deadline for applications for Ukrposhta is Monday. For the airport and the seaports, it is Tuesday.
Prime Minister of Honcharuk announced Wednesday an international tender for a contractor to complete a half-built, 15-year old bridge across the Dnipro in Zaporizhia. Work should start next year and the roadway portion should be completed by the end of 2021.
Russia-EU-Ukraine gas transportation experts meet tomorrow in Brussels, two weeks before a Dec. 13 'deadline' for booking long term gas supplies through the Russia-Ukraine pipeline. Citing EU rules and Ukrainian law, Yuriy Vitrenko, Naftogaz executive director, tells reporters in Berlin: "December 13th is the deadline for long-term reservations."
Gas talks may take place next week on a ministerial level, or on a presidential level on Dec. 9, when Putin and Zelenskiy meet in Paris in the Normandy Format. On Monday night, Putin and Zelenskiy talked by telephone. The Kremlin reported the two presidents "discussed in detail the gas issue, including extending transit, and renewing direct supplies of Russian gas to Ukraine."
If 'undocumented' Russian gas flows into Ukraine after the 10-year transit contract expires, on Jan. 1, it will be pumped into Ukraine's underground gas storage reservoirs. It will be registered as "gas of an undetermined owner." Once 'documented,' it will be pumped west to the EU. "We will not steal it, we will not send it back, we will not block it, we will not flare it," Vitrenko said. "We will store it securely and wait for the documentation."
If Gazprom shuts down the gas "like they sometimes like to do, by screwing down valves on television," Naftogaz will "watch television and then do its job" – notably suing Gazprom in courts around the world, Vitrenko said. In the latest Naftogaz legal victory, a Swedish appeal court has upheld an 18-month-old Stockholm Tribunal arbitration decision against Gazprom, ordering the Russian state company to pay Naftogaz €1 billion, plus interest and legal fees. Vitrenko wrote on Facebook: "Complete victory! Ukraine wins again!"
Competition rules Ukraine's gas import market, where 65 companies import the fuel from 18 European suppliers, Andriy Kobolyev, Naftogaz CEO, writes on Facebook. Today, no supplier has more than 30% of the market, a sharp contrast to four years ago, when Gazprom supplied 90% of Ukraine's imports. Ukraine stopped buying gas from Gazprom on Nov.25, 2015, preferring to buy gas at hub prices, largely from Slovakia. Much of the imported gas used by Ukraine originally comes from Russia.
Where there is smoke, there is fire. On Tuesday night, for the second time in one month, arsonists burned a car belonging to a new customs official in Odesa. In response to the burning of the Skoda belonging to Igor Reznik, acting head of the Odesa customs, Maxim Nefyodov, chairman of Ukraine's new Customs Service, wrote on Facebook: "The fight against smuggling is a war — and we must win."
This week, the National Anti-Corruption Bureau arrested seven customs officials in the case of Vadim Alperin, an Odesa businessman who allegedly offered $800,000 in bribes to protect his import businesses. Zelenskiy wrote on Facebook on Wednesday that Alperin is 'one of the godfathers of smuggling in Ukraine." In response, Aperin's lawyer said the fugitive would turn himself in for questioning. Among the arrested was Serhiy Tupalskiy, who ran the Odesa Customs Service until last March.
From the Editor:  The Ukrainian Wealth Management Forum takes place next Tuesday and Wednesday in Kyiv,at the InterContinental Hotel. Confirmed speakers include Oleg Churiy, deputy governor of the National Bank of Ukraine; Dmytro Tarabakin, National Securities and Stock Market Commissioner; and Alexander Bornyakov, deputy minister for Digital Transformation. The conference offers a 25% discount to Ukraine Business Newsreaders. When you register online, use this code: KUC015mIN. Best regards Jim Brooke jbrooke@ubn.news.