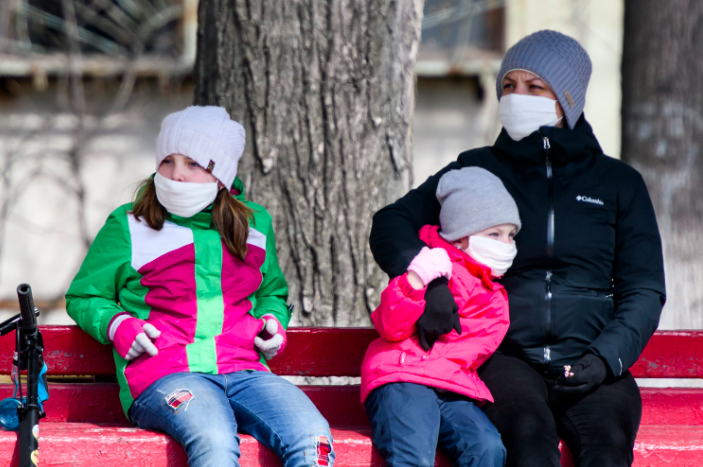 Thursday, November 19
Government Bets on Weekend Lockdowns to Stop Rising Corona Rates...IMF Chief and Zelenskiy Talk on Phone, Online Review Mission to Start Next Month...Solid European Support for Ukraine Joining EU...Higher Education: a Growth Export for Ukraine
Although Ukraine is recording record corona infections and deaths, the government believes weekend lockdowns will be enough to stop the nation's rising infection rate. The nation is recording about 12,500 new infections a day. Without the Saturday-Sunday lockdown, the infection rate would jump by 50% to 20,000 new infections a day; Prime Minister Shmyhal told a government meeting yesterday.

With shopping centers closed last weekend, 'mobility' dropped by about 25%, said Viktor Lyashko, the deputy Health Minister. He says a well-enforced lockdown this weekend, could cut 'mobility' by 50% from normal levels. Even cutting mobility by 25% can cut transmission by two-thirds, Shmyhal said.
Last weekend, a string of big city mayors defied the lockdown. Whilst National Police who work for the Interior Minister,  shut down and fined 2,400 establishments, many of them in cities boycotting the lockdown call. Yesterday, a Rada bill to stop the weekend lockdown failed to get enough votes. Starting this weekend, PM Shmyhal has asked banks to close many of their branches.
Speaking to Reuters yesterday, Health Minister Maksym Stepanov said that he believes Ukraine can get to the Christmas holidays without a total lockdown. However, he warns: "The winter, in my opinion, will be very severe in terms of morbidity and the number of seriously ill." Due to better treatment, the death rate for Coronavirus patients in Ukraine has fallen to 1.8%, down from 2.9% in the spring.
IMF Managing Director Kristalina Georgieva tweeted yesterday about Ukraine: "Constructive call with President Zelensky on IMF program implementation, Central Bank independence and anti-corruption efforts. Full agreement on actions needed prior to program review." Ukrainian officials said the upshot of the call would be an online IMF review of Ukraine's IMF standby agreement next month and disbursement of a second tranche in the first quarter of 2021.
President Zelenskiy said after the Tuesday night call: "To date, all the structural beacons provided for the revision of the IMF program have been fulfilled." Zelenskiy assured the head of the IMF that his government is countering moves by the Constitutional Court to abolish anti-corruption agencies designed with Western help since 2015. Zelenskiy tweeted: "Our teams enjoy strong trust & work closely to welcome the IMF mission ASAP."
Deputy Finance Minister Yuriy Draganchuk told Korrespondent.net that there are no "formal preconditions for not giving us a tranche or sending a mission." However, he added: "They look at the general situation in the country, which is not entirely positive now. The [Constitutional] Court does not represent our country in the best light and, indeed, may send some negative signal to the IMF. I hope that joint efforts will resolve the constitutional crisis.
Veteran British financial observer Timothy Ash was skeptical, emailing clients: "[I] cannot see IMF disbursements until the new US administration takes office and puts new focus on Ukraine." Predicting that Ukraine could float 10-year Eurobonds at 7% yields, he said: "I assume the Ministry of Finance will use the phone call with the IMF MD to come to market very soon with a new Eurobond deal – and likely before a new IMF mission hits the runway/zoom button."
Dollar-denominated bonds accounted for 85% of revenue raised on Tuesday at the Finance Ministry's weekly auction. A total of $76 million 1.2-year dollar bonds went for 3.77%, up 15 basis points from one week earlier, the Ministry posted on Facebook. Yields also rose slightly for the hryvnia bonds, which netted the equivalent of $13.3 million. The 1-year hryvnia bond was the most popular, going for an average yield of 10.5%. Despite the higher yields, the Ministry raised slightly less than one third the amount of the previous week.
The Finance Ministry is not considering issuing hryvnia government loan bonds to help pay off the $800 million debt owed to solar and wind producers of electricity, Deputy Finance Minister Yuriy Draganchuk told Korespondent.net. "There will definitely not be government bonds," he says of support for Ukrenergo. "There will be either state banks or international donors." The American Chamber of Commerce in Ukraine supports a bill in the Rada which would allow issuing of additional government bonds by raising the state budget deficit by $700 million. Since July, the EBRD and the European Investment Bank have discussed participating in a settlement. They have not made public any decision.
University education is a major export for Ukraine. Last year, 80,500 foreign students spent $570 million here for tuition alone, reports the Kyiv Post. Adding food, lodging, airfare, and services, this spending could total $1 billion a year. Indian nationals account for almost one quarter of the students. Other major source countries are: Azerbaijan, China, Egypt, Israel, Morocco, Nigeria, Turkey, Turkmenistan and Uzbekistan.
55% of people polled in France, Germany, Italy and Poland support Ukraine joining the European Union, according to an internet-based survey of 4,000 people polled at the end of September for the New Europe Center. The top obstacle to Ukraine joining the EU is corruption, according to 43% of respondents. This was up from 33% five years ago. The portion of respondents who associate Ukraine with war is 12%, down from 49% in 2015. About 38% of interviewees support Ukraine joining NATO.
Due to the Constitutional Court's October 27 decision that filing fraudulent asset declarations should be punished, the Ukraine's new High Anti-Corruption Court said Tuesday that it was forced throw out its own conviction of a judge last year. Anti-corruption activists predict that at least four other corruption rulings will be thrown own. Over the last 10 days, the Anti-Corruption Court dropped investigations against two more judges and against the mayor of Odesa, Gennadiy Trukhanov.
Concorde Capital's Zenon Zawada writes: "This is yet another negative consequence of the scandalous October 27 ruling, which has been quite destructive, not only for Ukraine's anti-corruption infrastructure but also its image among its Western sponsors… many critical convictions – intended a signal to deter others – will be lost forever."
The Rada lacks the political will to approve bills that world restore the electronic declarations or deal with the Constitutional Court, a body determined to dismantle much of the Europe-oriented institutions adopted since the 2014 Revolution of Dignity, the parliament's deputy speaker Olena Kondratiuk told ICTV 'Freedom of Speech' program. "Unfortunately, now there is no political will in the parliament to pass any bill concerning both the return to electronic declaration […] and the reconstruction of the Constitutional Court," she said, predicting that any action will be deferred until Dec. 1.
"Now you've got to put people in jail," Joe Biden recalls in his 2017 memoir saying to Prime Minister Arseniy Yatsenyuk. Then Vice President Biden made the exhortation in a speech to the US-Ukraine Business Forum on July 13, 2015.
Editor's Note:  A couple of years ago, Krzysztof Siedlecki, the gregarious Polish president of the European Business Association, liked to tell Kyiv audiences that Ukraine's war on corruption was: 'Like watching sport fishing on TV.'Pause. 'Catch and release… Catch and release….' Har har. Since then, the EBA presidency has rotated. But Ukraine's sport fishing traditions continue unchanged. With Best Regards, Jim Brooke