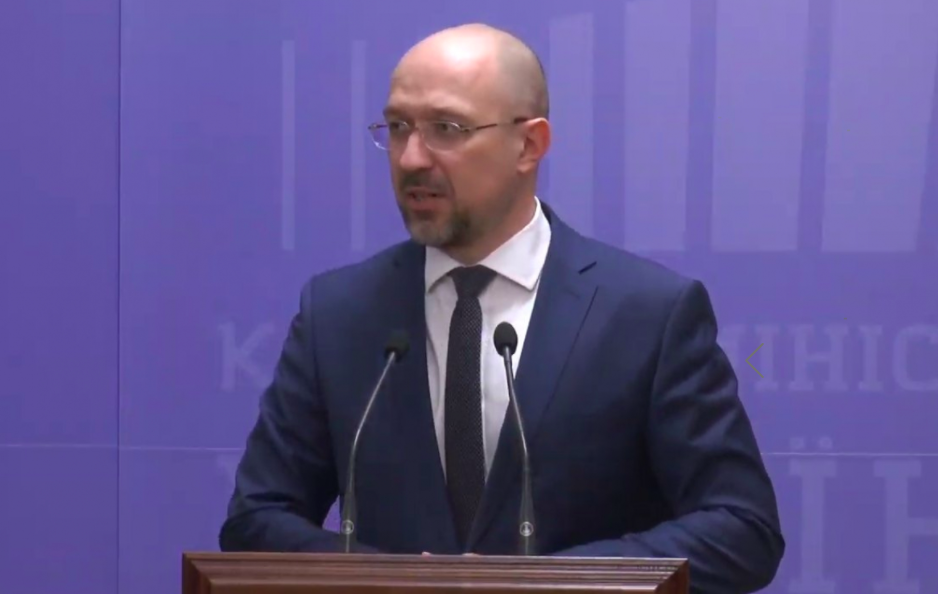 Thursday, March 19
Facing 'Economic Crisis', PM Asks IMF for More Money... Ukraine's Hryvnia, Bonds, and GDP Warrants are Road Kill in the West's Dash to Cash...Central Bank Launches Massive Money Laundering Operation: Zapping COVID-19 on Banknotes...UIA Takes 2-Week Holiday.
With Prime Minister Denys Shmygal warning on television that the nation faces "a possible economic crisis in Ukraine" he said yesterday his government is negotiating with the IMF for additional aid, beyond the $5.5 billion tentatively agreed upon last December. This would be aid to alleviate the economic impact of the coronavirus epidemic, according to the National Bank of Ukraine website. "We are moving forward regarding financial support from this international organization," Shmygal said of the IMF. "We hope for a positive result in the near future. The IMF messages are pretty positive today."

The EU heads toward a recession this year, Isabel Schnabel, a director of the European Central Bank, tells the German newspaper Die Zeit. "We are experiencing a very severe economic shock," Schabel says. "The likelihood of recession has increased markedly." Economists define a recession as two consecutive quarters of negative economic growth, measured quarter over quarter.
After US Treasury Secretary Stephen Mnuchin warned that US unemployment could hit 20% — double the level of the 2009 financial crisis – the US Senate approved yesterday a corona pandemic relief package that could total $1.3 trillion. Separately, the International Labor Organization warned yesterday the pandemic could cost workers around the world as much at $3.4 trillion in lost wages this year.
Timothy Ash writes from London: "Write 2020 off from a growth/economic activity perspective. And the economic losses are going to be huge, clearly, with people talking about China growth down to 3%, recession in Europe and the US potentially."
To manage the hryvnia's slow motion devaluation, the National Bank of Ukraine sold $200 million Wednesday, the central bank reports on its Facebook page. This is one third less than the $300 million sold Tuesday. The bank says its foreign currency sales are designed to smooth fluctuations, not to maintain a fixed or targeted rate.  With today's rate set at 27.27 hryvnia to the dollar, the hryvnia has devalued 9% in 10 days. Some street level exchange shops offered dollars Wednesday at 28.5 hryvnia. With the hryvnia back at the level of one year ago, exporters feel relief.
The Finance Ministry sold $72 million in 10-month bonds at its weekly auction on Tuesday. The weighted-average rate was 3.5%. Although demand was one third the level of the last auction, in February, the sale is considered a success. ICU's Taras Kotovych calls it: "A quite positive result given current conditions."
Concorde Capital's Evgeniya Akhtyrko writes: "The pricing of UAH-denominated local bonds is problematic given the fast depreciation of the national currency and the overall turmoil at the financial market related to the coronavirus pandemic."
As Western investors scramble to get cash, Ukraine securities plummet in value. Ukraine sovereign 2028 Eurobonds, which traded one month ago at a yield of 5.75%, traded yesterday at 13.15% — near junk bond levels. During the same month, Ukraine's GDP warrants halved in price, to 56 cents. Timothy Ash writes: "The buyback cost to the sovereign has gone from $3.4bn to $1.7bn. [I] don't think the MOF is going to get a better chance to buy/exchange these more cheaply than this."
PrivatBank and Alfa-Bank Ukraine have suspended issuing cash dollars from client accounts. The banks – and the central bank – blame the situation on a shortage of US currency in the country. The National Bank of Ukraine says that currency controls will not be re-imposed. The bank says new shipments of currency will arrive in Ukraine shortly. The disruption of air service to Ukraine is not supposed to affect cargo only flights.
Believing that the coronavirus can survive on banknotes, the central bank is withdrawing hryvnia notes from circulation and replacing them with new ones stored in its vaults. Old notes will be held in quarantine for 14 days. "Banknotes suitable for circulation will be packed in bundles and shrink film with processing at a temperature of 160 degrees Celsius, which will also contribute to the destruction of the virus," reports the National Bank of Ukraine website. The central bank asks banks to frequently disinfect ATM machines and cash windows.
"The money from the citizen who pays bills, fines or makes other payments at the bank will be quarantined," says Yakiv Smoliy, governor of the National Bank of Ukraine. The bank website advises: "Businesses and citizens should reduce contact with cash. To prevent the spread of coronavirus, the National Bank recommends that the population and businesses switch to cashless payments as much as possible.
Ukraine's government on Wednesday imposed a state of emergency in Kyiv region to contain the spread of coronavirus. As of yesterday, Ukraine had 14 confirmed coronavirus cases, including two deaths. In addition, 24 Ukrainians are hospitalized in Lviv after returning recently from abroad with coronavirus symptoms,  One known case in Kyiv region is lawmaker Serhiy Shakhov who returned from France on March 11. He participated in TV talk shows on Thursday and Friday before feeling sick on Sunday, he said on Facebook.
Although Ukraine now bans non-essential car trips between cities, BlaBlaCar, the internet-based car pooling service, says it is suspending its Busfor service, but maintaining its car pooling service for private cars. Although cars often fill with passengers who ride at close quarters for hours at a time, BlaBlaCar says the service offers people the "possibility to call and talk to passengers before the trip in order to make sure that all participants of the trip feel good."
With the arrival of a UIA jet in New York Tuesday afternoon, Ukraine International Airlines ended scheduled flights throughout its international network. About 2,000 scheduled flights are canceled through April 3. The airline's fleet of 35 planes is parked at Kyiv Boryspil, and 90% of staff are on unpaid leave.
Two weeks of quarantine, will cost Lviv airport $1 million, airport director Tatyana Romanovskaya tells 112 TV. Shops and restaurants closed Monday. The lights are turned out at night to save money, and most employees are on leave. Noting that the January/February passenger flow was up 29% y-o-y, to 303,000, the director of Western Ukraine's largest airport says: "The summer is ahead and the vacation period, which I want to believe, will take place."
From the Editor: Quiet Kyiv feels like the May holidays. The price will be business activity. With Best Regards, Jim Brooke jbrooke@ubn.news