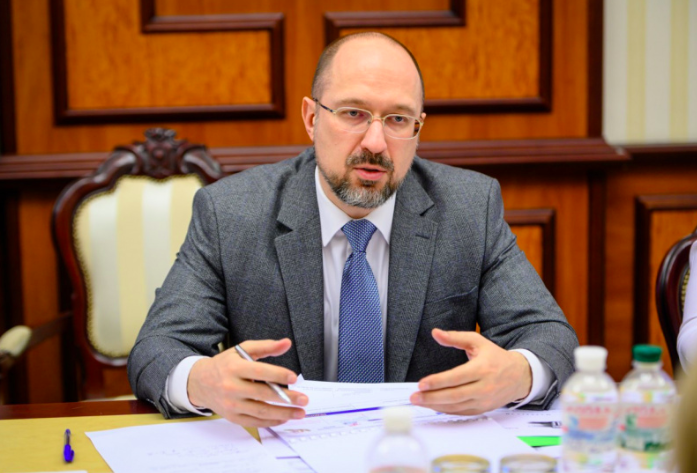 Thursday, March 12
Ukraine Closes Land and Air Links to Block Coronavirus...Companies Cut Travel, Face-to-Face Client Meetings...Central Bank Sells Another $350 Million to Defend Hryvnia...New PM Telephones IMF in Washington, Makes Deal a 'Top Priority'.
Ukraine closes three quarters of its 219 land border checkpoints today in an effort to isolate the country from coronavirus, Prime Minister Denys Shmygal told reporters Wednesday. Quarantine areas are being established at the 49 land border crossings that remain open. In addition, the country closes all schools and bans mass events involving more that 200 people through early April. In shopping centers, entertainment areas and movie theaters will close. Mass transit is to continue normally — with overnight sterilizing of trains, trams and buses.

Air links between Ukraine and Italy are 'de facto' suspended, Shmygal said. SkyUp, Ukraine's discount airline, is postponing the start of service to five new Italian cities to late May/early June. The government will spend $4 million to buy gloves, masks, protective suits and infrared screening equipment for Kyiv Boryspil airport. New steps will be posted on Ukraine's Health Ministry site here.
The steps will hit the economy, but the government will "count the losses" later, Shmygal said after a Cabinet of Ministers meeting. Ukraine has only one confirmed coronavirus case, in Chernivtsi, 500 km southwest of Kyiv. But Shmygal said: "We don't want to wait until it grows parabolically here. We want to protect Ukrainians and Ukraine to the maximum, and pass this phase as easily as possible." He predicted: "We hope the epidemic will diminish by summer."
Multinational companies in Ukraine are suspending domestic and international travel, limiting visitor access and cleaning common office areas as often as once an hour, according to a survey by Interfax-Ukraine that included interviews with Astarta, Continental Farmers Group, Corteva Agriscience, JTI Ukraine, Nestle, and Philip Morris. Today, JTI is holding a trial day where all employees work outside the office.
Asters is moving client meetings to on line formats. For the next month, "our clients and business partners are welcome to join comfortable and secure virtual meetings via Microsoft Teams tools and telephone calls and conferences," the law firm says. Serhii Sviriba, Asters co-managing partner says: "The No. 1 goal for us is to protect our clients and employees."
With arms fairs postponed in Malaysia, Qatar and elsewhere, UkrOboronProm will struggle to meet its goal of increasing export sales by 30% this year, Aivaras Abromavičius, general director of the state conglomerate, told reporters Wednesday.
The central bank sold $350 million to defend the hryvnia Wednesday – 30% more than the $270 million the bank sold Tuesday. Today's official rate is 25.62 hryvnia to the dollar, 8% below the Jan. 2 rate.
The National Bank of Ukraine blamed the weakened hryvnia on "psychological factors, foremost due to Coronavirus." Asserting that Ukraine's fundamentals remain sound, with $26 billion in reserves, a bank statement on Facebook said: "The National Bank has a sufficient margin of safety to smooth out excessive fluctuations caused by nervous moods."
The central bank may leave Ukraine's 11% prime rate untouched today when the National Bank of Ukraine holds its scheduled monetary policy meeting, bankers and economists tell Interfax-Ukraine. Although the key rate is almost five times February's 2.4% inflation rate, lowering the key rate would further erode the attractiveness of Ukraine's government bonds at a time of capital flight from emerging markets, says Andriy Prikhodko, head of Investor Relations at Credit Dnepr Bank.
With ample reserves, a manageable budget deficit, and a revived banking sector, Ukraine is in a stronger position to confront a global financial crisis than in the fall of 2008, Prime Minister Shmygal said Wednesday after a meeting with President Zelenskiy and the Ukraine's Financial Stability Board. Bloomberg reports that on Tuesday night, European Central Bank President Christine Lagarde warned EU leaders in a conference call that the world faces a crisis on the magnitude of 2008.
Also on Tuesday night, Shmygal talked by telephone with IMF Ukraine mission head Ron van Rooden. After the call, Ukraine's new prime minister said: "The top priority is to launch the IMF Extended Financing Program, especially to support structural reforms, macroeconomic and financial stability in the country." The IMF is waiting to see Rada approval of bills for a private farm land market and curbs on returning nationalized banks to original owners. Shmygal was joined on the call by Justice Minister Denys Maliuska and Ihor Umansky, Ukraine's new Finance Minister.
"We agreed on a systematic continuation of cooperation without changing any course," Shmygal said. "Of the eight parameters that the IMF requested to fulfill, we have two left, and we expect to fulfill them within two, at most three weeks." Comment may come today from Gerry Rice, the IMF spokesman, at his regular fortnightly press briefing in Washington.
Vox Ukraine, an influential group of largely free market economists, warned in an open letter Wednesday: "Ukrainian authorities have no time, and instability in the world requires fast and coordinated action." Vox reminded: "In the event of a pandemic, global growth can stop completely, as it did in 2009 during the global financial crisis. That year, the Ukrainian economy contracted by 15% and the hryvnia depreciated by 37%."
Solutions include: "resumption of cooperation with the IMF" and "preparation of stabilization measures to curb the possible outflow of deposits and withdrawal of capital." Vox concludes: "The situation in the world economy is worsening daily. There is no time or resources for populism, emotional decisions and internal struggle. The question is the fate of millions of Ukrainian citizens."
The letter was posted as the New York Dow was dropping 6% on Wednesday. It closed 20% below its high, ending an 11-year bull market.
With Ukraine's exchange rate, bond yields and prices on GDP warrants back to the levels of last summer, Timothy Ash suggests the government buy back the warrants. These 2015 warrants threatening to cost Ukraine billions of dollars in the 2020s. He writes from London: "A buy back would have cost $3.7 billion one month ago. Now it's down to $2.4 billion."
Studying the diverging paths of Ukraine and Pakistan bonds in the emerging market sell off, Ash concludes that Ukraine – without an IMF deal and without its financial 'A Team' – is paying a 150 basis points penalty. One month ago — before the coronavirus market meltdown and Ukraine's cabinet purge – Ukraine's 8-year government bonds were trading at yields of 5.62%. "Now it is 9.4% and heading back into double digits," he writes. "The cost was likely 150bps on borrowing costs," he writes. "On $84 billion of debt, that's $1.26 billion."
From the Editor: Readers who lived through 2008 have no desire to see a repeat. Last week's cabinet purge was rash and unnecessary. But now the key is to look forward and to take the smart steps to prevent Ukraine getting pulled down into an Emerging Market whirlpool. With Best Regards, Jim Brooke jbrooke@ubn.news