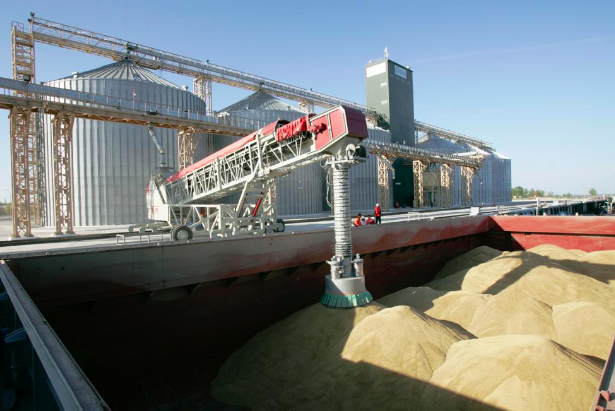 Over the next four years, Ukraine will increase its grain exports by 40%, to 70 million tons, Mykola Horbachev, president of the Ukrainian Grain Association, predicts to reporters in Kyiv. During the peak of the current marketing year, Ukraine exported 6 million tons a month. He says this proves that the ports are capable of shipping 70 million tons in one year.

Ukraine's economy grew by 2.5% during the first quarter, compared to the same January-March period last year. The new number is slightly above the preliminary 2.2% figure released one month ago by the State Statistics Service. In 2018, the economy grew by 3.5% y-o-y.
Ukrainian companies earned 57.5% more last year than in 2017, reports the State Statistics Service. After subtracting losses from profits, the net positive results hit UAH 373 billion, or $14 billion. While the exchange did not change significantly last year, inflation was 10%. Three-quarters of Ukrainian companies reported profits last year. By comparison, the net positive results in 2017 were 237 billion hryvnia, 3.4 times the level of 2016.
Poland has displaced Russia as the largest buyer of Ukraine's exports, according to Novoe Vremya, citing new trade statistics. During the first quarter of 2019, 7% of Ukraine's exports went west to Poland. Only 6% went east to Russia, historically Ukraine's largest trading partner. Five ago, at the start of the war, roles were reversed: 5% to Poland and 18% to Russia. On the push side, Russia blocked many imports from Ukrainian. On the pull side, Poland's economy is growing by 5% a year, more than double Russia's rate of 1.5%.
In two blows to DTEK Energy, the electricity monopolist, President Zelenskyy submitted to the Rada on Wednesday a bill to abolish the linking of Ukraine's coal prices to those in the Netherlands and the Constitutional Court ruled that the 2014 creation of the National Energy Regulatory Commission was unconstitutional. With energy policy in flux, it is likely that the Rada will follow Zelenskyy's suggestion and delay the July 1 creation of a liberalized electricity market by one year.
Concorde Capital's Alexander Paraschiy writes of the end of the price linkage: "Parliamentary approval of such legislation presents the worst possible scenario for DTEK Energy… Coal costs that are covered by the thermal power plants' electricity rates could decrease by about 30% from the current level already by 2H19, and by another 20% in 1H20. Needless to say, such discounts to the current price will be damaging for DTEK Energy's fundamentals."
Two American energy companies, one Azeri company and one company owned by oligarch Igor Kolomoisky are bidding for 50-year exploration and production rights to a massive offshore Ukrainian gas field near the Danube river delta. The 10,000 km square Dophin field is believed to hold 286 million tons of oil and gas. The field is large that it contains one Ukrainian offshore rig occupied by Russian security forces since 2014.
Bidders are: Trident Black Sea of New York; Frontera Resources Corporation, based in Houston and active in Georgia and Moldova; Caspian Drilling International Ltd, owned by SOCAR, Azerbaijan's state oil and gas company; and Ukrnaftoburiny, a company linked to Igor Kolomoisky that produces in eastern Ukraine.
On June 3, Andriy Bohdan, President Zelenskyy's chief of staff, wrote the Cabinet of Ministers, urging a postponement of the tender, arguing that the two-month notice period was too short for major international companies to prepare bids. Then, Radio Free Europe aired a report by its 'Schemes' investigative team arguing that Frontera has a poor production track record in Georgia, Moldova and Ukraine. The Interdepartmental Commission received the bids on June 12. The winner is expected to be announced this summer.
UkrGazVydobuvannya, the state gas company, won five of five oil and gas exploration and production permits put up for auction Tuesday by ProZorro. In each case, UGV won with bids marginally above the starting prices. Critics say starting prices were set too low for commercial companies. UGV produces about three quarters of the gas produced in Ukraine. Although the prospect of a Russian gas cut off has loomed over Ukraine for at least 15 years, production by the Naftogaz unit has been stagnant.
Preparing for a potential Russian gas cut off this winter, Ukrtransgaz has increased gas stocks by 44% since the heating season ended April 5. As of Sunday, Ukraine had 12.6 billion cubic meters in storage, 21% more than at the same date last year. By fall, Ukraine plans to have in storage a record 20 billion cubic meters, 16% more than last year. With 12 underground gas reservoirs capable of storing 31 billion cubic meters, Ukraine invites European energy companies to store 10 billion cubic meters of gas here under a new duty-free warehouse regime.
Naftogaz says it needs to raise $1 billion to buy gas for this winter. Signaling to the international bond market that the company is in ready to go to the Eurobond market, Andriy Kobolyev, the company CEO, announces that the company recently completed payments on a $500 million 2016 World Bank loan. "The loan portfolio of Naftogaz has decreased 6.6 times since 2014 and is a record low," he tells the state company's press office.  "For us, further cooperation with creditors is important."
With Ukraine's €1 billion Eurobond to settle today, the money is coming from 212 investment funds from 25 countries, Finance Minister Oksana Markarova writes on Facebook. "The geography of investors in Ukrainian securities has significantly expanded!" she writes. "It's good because it's essential to extend the circle of investors in Ukraine in the next years."
Timothy Ash writes from London about the Eurobond placement: "Ukraine 2026 in Euro is up four points since issuance – a remarkable success!…Massively cut Ukraine's borrowing costs….Right instrument issued at exactly the right time."
Ukraine has a 'short window' to change legislation to allow foreign joint ventures in aircraft manufacture, space technologies and defense industries, says Aivaras Abromavičius, President Zelenskyy's new appointee to the supervisory board of UkrOboronProm. Saying the Rada elected on July 21 will have to 'front load reform,' adopting laws to allow the outside investment that save state companies undermined by 'obsolete production,' brain drain, and theft of secrets. Addressing Antonov's inability to make and sell airplanes, he called the state company "a world champion of MOUs," referring to the memorandums of understanding that emerge from trade fairs.
The government allocated $1.2 million Wednesday for an international audit of UkrOboronProm. An immediate and thorough audit was strongly supported Tuesday night by Abromavičius, who spoke at the release of a report on defense industry corruption by NAKO, the Independent Defense Anti-Corruption Committee.
Note from the Editor: Were you forwarded this email? Consider signing up for your own daily delivery at: ubn.news/subscribe. Ukraine Business News is sent as an email every weekday morning before 6:00 a.m. Ukraine time. Best regards Jim Brooke – jbrooke@ubn.news.