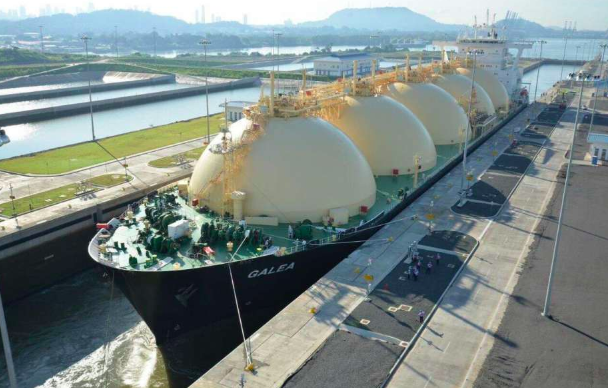 Thursday, June 13
Poland Buys More US LNG...Foreigners Bet Big on 6-year UAH Bond...Reformer to Tackle Defense Industry Behemoth...Cleveland Discovers its New Landlord: Igor Kolomoisky...Not a Passenger: Mystery Complainant Tries to Ground Thriving Discount Airline
Poland agrees to expand purchases of US liquefied natural gas by one third, Presidents Donald Trump and Andrzej Duda announced Wednesday at the White House. Trump said: "Over the past years, Poland has contracted with American firms for a total of about $25 billion to purchase more than 6 billion cubic meters of US liquefied gas. Today our countries have signed another contract for the supply of an additional 2 billion cubic meters worth about $8 billion." Poland plans to stop importing gas from Russia after 2022.

 Foreigners accounted for "most" buyers of Ukraine's debut issue of $128 million worth 6-year hryvnia bonds, Finance Minister Oksana Markarova writes on Facebook. The sale is part of a strategy stretch out the maturity rates of the government bonds and to lower the interest rates. The 6-year bonds placed at the annual rate of 15.85%.
 Interfax-Ukraine writes: "The success of the auctions on June 11 is also explained by the Ministry of Finance by joining the network of the international depositary of Clearstream securities, which has opened up more opportunities to attract global investors in T-bills in national currency while extending the terms of their circulation."
 Concorde Capital's Evgeniya Akhtyrko hails the sale of 6-year bonds as "a positive achievement," writing: "It points to increased confidence of investors in Ukraine's debt market, as well as improved expectations regarding the stability of Ukraine's national currency."
 President Zelenskyy appointed former economy minister Aivaras Abromavičius on Wednesday to the supervisory board of Ukroboronprom, the state defense conglomerate. In April 2016, Abromavičius left the economy ministry, charging corruption in the Poroshenko administration. Since then he has chaired the Ukrainian Corporate Governance Academy, a Kyiv-based non-profit dedicated to improving Ukrainian state company management.
 "Ukroboronprom is a company with a huge potential yet it has drowned in major corruption scandals over the past few years," Abromavicius told the Kyiv Post after his appointment. "We need to start the financial audit that has been artificially stalled since 2017, initiate deep and comprehensive personnel changes, assist law enforcement agencies in the investigation of the past crimes." Ten of the conglomerate's 100 companies are slated for privatization.
PrivatBank lost $303 million of deposits after a Kyiv court ruled in April that nationalization of the country's largest lender was illegal, the bank's finance chief tells Reuters. Noting depositors got "a bit nervous," Anna Samarina, PrivatBank's chief financial officer, said in an interview: "As of today, we managed to recover part of that, but we are not back to previous levels." As legal fights continue with the former owner, Igor Kolomoisky, she said: "Up to 10% of the bank's operating costs are now dedicated to legal costs." Although Kolomoisky was Zelenskyy's main media backer in the presidential campaign, Samarina said: "There has been no interference from the new presidential team in the operations of PrivatBank."
Noting the initial withdrawals amounted to 5% of deposits, Timothy Ash writes: "This is a huge issue for Ukraine. Let's hope the courts rule the most sensible course of action, and do not jeopardise Ukraine's hard won macro stability."
 A decade ago, a Kolomoisky-controlled company, Optima Ventures, became the largest real estate owner in Cleveland, owning 2.8 million square feet of office and retail, writes Cleveland.com in an article How Ukrainian Oligarchs Secretly Became the Largest Real Estate Owners in Downtown Cleveland. "In recent years, Optima has been selling off its Cleveland properties, most of which have fallen into disrepair and suffer from high vacancy rates," reports the story, based on local reporting and on the 104-page legal complaint filed last month in Delaware by PrivatBank's current management.
Chaim Shochet, a Miami-based manager of Optima, responded to Cleveland.com's questions about the Delaware suit, saying by email: "The allegations in this lawsuit – part of an orchestrated political attack by a Ukrainian bank against investors in our thriving businesses – are false, defamatory and utterly without merit. We intend not only to contest but to disprove these reckless allegations, and to demonstrate that they are part of a smear campaign driven by a Ukrainian political agenda that we have nothing to do with."
In the latest surprise decision by a Kyiv court, a district judge suspended on Wednesday the operating license of SkyUp, Ukraine's one-year-old discount airline. With Ukraine's peak summer travel season starting this week, the airline appealed. The  Infrastructure Ministry found a legal mechanism to keep the airline operating and making all its flights. In its first year of operation, the airline carried 870,000 passengers on 5,203 flights, largely to southern vacation destinations. Last week, SkyUp received its eighth Boeing passenger jet.
The court decision was in response to a complaint by Oksana Pasenko, who charged that the airline is unsafe and suffers from flight delays. The airline counters that she never bought a ticket with SkyUp. Interfax-Ukraine cites an Infrastructure ministry official saying Pasenko "has more than 30 administrative offenses, a significant part of which is related to alcohol."
Corporate "raiding" is behind the court decision in an area which is the jurisdiction of the State Aviation Administration, Infrastructure Minister Volodymyr Omelyan writes on Facebook. "What is happening now is a clear attempt to intervene in the created mechanism of free competition…it's again an attempt to return to the aviation monopoly in the sky," writes Omelyan. He changed his Facebook home page photo to show a SkyUp Boeing landing at Boryspil with the warning: "They want to end the freedom to fly."
With 31 regular and 15 charter routes, SkyUp now has direct international flights from Kyiv Boryspil and 10 regional airports. The two significant airports that do not have SkyUp flights are Dnipro and Ivano-Frankivsk, both owned by Kolomoisky.  SkyUp's strategy clashes with the spoke and Boryspil hub strategy of Ukraine International Airlines, also owned by Kolomoisky. Last year, UIA lost $100 million.
In the two years of Ukraine's visa-free regime with the EU, Ukraine's international air routes have increased by 48%, to 129, Ivanna Klympush-Tsintsadze, vice prime minister for European Integration, writes on Facebook. The number of foreign air carriers has nearly doubled, reaching 39 today. The number of discount airlines has increased from eight in 2017 to 13 today. Referring to the 28-nation European Union, she writes: "Six low-cost airlines carry passengers and cargo on 125 routes to 24 EU countries."
Note from the Editor: Choosing among three variants for the English language spelling of the name of Ukraine's new President, the Presidential Administration has opted for Zelenskiy. In line with the UBN's policy of using official spellings, we go with Zelenskyy — Best Regards, Jim Brooke (with an 'e') – jbrooke@ubn.news.