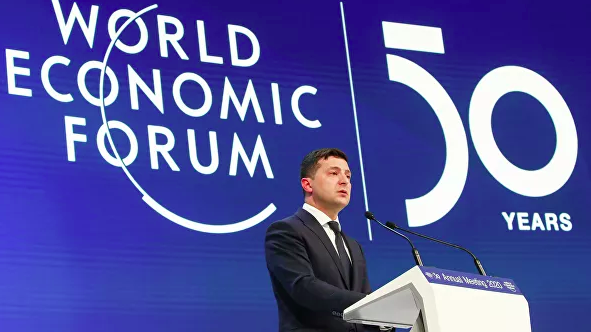 Thursday, January 23
Zelenskiy in Davos: Income Tax Breaks and 'Investor Nannies' To Make Ukraine Eastern Europe's 'Investment Mecca'...IMF: 'Constructive' Meeting with Zelenskiy...Finance Ministry Places €1.25 Billion Eurobond At Yield 237 bps Below Last June...Strong Demand at Hrvynia Bond Auction Also Depress Yields to 10%
To jump start foreign investment in privatization, President Zelenskiy announced Wednesday a five-year income tax break for investors who invest $10 million or more for a state company and a personal "investment nanny" to help large investors navigate Ukraine's bureaucracy. "It is the state that will protect you, you will have a manager who speaks five languages ​​and will work with you 24/7," Zelenskiy told the World Economic Forum in Davos.

"We offer an 'investment nanny' for those investing $100 million-plus — this will include a separate contract with the state," Zelenskiy said, answering a question from Klaus Schwab, executive chairman of the  Forum. "A manager speaking five languages and available 24/7 will answer any question. You will be in direct touch with the manager and have no problem whatsoever."
Addressing an audience heavily populated with investors and company CEOs, Zelenskiy said: "500 companies are ready for privatization." Asserting that privatization starts in earnest this spring, he said: "We propose all of you to be the shareholders of the success of new Ukraine."
The setbacks of the last five years "mobilize us Ukrainians and make us move faster, inspire us to do the incredible and impossible," he said. Aiming high, Zelenskiy told the investor audience: "My goal is to have Ukraine in the textbooks alongside the cases of Japan, South Korea, Singapore. So join us! Ukraine should become the investment mecca of Eastern and Central Europe."
IMF Managing Director Kristalina Georgieva met with Zelenskiy, Prime Minister Honcharuk and Finance Minister Oksana Markarova. Afterwards Georgieva released this statement: "We had a very constructive conversation with President Zelenskiy about the progress made in reforming the judiciary, increasing respect for the law, promoting economic growth and the importance of completing actions that still remain unsolvable so that we can put the IMF program on board decision Directors."
Earlier in the day, Markarova wrote on Facebook that the 3-year program could be Ukraine's last for the Zelenkiy presidency. "The IMF program, which we have agreed at the management level, is definitely needed for three years. But there is a chance to withdraw from the IMF, having completed [the program] in full." If approved by the IMF Board, the Extended Fund Facility is expected to be for $5.5 billion.
Favorable financial developments bolster the Finance Minister's confidence.
A €500 million tranche of EU financing may be transferred to Ukraine next month, Radio Liberty correspondent Ricard Jozvyak, tweets from Brussels. Release has been loosely tied to a EU agreement.
Last night, the Finance Ministry announced placement of €1.25 billion in 10-year euro-denominated Eurobonds at a rate of 4.375% per annum. The issuance was almost six times oversubscribed. The joint lead managers were BNP Paribas, JP Morgan and Raiffeisen Bank International. For comparison, last June, Ukraine placed €1 billion worth of seven-year Eurobonds with a yield of 6.75% per annum.
Markarova posted on the Ministry website: "We are pleased to announce that today Ukraine conducted a price-list of euro-denominated Eurobonds with a maturity of 10 years at the lowest coupon in the history of the country, at a rate of 4.375%, having collected applications from more than 350 investors from all over the world."
This low interest bond deal will save Ukraine $2 million a day, Prime Minister Honcharuk posted on Telegram. "Our government has inherited a heap of insane debt," he wrote. Referring to a $20 billion a year load, he wrote: "Servicing the national debt is the largest item of expenditures from the State Budget. It will average UAH 484 billion a year by 2022. That is why we have placed Eurobonds at the cheapest interest rates in the history of Ukraine. In simple words, we replace debts – we give away expensive ones, and we take much cheaper ones."
On Tuesday, heavy bidding at the weekly auction for hryvnia bonds depressed yields across the board to the 10% range. Demand was double supply, the Finance Ministry reports. The sale netted the dollar equivalent of $263 million, 5% more than the auction the week before. Average weighted yields were: 3-year hryvnia bonds down 237 basis points to 10.01%; 1-year bonds down 14 basis points to 10.04%; and 6-month bonds down 172 basis points to 10.03%.
Concorde Capital's Evgeniya Akhtyrko writes: "The interest rates for short-term bonds declined significantly amid the growing demand. The interest rates converged at around 10%, no matter the bonds' term of maturity…Next week, the government will lengthen the maturity of the Ukrainian state bonds spectrum by offering 7-year bonds."
With the National Bank of Ukraine expected to cut Ukraine's prime next week by 200 basis points or more, ICU writes: "Generally, current conditions seems to have put rates very close to the bottom, and a further decline in the NBU key policy rate will not have significant impact, especially at the long end of yield curve, where demand is mostly seen from foreign investors."
At Davos, Zelenskiy also held meetings:
With Suma Chakrabarti, president of the EBRD. Zelenskiy thanked him for extending €1.1 billion in new loans to Ukraine last year.
With David McLennan, CEO of Cargill. Zelenskiy outlined Ukrzaliznytsia plan for private freight trains this year and encouraged the American company to increase its investments in food processing.
With Rovnag Abdullayev, CEO of Azerbaijan's SOCAR energy company. Zelenskiy discussed new investments in gas transportation. Separately, Azerbaijan's Ambassador to Ukraine Azer Khudiyev said in Kharkiv on Tuesday that Azerbaijan plans to expand its new investments in Ukraine this year to $1.5 billion.
Also at Davos, German rail giant Deutsche Bahn signed a memorandum of understanding with Ukraine's Infrastructure Ministry. "The experience of the most successful European railway company will increase the efficiency and quality of rail transport in Ukraine," said Prime Minister Honcharuk. Stressing that the alliance does not mean privatization of the state railroad, he added: "German operational efficiency and zero tolerance for corruption will be the basis for changing the situation at Ukrzaliznytsia."
At Ukraine House Davos, Honcharuk chaired on Wednesday evening his first meeting of the National Investment Council, the CEOs of 20 top foreign investors in Ukraine. Noting that next year's economic growth rate is expected to match the inflation rate – 4% – he urged: "Now is the best time to invest in Ukraine." After listing the main free market reforms enacted in the first four months of his government, he said: "Fair competition and equal rules for all are our religion. We believe in it and will fight for it."
From the Editor:  Ukraine took Davos by storm Wednesday – from President Zelenskiy winning a prime speaking spot at the World Economic Forum – to news filtering through the audience of the six-times oversubscribed €1.25 billion Eurobond. At Ukraine House Davos, it was standing room only for a series of frank and forward looking panels. More on that tomorrow. Best regards from Davos Jim Brooke jbrooke@ubn.news