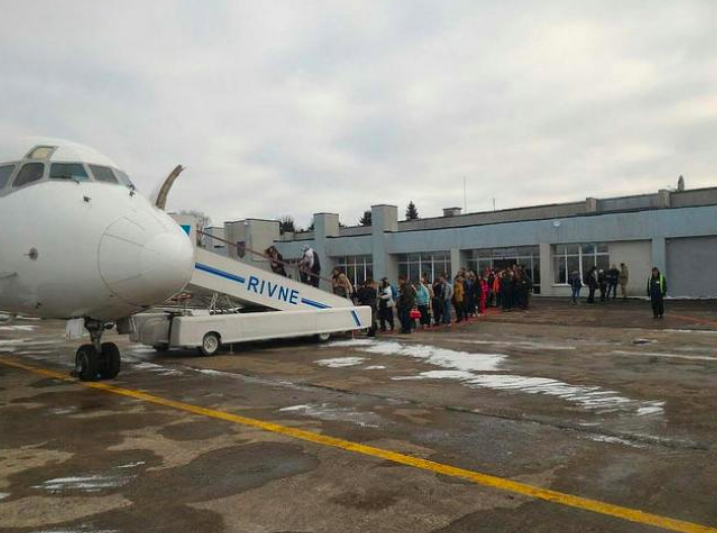 Power China, a big Chinese construction company heavily involved in Beijing's Belt and Road Initiative, signed a memorandum of cooperation Tuesday with regional officials to develop Rivne International Airport. The largest airport in northwest Ukraine, Rivne has a 2,626-meter long Soviet-era runway. Ranked 13th in the nation for passengers, Rivne airport handled only 11,000 passengers last year, largely on SkyUp flights to Egypt.

Located 100 km east of the Polish border, Rivne is seen as a potential international cargo hub. Power China, one of the world's leading global engineering design companies, is carrying out two major projects in Ukraine. It is building a 6-lane, 22 km highway bypass around Zhytomyr, complete with three interchanges and 10 bridges. In the south, the Beijing company is the engineering, procurement and construction partner of Norway's NBT, building a 63 turbine, 250 MW wind power project in Syvash, Kherson Region.
Airplane passengers soon will be able to use the Internet while flying across Ukraine, from takeoff to landing, the Cabinet of Ministers of Ukraine decided yesterday. "Ukrainians will be able to use the Internet even while flying on an airplane," Prime Minister Honcharuk said. Expanding mobile ranges, he added, "is an important step towards the emergence of the high-quality Internet in small villages and remote regions."
Five years after the Malaysia Airlines shootdown over occupied Donbas, foreign airlines are gradually returning to flying through Ukraine's airspace, reports the state Air Traffic Services, or UkSATSE. Flyover traffic was up 13% y-o-y last year, to 141,680. After the July 2014 shootdown, flyover traffic fell by 75%. Two years ago, it started creep back up. Last year's level is 40% the level of 2013. Overflights are a major contributor to the budget of Ukraine's air traffic control agency.
Deutsche Bahn, Europe's largest rail company, is sending a delegation to Kyiv in the coming days, to discuss with Ukrzaliznytsia a strategic partnership, reports the Center for Transportation Strategies. Rail executives would be joined by executives from E.ON, the German electric power company, Dmitry Stratievsky, a former Bundestag deputy, writes on his Facebook page. With a partnership under discussion for three years, experts interviewed by CTS see upsides: using German technology to modernize Ukraine's rail infrastructure; joint projects to better organize the movement of goods and passengers from Ukraine to the EU; and the development of transit freight.
During the winter lull in the road construction season, the Cabinet of Ministers has approved 4,034 km of road sections to be rebuilt this year – two thirds more than last year. Of the roads, 1,345 km are of 'national importance' or linking regional capitals. This year's road budget is a record $1.3 billion.
Sales of new motorcycles and mopeds jumped by 50% last year y-o-y, to 34,000, reports Auto-Consulting. The analytical group reports: "The Ukrainian motorcycle market experienced a real "boom" in sales in 2019 and will surely go down in history as one of the most successful."
President Zelenskiy will meet with investors next week at Ukraine House Davos. Investors participating in four days of panels include Johan Eliasch, Chairman and CEO of HEAD; Yuriy Kosyuk, Founder and CEO of MHP; Michael Yurkovich, CEO of TIU Canada; and Shannon Kalayanamitr, Venture Partner of Gobi Partners. Alexa Chopivsky, Executive Director of Ukraine House Davos, says: "We strive to tell the real story about Ukraine: to go beyond headlines and show the ground-breaking changes taking place in the country, spurring high-growth companies and sectors, and some of the most attractive investment opportunities in Europe."
Privatization of Ukraine's 3,000 state companies will be promoted at Davos by Dmitry Sennichenko, head of the State Property Fund. At the World Economic Forum, he is to speak on the topic "Ukraine is the Place of Europe's Strength" and is to have bilateral meetings with foreign investors interested in Ukraine.
To help investors get more accurate and comprehensive information on state companies up for sale, the Properly Fund started running last week in test mode "virtual data rooms." These document repositories are to be created for largest of the 500 companies scheduled for sale this year.
Vinnytsia Aviation Plant is one of nine Cold War-era defense plants that UkrOboronProm plans to auction off this year through the State Property Fund. Others include Zaporizhia Automobile Repair Plant; Ivano-Frankivsk boiler and welding plant; 171st Chernihiv repair plant; Nezhinsky repair plant engineering weapons; Kharkiv transport equipment plants; and in Kyiv the Central Research Institute of Navigation and Control and Ukroboronresurs.
Google Ukraine opened an R&D office in Kyiv this month, becoming the third Google Eastern Europe office to have R&D, after Google Poland and Google Hungary. In Ukraine, Google acquired CloudSimple in November and recently integrated the 30 employees into the Google structure, reports AIN.UA, the IT news site. An outgrowth of Ciklum, CloudSimple develops 'VMware' – software that allows users to create virtual machines on physical servers and to migrate them to the cloud. The Kiev office is located in Astarta Business Center.
Through November, the renewable share of Ukraine's electricity production has more than doubled, growing from 1.7% to 4.1%. Over the same period, the share of electricity produced by thermal power plants decreased from 38% in November 2018, to 32.0% in November 2019, reports the Energy and Environment Ministry. Last year, €3.7 billion was invested in solar, wind and biogas creating 4,500 MW of capacity, according to the State Energy Efficiency Agency. Today, with the future of 'green tariffs' unclear, some renewable projects have been halted.
US-based Holtec International has completed construction and transferred the dry spent fuel storage facility to the Chornobyl Nuclear Power Plant. Next month, 'hot tests' are to start with the transfer of 186 spent fuel assemblies to the new storage facility, reports the state-owned power plant.
With medical tourism growing, the average spending by foreign patients grew by almost one-third last year, to $2,800, estimates Ihor Torsky, vice president of the Ukrainian Association of Medical Tourism. Torsky talked to reporters to promote the Global Medical Tourism Forum Healthcare Travel Forum 2020, which will take place in Kyiv city and Lviv region on April 22-25.
Waikiki, the French-inspired, Turkish-owned fashion retailer plans to triple its Ukraine stores, to 90 by 2023, the company reports. With 32 stores in Ukraine today, Waikiki plans to open in coming weeks its largest store ever – a two-level, 1,880 square meter store in River Mall, on Kyiv's Left Bank. Founded in 1988, the chain now has more than 990 stores in 47 countries.
From the Editor: UBN is a media sponsor of Ukraine House Davos, running from Monday through Friday next week, at the World Economic Forum. The Ukraine House is a week-long set of events organized by the Ukrainian Venture Capital and Private Equity Association (UVCA), Western NIS Enterprise Fund (WNISEF), Victor Pinchuk Foundation, and Horizon Capital. In 2019, over 7,000 people attended Ukraine House Davos events, including global political and business leaders. I will be attending and filing the UBN next week from Davos. For more information, see https://www.ukrainehousedavos.com. With best regards Jim Brooke jbrooke@ubn.news