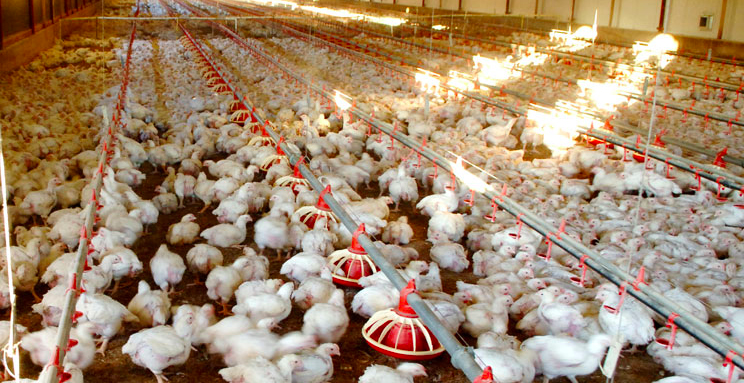 Thursday, February 28
Geology Agency Doubles Oil + Gas Blocks For Auction…Almost 1 Gigawatt of Wind Projects Underway…Ukraine Exports Half a Billion Dollars Worth of Chicken Meat…Ukraine to Top Russia This Year as Largest Black Sea Grain Exporter…Foreign Minister Backs Dual Citizenship
To attract foreign investment into oil and gas exploration and production, the State Geology Service is doubling the number of blocks prepared for electronic auction by June. "More than 30 oil and gas sites" are to be auctioned, Oleg Kirilyuk, head of the service, told the Cabinet of Ministers on Wednesday. The current schedule for auctions is: March 6 — 10 fields; April 29 –7 fields. The Geology Service says these 17 sites have 'projected resources' of 92 billion cubic meters of gas and 16 million tons of oil.

The oil and gas auctions are designed to "attract the maximum quantity of not only Ukrainian companies but also foreign companies to the market," said Ostap Semerak, Minister of Ecology and Natural Resources, the Ministry that controls the Geology Service. Ukrinform reports Semerak told the Cabinet of Ministers on Wednesday: "I am convinced that the Service will show a good result because the new conditions are very liberal and comfortable. I want this to be a new impetus for the Ukrainian economy.
President Poroshenko pushed a button starting a GE wind turbine Wednesday but did not publicly talk about the fate of the green energy auction bill in the Rada. "The new energy industry is one of the most important, primary issues for moving our state forward," the President said. Hailing the Primorsk project by DTEK Renewables to build 52 towers with 3.8 MW turbines on Zaporizhia's Azov coast, the President said: "It is through such projects that we turn Ukraine into a regional leader." Back in Kyiv, 700 km to the north, analysts noted that the President did not use the press event to throw his weight in the Rada behind passage of the auctions bill, a step designed to unlock more wind and solar investment.
German commercial banks will loan €90 million for construction of the second phase of the Primorsk Wind Power Plant, Philipp Leckebusch, DTEK Renewables CEO, said at the inauguration.  "This project is financed by two loans of German commercial banks for a total of EUR180 million," he said. "This will be one of the largest commercial loans in Ukraine in recent years." Expected to cost €300 million in total, the plant is to have the capacity to generate 200 MW.
Almost 900 MW in wind power projects are under construction in Ukraine today, says Andriy Konechenkov, chairman of the Ukrainian Wind Energy Association. Of these about 300 MW will be commissioned this year, he predicts. The projects are largely in southern Ukraine, along the coasts of the Black and Azov seas, where winds are the strongest. Last year, 68 MW of wind power capacity was commissioned.
If Ukraine does not move from Europe's highest green tariffs to an auction system, consumers will pay $1.5 billion a year for renewable energy by 2021, warns Olha Buslavets, director of energy markets for the Ministry of Energy and Coal Industry. This sum is equal to what consumers paid last year for electricity generated by nuclear power plants, the source of 56% Ukraine's power, she said in a press statement on Wednesday.
DTEK Naftogaz, one of the nation's largest private gas producers, plans to nearly double natural gas production to 3 billion cubic meters by 2024, Igor Shchurov, the company's general director, said Wednesday at the Ukrainian Energy Forum in Kyiv. Praising regulatory changes and cuts in royalties, Shchurov said the company plans to double the investment, to $110 million, and to increase drilling depths, possibly to below 7 km. Responsible for about one third of Ukraine's privately produced gas, DTEK Naftogaz produced 1.65 billion cubic meters last year, the same amount as in 2017.
Russia's plan to bypass Ukraine to supply gas to southeast Europe is advancing. Russian pipe maker TMK plans to bid on a Bulgartransgaz tender to build a pipeline north from Turkey, Reuters reports from Moscow. Last November, work was completed on the 1,090 km TurkStream pipeline, which runs from Anapa, Russia, to Kıyıköy, a Black Sea town in Turkey's European section. Now Russia's Gazprom must choose from two possible routes for TurkStream: via Bulgaria, 50 km to the north, or through Greece, 150 km east. Next week, Russia's Prime Minister Dmitry Medvedev flies to Sofia to sign energy documents.
Ukraine exported half a billion dollars worth of chicken meat last year – four times the combined total of beef, pork and sausage exports. According to the Food Export Council, meat exports were: chicken — $507 million, 326,000 tons; beef – $125 million, 42,000 tons; pork — $3.7 million, 1,700 tons; and sausages – 439 tons , $1.3 million.
Ukraine is expected to displace Russia this year as the largest Black Sea grain exporter. Russia is to export 42 million tons this year, 20% below last year's record 52.4 million tons. By contrast, Ukraine is to export 49 million tons in the year that ends in June. Kommersant reports from Moscow that Russian Agriculture Ministry officials are calling exporters asking them to slow sales. Concerned about meeting domestic demand, Rosselkhoznadzor, the state food safety agency, is in go slow mode. stretching quality checks at ports from one day to five days or more. Yulia Melano, a food safety agency representative, is quoted saying longer checks respond to quality complaints from Indonesia, Vietnam and African countries.
Ukraine's central bank has completed a pilot project on a blockchain-based 'e-hrynia.' "We are not talking about cryptocurrency, we are talking about the digital currency of the central bank," says Alexander Yablunivsky, director of payment systems at the National Bank of Ukraine. Ruling out the e-hryvnia becoming a cryptocurrency, a central bank must have more control over its issued currency than crypto currency's immutable ledgers offer.
Ukraine should allow dual citizenship, partly to inject new talent into the country, Foreign Minister Pavlo Klimkin told UNIAN In Odesa on Wednesday.  "[Imagine] how many great professionals could come from other countries to help us with reforms," he said. However, he cautions, dual citizenship with Russians, "will be discussed only after they return Donbas and Crimea back to us."
This summer, a 2,000 square meter shopping, and entertainment center will open 50 meters from the southern exit of Kyiv's Central Rail Station, reports Informator news site. With about 100,000 people passing through the Southern Station a day, the exit area already has a KFC, a Papa John Pizza and a Puzzata Hata. According to Colliers International, the new center will offer stores and two restaurants with summer verandas on the roof. Ukrzaliznytsia is drawing up plans to privatize management of the commercial spaces inside the Central Station, which opened in 1932.