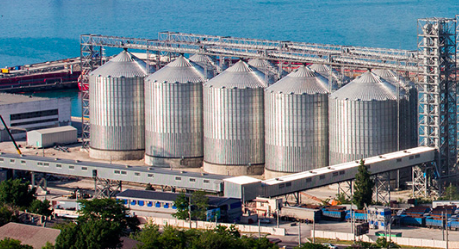 Thursday, February 14
South Korea's Posco Buys Mykolayiv Grain Terminal…M&A up 78%, Foreign Investment up 47%...Internet of Things Spreads…Half of Population Has Access to 4G…Roads, Railroads and a New Icebreaker: Ukraine's €675 Million Wish List for EU Aid to Azov
South Korea's Posco Daewoo is buying 75% of a 2.5 million ton a year grain export terminal under construction in Mykolayiv. South Korea, a nation of 52 million people, imports almost all its wheat and corn – about 15 million tons. This year, Ukraine is to export 47 million tons of grain. Last year, Choi Jeong-woo took over as Posco chairman and the steel giant on a path to become a global grain trader. Posco became a corporate member of President Poroshenko's National Investment Council and sent executives to Ukraine on fact finding visits here. In a deal where investment values were not made public, Ukraine's Orexim Group retains minority ownership of the terminal.

Ukraine increased food exports last year by 5.4%, to $15 billion, according to the Ukrainian Food Export Board. Grains accounted for about half of exports. India was the biggest buyer of Ukrainian farm products — $1.8 billion, largely soy and sunflower oil. China came in second — $1 billion, largely for corn and sunflower oil. The Netherlands came in third — $643 million for chickens, butter and corn. Spain was in fourth place, with Saudi Arabia close behind with $510 million.
Farm exports account for 39% of foreign currency entering Ukraine, Prime Minister Groysman told the Cabinet of Ministers Wednesday. President Poroshenko told the Dragon conference Tuesday that a key challenge for the 2020s is for Ukraine to add value to farm exports by increasing processing.
Mergers and acquisitions increased by 78% in 2018 year over year, to $1.8 billion, KPMG reports in its annual Ukraine M&A Review. The number of deals increased by 19%, to 80. Foreign investment increased by 47% to $508 million in 25 transactions. "The Ukrainian economy is recovering" says the report. Noting the two elections this year, KPMG predicts that foreign investment growth in 2019 will be "modest." "Ukraine is now on the verge of change," the report says. "And if reforms continue, the number of mergers and acquisitions will only increase with the growing number of foreign investors considering access to the local market."
Despite the lack of a farmland market, agriculture attracted the highest portion of the foreign investment. Saudi Agriculture and Livestock Investment Company, or SALIC, bought Mriya Agro Holding for a reported $242 million. Switzerland's Julius Baer paid $73 million for a stake in Kernel Holdings. Japan's Sumitomo paid $45 million for a controlling 51% stake in Spectrum-Agro and Spectrum Agro-Engineering.  Noting last year's record 70 million ton grain harvest, KPMG says: "International investors are even more closely looking at the Ukrainian agricultural sector."
Capital investment grew by almost 20% in 2018, Prime Minister Groysman tells the cabinet Wednesday. "957 industrial and industrial facilities were repaired and reconstructed – new products and new jobs."  He says the government's investment promotion office, UkraineInvest, is facilitating $2 billion in planned foreign investments.
Kyivstar, Ukraine's largest mobile telephone company, is testing in Kyiv and Odesa its Narrowband Internet of Things network, or NB IoT. After testing with client businesses this month, it plans to launch the network nationwide later this year. This low power next network offers indoor coverage, low cost, long battery life, and high connection densities for items like gas and water meters. 'Smart' street lights turn on when it gets dark. 'Smart' traffic lights turn red when approaching cars break speed limits. 'Smart' water, gas, and sewage lines detect breaks.
Lifecell, Ukraine's third largest mobile operator, is partnering with IoT Ukraine to launch IoT networks, first in Kyiv and Lviv, later in Dnipro, Kharkiv, and Odesa. To cover 90% of Kyiv, the Turkish company is erecting 40 base stations, a network capable of connecting 200,000 sensors. With Kyivgas, lifecell's IoT network allows the gas company to read thousands of gas meters. Ericsson, which supplies the radio equipment, estimates that, by 2024, four billion devices will be connected to the Internet around the world. Vodafone Ukraine is testing NB IoT Vodaphone technology, a platform used for 77 million connections worldwide.
Ten months after launching 4G service, Kyivstar says it now covers cities and towns representing about half of Ukraine's population or 21.5 million people. Maps indicate that about 90% of Ukraine's territory now has 3G or 4G service. Blank spots are the Carpathian mountains and lightly populated farming areas scattered across Ukraine, the largest nation in Europe.
EU foreign ministers meet Monday in Brussels to discuss aid to Ukraine's southeast and sanctions on Russia for interfering with merchant shipping in the Azov. With unanimity needed, EU sanctions are expected to be wrist slaps. For aid, Ukraine has drawn up a wish list for improving road and rail access to its Sea of Azov ports, Berdyansk and Mariupol. With the airports of both cities closed, highways and faster trains would speed freight and bring tourists to the coast. Two weeks ago, Viktor Dovhan, Infrastructure vice minister, visited the area with EU officials. Last week, drew up this €675 million list:
Rail:
 €7 million to upgrade tracks and signals to increase freight and passenger train capacity by 60% on the 480 km Mariupol-Zaporizhia line.
€15 million for four new GE diesel locomotives and upgrading the locomotive depot at Volnovakha, Donetsk region.
Road:
€40 million to complete rebuilding the 224 km Mariupol-Zaporizhia road into a highway. With completion expected next year, half of the roadwork is done.
€70 million to complete repairing the 143 km Berdyansk highway north to Vasylivka, on the Dnipro River.
€130 million to complete repairing the 321 km Dnipro-Mykolaiv road. A major artery feeding cargo to the Black Sea, this road takes seven hours to traverse.
€313 million to repair and rebuild the 419 km Mariupol-Berdyansk-Melitopol-Kherson road. Known as the M-14, this is Ukraine's major east-west road running along the north shore of the Sea of Azov. If rebuilt as a highway, it would allow trucks to take cargo from Mariupol to Kherson port in five hours.
Ports:
€24 million – a dredging ship dedicated to Ukraine's Sea of Azov ports
€16 million – upgrade of navigation safety systems, weirs and sea walls
€60 million – a new icebreaker; Ukraine's only icebreaker, the Kapitan Belousov, was built in 1954.
Preparing for aid talks with the EU, Infrastructure Minister Volodymyr Omelyan asserts Ukraine has the "cheapest" road repair in costs in Europe: €300,000-600,000 per kilometer. Building from scratch costs €1.5-2 million per kilometer. He tells UNIAN: "This is the cheapest price in Europe. Bulgaria is closest in price to us. It builds autobahns from €3 million."
 Asked in the Rada last week why Ukraine's roads are not in better shape, Omelyan responded: "Unfortunately, the government is not Hogwarts. We do not have a magic wand to repair all the roads of Ukraine that have not been repaired for decades."