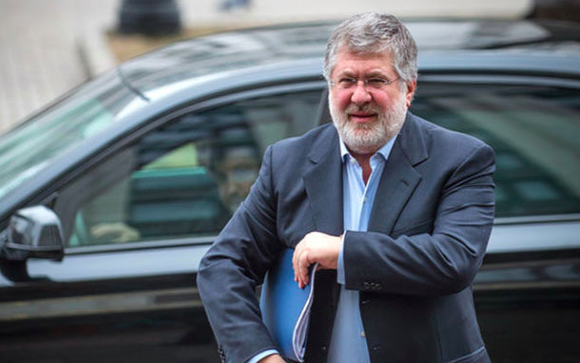 Thursday, December 19
Showdown Today: Ukraine vs. Kolomoisky…Investors Still Positive…Naftogaz Sees Little Chance of new Agreement…Businesses Worry About Pressure on Central Bank…Farm Exports Boom…New Anti-Raiding Offic…Swiss Hotel For Zhytomyr…Boryspil Up, Sikorsky Down
Ukraine's government faces off against oligarch Igor Kolomoisky in a court appeal today over the nationalization of PrivatBank, a case ultimately affecting the country's ability to get billions in foreign loans. Three years ago, the Poroshenko government seized the nation's private largest lender as part clean-up of the banking system, arguing that bad practices drove the bank to insolvency. Earlier this year, a Kyiv court ruled the nationalization illegal. The case is a test of President Zelenskiy's political will to fight powerful vested interests.

Kolomoisky said Wednesday he expects a "fair verdict, unaffected by politicians or officials." He told Reuters: "I do not want to create pressure on the court…But everyone knows the nationalization was not fair."
Since Zelenskiy's landslide electoral victories this year, foreign investors have been highly positive on Zelenskiy's reform commitments and parliamentary support, giving Ukraine's sovereign bonds a huge 31% return this year. Tim Ash of BlueBay Asset Management described this year as "stellar" adding: "We just want to make sure this continues."
In advance of Russia-EU-Ukraine gas transit talks today, the likelihood reaching of a new contract before Jan. 1 is "very low," says Naftogaz Chief Andriy Kobolyev. The current 10-year agreement between Ukraine and Russia on the conditions of transportation of Russian natural gas through the Ukrainian territory to Europe expires  Jan. 1. Earlier this week, President Zelenskiy said: "For some reason, I can say confidently that we will sign a transit agreement." Gazprom says transit tariffs proposed by Kyiv are too high.
Ukraine's business community is worried about pressure on the central bank and urges President Zelenskiy to act. "Pressure on the NBU Board is an unfavorable sign for foreign investors and multinational companies operating in Ukraine as it questions safety, justice, and rule of law in Ukraine," reads a joint statement released by American Chamber of Commerce in Ukraine, the European Business Association, and other business organizations. Last month the National Bank of Ukraine  accused  Kolomoisky of orchestrating attacks of slander, paid protests, and "an attempt by hired thugs to forcibly invade" the headquarters of the central bank. The goal is to "interfere with Ukraine's cooperation with international partners and, above all, the IMF."
Setting a new record, Ukraine  exported $20.2 billion  of agricultural products through November, up 7.4% y-o-y, reports the Institute of Agrarian Economy. Top three categories were; grain — $8.6 billion; oils — $4.2 billion; and oilseeds — $2.3 billion.
An "Anti-Raiding office" aimed at protecting businesses' rightful owners is being created by the Cabinet of Ministers, UNIAN reports. "We as a government have declared the need for economic growth. Without economic rights, there will be no economic growth," said Prime Minister Honcharuk. About 400 raider attacks strike Ukrainian businesses each year. Many successfully seize legitimate enterprises.
The Cabinet of Ministers will borrow an additional $427 million for the state budget, according to Honcharuk. Ukraine struggles to meet target budget revenues, falling 8.6% short last month.
Stress tests reveal that two state-owned banks, Oschadbank and Ukreximbank, have 81% of all bad bank debt in the country. "They may require substantial amounts of capital should adverse macroeconomic scenario materialize," the central bank reports. "Their financial resilience is low; these financial institutions are vulnerable to potential crises.
Ukraine's State Mortgage Institution will be transferred under the authority of the Ministry of Finance, according to the Cabinet of Ministers press service. New legislation grants the Ministry of Finance the power to implement a new policy aimed at developing the country's mortgage market.
Switzerland's DBI Hotels & Resorts launches a major hotel project in central Zhytomyr. The company is refurbishing an eight-story hotel, converting it into 145 bedrooms, and a 10,000 square meter co-working space. "The idea behind the concept is to create a mini-community," which should "boost the local economy, says spokesperson Yulia Panchuk. The company is creating six other properties in Ukraine including a resort in the Carpathian Mountains.
Gambling legalization bill put on hold, reports RBC–Ukraine. The lack of political unity and powerful vested interests are blocking the new government from legalizing some types of gambling.
Passenger traffic through Kyiv Boryspil airport jumped 22% through November to 14.2 million people. By contrast, Kyiv Sikorsky (Zhuliany) airport saw traffic drop by 7.4%, or 2.4 million passengers during the same time. The drop is blamed largely on the move last spring of SkyUp and other low cost carriers to Boryspil's newly reopened Terminal F.
From the Editor: Thanks to Stephen Butler and the Strategy Council for organizing the recent well-attended Ukrainian Investment Roadshow in London. Welcome to all our new readers from the London conference! Best Regards, Jim Brooke jbrooke@ubn.news.