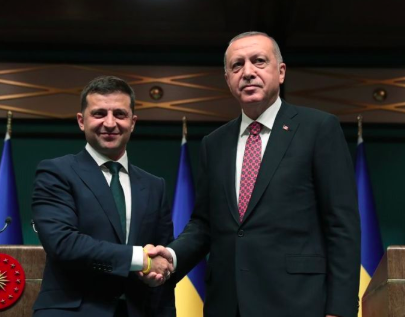 Turkey's President Recep Tayyip Erdogan vows to wrap up free trade talks with Ukraine and to more than double bilateral trade, to $10 billion a year. In a joint press conference with President Zelenskiy in Ankara on Wednesday evening, Erdogan said of the decade-old free trade talks: "Finally, the time has come to finalize the negotiation process on concluding a free trade agreement, negotiations on which have been going on for many years."

President Zelenskiy has signed a law ratifying the Israel-Ukraine Free Trade Agreement. The Rada passed the law last month. After Israel's Sept. 17 parliamentary elections, the new Knesset is expected to ratify the law.
Farmers have almost completed the 2019 wheat harvest, threshing 26.6 million tons from 95% of the sown area, the agriculture ministry said yesterday. So far, Ukraine's farmers have harvested 35.6 million tons of grain, half of the 70 million forecast for 2019.
Agro giant IMC reports its wheat yield rose 15% y-o-y to 6.3 tons per hectare. This is double the USDA 2019 forecast for the US average — 3.19 tons – and the Russia aveage – 2.67 tons. IMC, listed on the Warsaw Stock Exchange, attributes its high yields to good weather and more efficient farming techniques. Advocates of the creation of a private farm land market in Ukraine say it would inject capital into the countryside, raising the national grain harvest by 50%, to 100 million tons in the mid-2020s.
Farming was Ukraine's most profitable sector last year, with 86% of farms reporting profits, according to Yuriy Lupenko, director of the National Institute of Agrarian Economics. By contrast, 74% of Ukrainian businesses reported profits. All 22 of Ukraine's agro giants reported profits, accounting for 12% of the sector's profits.
Grain exports were up 40% for the first half of this year, compared to the same period last year. Ukraine exported 26.2 million tons of grain, slightly more than half the 50 million tons exported during the entire marketing year, which ended June 30. Corn was king in the first half, accounting for 79% of exports, reports the Institute of Agricultural Economics.
Pivdennii, Ukraine's deepest and busiest port on the Black Sea, handled 4.7 million tons of cargo in July, the largest monthly volume since the port opened in 1978. Almost 80% of this cargo was exported, with China the top destination. Grains were up 76%, to almost 1 million tons. Ore were up 58%, to 2.6 million tons. During the first half of this year, cargo handling was up 20%, to 23.4 million tons. "We do not plan to stop," Vitaliy Lipsky, director of Pivdenii port administration, told the Center for Transportation Technologies.
Sugar production is forecast to fall by one third y-o-y due to reduced plantings and erratic rains that may cut sugar content in sugar beets. Ukraine's sugar production during the September 2019-August 2020 marketing year will fall to 1.1-1.2 million tons, predicts Ukrtsukor, the national association of sugar producers. World sugar prices have languished this year around 13 US cents a pound, half the recent peak of 23 cents, in October 2016. Astarta, Ukraine's largest sugar producer, estimates that Ukrainian farmers responded to low prices by cutting plantings this year by 28%, to 200,000 hectares
Central bank reserves jumped by 5.8% in July, hitting $21.8 billion, the highest level since 2013. In the biggest single month of purchases since April 2010, the National Bank of Ukraine bought a net $1.3 billion in July, four times the June dollar purchases. Ukraine's reserves now equal 3.4 months of imports.
Concorde Capital's Evgeniya Akhtyrko writes: "This month is going to be relatively easy in terms of payments in foreign currency. Ukraine is to repay around $190 million to the IMF and to redeem local Eurobonds for $124 million. MinFin has no plans in placing local Eurobonds in August, so these outlays are likely to be partially or fully compensated by the NBU's purchase of foreign currency on the ForEx."
Dragon Capital forecasts the hryvnia/dollar exchange rate will end the year where it started — UAH 27.5. Reserves end this year down 5% y-o-y to $20 billion. Dragon writes: "We expect foreign inflows to slow in the coming months as global credit markets grew more risk-averse due to renewed US-Chinese trade frictions, while the Finance Ministry has only moderate borrowings need to cover by the end of the year and will likely limit issuance."
Ukraine sold only $106 million worth of hryvnia bonds at the weekly auction — only 16% of last week's massive UAH 17.2 billion sale. Lower sales were due to the Finance Ministry's tight caps on volume and to what Dragon Capital calls "the latest global credit market weakness." Demand was only UAH 5.4 billion – slightly less than half the July average. Yields were pushed down for 1- and 3-year bonds – 93% of Tuesday's sales. The 3-year bonds placed at 16.06%, down 38 basis points from last week. The 1-year bonds placed at 16.22%, down 29 basis points.
A 'tax amnesty' is being discussed by the IMF and Ukraine, Sergey Verlanov, head of the State Tax Service tells Interfax-Ukraine. Following similar measures in Latvia and South Africa, the taxpayer would pay reduced rates – 5-9% — in return for coming clean to authorities for unpaid back taxes. Officials are debating the parameters of an amnesty. Interfax writes: "According to experts, the 'tax amnesty' in 2015 ended in complete failure."
Sales of imported used cars totaled 274,200 through July, a five-fold increase over the first seven months of 2018. Now used imports account for three quarters all first-time registrations. However, with consumer confidence returning, sales of new cars jumped 14% y-o-y in July, to 7,600, reports Ukravtoprom, the industry trade association. This is the biggest increase since the used car flood started with the cut in import duties three years ago.
Sales of electric vehicles increased by 53% through July, compared to the same period last year, reports Ukravtoprom. Of the 3,742 cars and 293 commercial vehicles, 91% were used imports. On Tuesday, Zelenskiy signed law introducing green number plates for electric cars and protecting parking spaces with chargers for electric cars. With private companies installing chargers on highways, it is now possible to drive an electric car from Kyiv to Lviv, Odesa, Dnipro and Kharkiv.
From the Editor: Ukraine Business News is now fully searchable. Just click the little magnifying glass on our website: www.ubn.news. Search back through 300,000 words! Best regards Jim Brooke – jbrooke@ubn.news