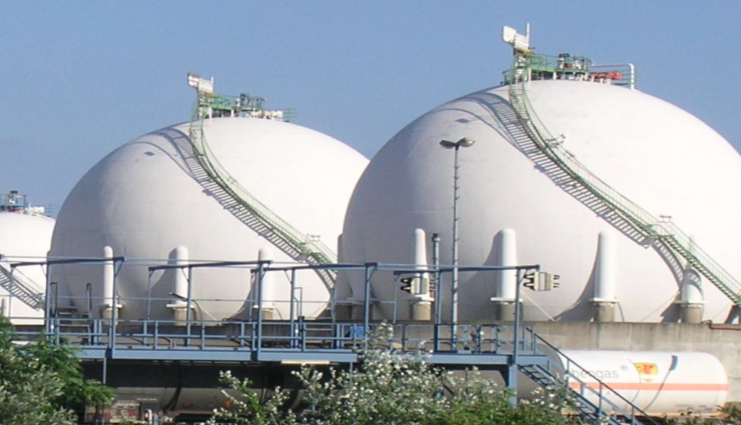 Thursday, August 6
EU Gas Traders Park Gas in Ukraine...Russia Loses Another Customer: Belarus Imports its Oil Through Odesa...Beirut: Port Destroyed, Ukrainian Wheat Cargo OK...Future US Ambassador Warns About China Buying Ukraine Defense Technology...Used Car Imports Flood Ukraine...
European gas traders have more than quadrupled the volume of natural gas they store in western Ukraine's underground reservoirs, reports Ukrtransgaz. Offshore companies have parked 5.3 billion cubic meters under a customs warehouse regime that allow them to store gas duty free, paying only rent. As Europe's gas reservoirs fill up with cheap gas, the number of companies storing gas in Ukraine has jumped to 68 today, from 28 this time last year.

Ukrtransgaz has 11 underground gas storage facilities with a total capacity of 31 bcm – equal to the total storage capacity of Italy, France, Hungary and Austria combined. "The Ukrainian gas market has become the safety valve of Europe and the latest record import levels are more than proving this," Andrii Prokofiev, head of client relations for Ukraine's transmission system operator, tells London-based International Commodity Intelligence Services. "This is yet another example how free trading, EU market rules and ample storage capacity in Ukraine are offering excellent opportunities to European companies looking to store their volumes."
Thanks to a new business — oil transshipments from Odesa to Belarus — Ukraine's oil imports are up 142% for the first half of this year, compared to January-June 2019, reports Ukrtransnafta. Yuzhne's Black Sea oil terminal today, a tanker is unloading 85,000 of Azeri light, is destined for Belarus' Mozyr oil refinery, via the Odesa-Brody pipeline. This is the sixth tanker load destined for Belarus to dock in Odesa this year. After fighting with Russia over oil prices, Belarus turned late last year to importing oil from Lithuania and Ukraine. Of the $265 million worth of oil that Ukraine imported during the first half of this year, the State Customs Service reports: 65% came from Azerbaijan, 18% from the US, and 17% from Libya.
The massive blast that severely damaged Beirut's port Tuesday destroyed 85% of the city's grain silos, leaving the country with a one-month supply of wheat.  A warehouse filled with ammonium nitrate fertilizer blew up 50 meters away from the silos, which had a storage capacity of 120,000 tons. The blast also ripped across an Egyptian-operated ship, the Mero Star, which was unloading 5,000 tons of Ukrainian wheat. Two crew members were seriously injured, but the cargo is "in good condition," the shipping company spokesman told Reuters. Beirut-bound freighters are being rerouted to Tripoli, Lebanon, 80 km to the north.
US government agencies may have slow walked approval of steel company sale in 2017, helping to sink 20% of the $1 billion that Ihor Kolomoisky and his partner Hennadiy Boholyubov had invested in the US, according to a report by RFE/RL. "Ukrainian Tycoons Lost Their Expansive U.S. Steel Business To Bankruptcy. What Role Did Washington Play?" headlines the 2,100-word piece by Washington-based reporter Todd Prince. Coming nine months after the nationalization of PrivatBank in December 2016, the failed sale may have been part of increased US government scrutiny of Kolomoisky. On Tuesday, FBI agents raided the US offices of the two Ukrainians.
President Trump's nominee for ambassador to Ukraine, Lt. General ret. Keith W. Dayton, testified yesterday before the US Senate Foreign Relations Committee. Here are highlights:
Recalling his first visit to Soviet Ukraine, in 1980, as a Russian-speaking US Army field artillery officer: "The fundamental challenges remain the same: Ukraine seeks to rid itself of Moscow's interference and build a government that is accountable, transparent, and responsive to its citizens. One thing that has not changed– and will not change—is that it is in the national security interests of the United States for Ukraine to overcome these challenges and achieve a future in which it is whole, democratic, and free."
On challenges of building a modern, market economy: "Vested interests continue to resist reform— particularly, reform of the judicial and financial sectors. A strong, independent central bank has been critical to Ukraine's remarkable macroeconomic success over the past several years. Its continued independence is crucial to a post-COVID-19 economic recovery and to international confidence in Ukraine's economy… Ukraine needs to ensure a level playing field through transparent economic institutions that deter vested interests and break the stranglehold of corruption. Only when international businesses have real confidence in their investments will Ukraine realize its full economic potential."
On China's interest in Ukraine's defense industries: "Years of corruption and mismanagement have pushed Ukrainian defense firms to the brink of collapse. This neglect has made Ukraine's hard-earned intellectual property and defense technology vulnerable to Chinese exploitation and expropriation – something we cannot allow. We cannot turn a blind eye to China's malign intentions in Eastern Europe. Ukraine's defense sector needs reform, but ultimately it should work for the people of Ukraine — not China."
China's "Skyrizon negotiated cooperation in the field of aircraft engines with DCH Group (Ukraine) and came to an agreement," Xinwei Group's Skyrizon reported yesterday on the Shanghai Stock Exchange website. To advance the Chinese-Kharkiv joint venture to take over Zaporizhia's Motor Sich, the two companies submitted an application Tuesday to Ukraine's Anti-Monopoly Committee. In partnership with Alexander Yaroslavsky's DCH, Skyrizon hopes that Committee approval "will facilitate the early completion of a major restructuring of domestic assets."
Shabo, the Odesa region winery, opened its third store in China last week. With Shabo stores now in Fuzhou, Guangzhou and X'ian, the company plans to open a store next year in Shanghai, says Stanyslav Kobyletsky, the company's export director. Shabo produces 50 million bottles a year and exports to 18 countries.
Flights in Ukrainian airspace nearly tripled in July, hitting 12,195, compared to 4,584 in June. But the July number is only one third the level of July 2019. Ukraine's air traffic control agency derives most of its revenue from flight charges.
For a nation of trucks loaded with grain, sturdy concrete roads represent the path to the future, promised participants yesterday at a Concrete Roads conference in Kyiv. Noting that concrete roads hold up in the summer heat, while asphalt roads sag, Infrastructure Minister Vladyslav Krikliy vowed to raise the percent of main roads built with concrete from 1% today to 30% in 2040. As leaders of Ukraine's cement industry nodded appreciatively, Rada Member Olena Shulyak vowed to spend $700 million a year through 2025 to build concrete roads.
Used car imports continue to flood into Ukraine. In July, 34,300 used imports were registered for the first time, 17% more than in June, and 43% more than in July 2019. So far this year, 173,600 used cars have been registered in Ukraine four times the number of new car imports, reports Ukravtoprom, the car industry association.
From the Editor: Ammonium nitrate often goes by the innocuous name of fertilizer. But over lunch yesterday at the residence of a EU ambassador, we traded notes on the devastating power of this chemical compound. In Denver, I covered the trials of the 1995 Oklahoma City bombers, three men who killed 168 people and wounded 680 more with a $5,000 ammonium nitrate bomb packed into a rented truck. In Afghanistan, the Ambassador had seen the devastation wrought by roadside IED's, or Improvised Explosive Devices fashioned from ammonium nitrate. We now know that 2,750 tons of ammonium nitrate were stored at a port warehouse in central Beirut – for six years. Maybe manufacturers should start labeling the sacks: 'TNT equivalent.' With Best Regards Jim Brooke