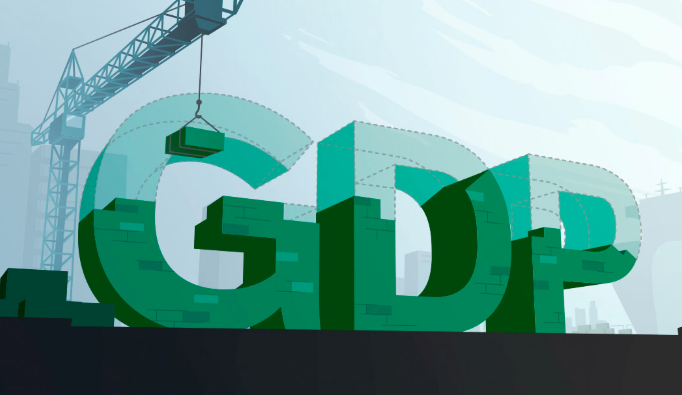 Registering the strongest quarterly growth in almost a decade, Ukraine's economy was up by 4.6% y-o-y in the April-June period of this year, reports the State Statistics Service. Although Ukraine's economy has been growing for the last 14 quarters, the Q2 growth is the highest since the start of 2011. The growth spurt was fed by several factors: record grain exports, a jump in iron ore prices and a surge in consumer confidence and retail spending following the 73% April 21 presidential vote for Volodymyr Zelenskiy. First-quarter growth was 2.5%.

Ukraine's foreign trade deficit hit $1.6 billion during the first half of this year, two thirds greater than during the same period last year. Exports of goods and services increased by 6%, to $29.5 billion. Imports increased by 8%, to $31.1 billion.
Ukraine's food trade with the EU increased by 23% during the first half of this year, compared to the first half of last year. Although EU quotas on exports of nine food products from Ukraine were filled by mid-July, Ukraine is expected to have another record year for food exports to the EU, predicts Nikolai Pugachev, deputy director of the Institute of Agricultural Economics.
Cross-border trade with Poland is so intense that by mid-August Ukrainian trucking companies have used up almost all their Polish permit quotas for the entire year, warns the European Business Association. In general, Poland and Ukraine split the permits 50-50. But Polish companies are short of drivers and do not want to come to Ukraine. The EBA appeals to President Zelenskiy to meet with Polish President Andrzej Duda and "contribute to solving this problem in the long term."
Ukraine's exports of meat and poultry were up 20%, to $364 million, in the first half of this ear, compared to the same period last year. Saudi Arabia has replaced Russia as the largest importer, taking 21%, according to the Institute of Agricultural Economics.  Big buyers are: the Netherlands – 15%; Slovakia – 9%; Belarus, Azerbaijan and Iraq – 5% each.
Ukrainian farmers should see another record year in exports of fruits and berries, predicts Pro-Consulting. During the first half of this year, exports were up 16% to $116 million. Last year, exports grew by 17% to $229 million. This year's favorable weather is offset by the emigration of pickers to Poland, which is raising labor costs in the Ukrainian countryside.
Unchecked uses of pesticides kill 40,000 bee colonies in Ukraine every year, costing beekeepers almost $5 million in annual losses, says Ukraine's Beekeepers Union. Despite these losses, Ukraine increased its honey exports by 20% — to $41 million — during the first five months of this year compared to the same Jan.-May period last year. After hitting record export levels in 2017, exports dropped by one-quarter last year, partly due to the bee dieoff and partly due to low prices stemming from honey dumping on world markets.
The European Investment Bank is to loan Ukraine $250 million, largely for the construction of biomass-based energy generators for Kernel, the nation's largest producer and exporter of sunflower oil. The Cabinet of Ministers voted to authorize Finance Minister Oksana Markarova to sign the loan letter.
Nibulon, the nation's largest food exporter, is building a new 4,000-ton grain elevator and oilseeds storage facility by railroad tracks in Khmylnik, Vinnytsia region. Located 65 km northwest of Vinnytsia city, the complex is the company's latest investment in logistics, notably the creation of a small fleet of grain hopper cars and of barges and ports to move grains and oilseeds down the Dnipro to the Black Sea.
Tenders are to be announced this month for concessions to operate the Black Sea ports of Kherson and Olbia (Mykolaiv region). On Wednesday, the Cabinet of Ministers authorized the Infrastructure Ministry to post the tenders. Last week, President Zelenskiy, on a visit to Turkey, invited Turkish companies to participate in the tenders, predicting the new Rada, controlled by his party, will pass the concession law. the vowed to win approval of the concession law. Volodymyr Omelyan, the outgoing Infrastructure Minister, wrote on Facebook: "We previously received more than 20 applications from powerful foreign and Ukrainian companies."
Ukraine sold hryvnia bonds worth $78 million as demand fell below supply and yields stabilized at 16.43% for two-year bonds, at 16.16% for one-year bonds, and at 16.47% for six-month bonds. Demand for UAH bonds on Tuesday was UAH 2.3 billion, less than half last week's level of UAH 5.4 billion,  and well below July's weekly average of UAH 12 billion.
Concorde Capital's Evgeniya Akhtyrko writes: "It looks like the traditional August lull came to Ukraine's local bond market…We expect the activity at the primary bond market to be relatively low through the end of this month. The downward movement of interest rates is likely to pause for a moment."
Peru will buy several Antonov military transport An-178 jets, injecting new life into an aircraft building program that was delayed by the need to replace Russian parts. In the Peruvian tender, Antonov beat the C-295 of Airbus and C-27 Spartan, a joint US-Italy venture. Separately, Ukraine's Internal Affairs Ministry announced in June that it will buy 13 An-178s for the National Guard and the State Emergency Service.
In a demonstration of airlift prowess, an Antonov Airlines 'Ruslan' cargo jet recently flew a satellite from Munich to French Guiana on behalf of OHB, the German manufacturer of satellite systems. The An-124-100 aircraft transported the satellite and equipment with a total mass of 70 tons. France and EU launch rockets from a jointly controlled spaceport near Kourou, French Guiana. Elsewhere, Antonov Airlines is using a Ruslan to fly cargo three times a week from Urumqi, China to Afghanistan, refueling in Almaty.
Two Kyiv-based air cargo companies have lost a total of three IL-76 jets in Libya in the last month. After the fall of the Soviet Union, Ukraine inherited over 100 hundred of this turbfan jets, leading to the creation of Ukraine's air cargo industry. Killer drones destroyed all three jets. Russian involvement is suspected in the most recent attack.
In the first attack, drones attacked and destroyed two IL-76 jets shortly after they landed at Al Jufrah Airbase, a desert military post about 300 km south of the Mediterranean city of Sirte. One pilot, Vladimir Bukhalsky of Melitopol, was killed. The owner of the jets, Europe Air, declared the planes a loss.
The second attack took place last week shortly after a SkyAviaTrans IL-76 made a night landing at Misrate, on the Mediterranean. One drone served as spotter/videographer, while a second drone fired missiles. The plane and cargo were destroyed, but the crew escaped unharmed. Olena Malakhova, SkyAviaTrans CEO, told Liga.net that 40 minutes after the attack photos and videos of the strike appeared on websites of Russian media and bloggers.
From the Editor: Ukraine Business News is now in English, Ukrainian, Russian and German. Check out our website – www.ubn.news. Share with friends and colleagues who want to follow Ukraine, Europe's next Frontier Economy. Best regards Jim Brooke – jbrooke@ubn.news