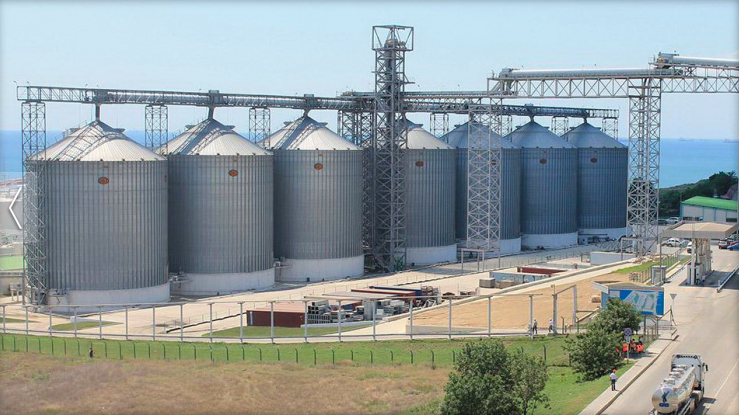 Tuesday, September 8
China Discusses Building Mammoth Black Sea Grain Terminal...Ukraine's Exports Recover, Seaport Cargo Up 5%...First Wheat Shipment to Saudi Arabia...With Gas Glut, EU Traders Stuff Gas into Ukraine Reservoirs...Saakashvili Wants to Become Prime Minister of...Georgia
A Chinese state company is discussing building a massive Black Sea grain terminal that could handle 5 million tons a year, the equivalent of 10% of Ukraine's corn and wheat exports. Yesterday, representatives of China Road Construction Corporation International Investment met with executives of Pivdennyi port, Ukraine's deepest and busiest port. The project would represent a big expansion for Pivdennyi, located 45 km east of Odesa. Last month, iron ore accounted for 86% of the 1.5 million tons of cargo handled at the port.
Chinese container trains now arrive at Kyiv at the pace of one a week, reports Ukrzaliznytsia. Traveling 9,000 km from Nanchang in 15 days, the latest train arrived Saturday at Kyiv's left bank Liski freight depot. Its 41 containers carried mineral fertilizers, lamps, bulbs, medical cargo and chemical components for filtering water. With three more container trains due to arrive this month, Ukrzaliznytsia is booking return freight of Ukrainian goods for China.
Ukraine seeks Chinese investment in industrial parks specializing in processing, storing and transshipping food, Olga Stefanishyna, deputy prime minister for European and Euro-Atlantic Integration, yesterday told China's new ambassador to Ukraine, Fan Xianrong. Ukraine wants to increase food exports to China, and to use Chinese free ports to export to Pacific Basin countries, she said, reports the Cabinet of Ministers website. "To intensify cooperation," her Ministry is establishing a working group with the Chinese embassy.
Through August, Ukraine's seaports handled 5% more cargo than during the same period last year, reports the Ukrainian Sea Ports Authority. The 106 million tons of cargo breaks down as follows : exports +5.4%, to 81 million tons; imports +1%, to 16 million tons; transit +4.6%, to 7.3 million tons; cabotage +31%, to 1.6 million tons. The two main export product were nearly even: grain – 30.7 million tons; and metal ore – 30.2 million tons. Pig iron exports jumped 50%, to 2.3 million tons. Containers were up 9.2%, to 690,600.
Ukraine's top five ports handled 91.5% of the nation's cargo during the first eight months of this year, reports the Sea Ports Authority. Pivdennyi once again was the most dynamic, with its cargo levels growing by 25% yoy, to handle 42 million tons, or 40% of the nation's total. This growth was at the expense of Ukraine's next three busiest ports: Mykolaiv -10%, to 19.2 million tons; Odesa -7%, to 15.6 million tons; and Chornomorsk -1%, to 15.4 million tons. Strong growth was registered at the two Azov ports. Mariupol was up 21%, to 4.6 million tons. Berdyansk was up 33%, to 1.5 million tons.
Ukraine's exports are recovering from last spring's corona-recession. August exports were down only 1.6% yoy, "which in the context of a pandemic sounds like fantasy," Taras Kachka, deputy minister of Economic Development, Trade and Agriculture, writes on Facebook. "International trade is recovering at a much faster pace than after the 2008 crisis."  For the first eight months of the year, exports are down 6.6%, to $31 billion. With imports down by 12.4%, the trade deficit through August is $1.3 billion, about one third the level of the same period last year.
Ukraine exports of corn, wheat, and barley will drop around 9% yoy, to 51 million tons, in the current marketing season, predicts Grainmart, India's first Grain Trading B2B online marketplace. Based near New Delhi, Grainmart draws on figures from the Ukrainian Grain Association.
Two years after Saudi investors bought Ukraine's troubled Mriya Agro Holding, a shipment of 60,000 tons of Ukrainian wheat is on its way to Saudi Arabia. In the first such shipment to Saudi Arabia in 12 years, a Panamax carrying Ukrainian grain from Chornomorsk arrives Sept. 17. In 2018, Saudi Agricultural Investment and Livestock Company, or Salic, bought Mriya and merged it with its existing Ukraine farms under an umbrella company, Ukrainian Continental Farmers Group. Georg von Nolcken, general director of Continental, says: "This is certainly a good indicator and a clear signal of serious investment intentions of Saudi Arabia in Ukraine."
Poisoned Russian opposition activist Alexei Navalny has improved, doctors treating him in Berlin say. He is out of a medically-induced coma, is being weaned off a ventilator, and "is responding to verbal stimuli," the doctors say at Charité, the Berlin hospital where he is being treated. Germany's government has asked Russia's government to explain why Navalny was poisoned with a military grade poison. Reaffirmed yesterday, Chancellor Angela Merkel's position is that Kremlin noncompliance with an investigation could force Germany to change its position on the $11 billion Russia-Germany Nord Stream 2 gas line.
Germany May Not Even Need the Nord Stream Pipeline Right Now, headlines a Bloomberg analysis from Berlin. "Europe is flooded with gas and demand is likely to remain stable," reads the energy market analysis. "With storage sites in Europe almost full, the European benchmark contract has more than halved since its peak in 2018." With the rise of wind and solar and increasing energy efficiencies, Europe's gas demand is to remain flat for the next five years, predicts the International Energy Agency. "If Nord Stream 2 is delayed only until the early 2020s, there would be no big impact," said Katja Yafimava, senior research fellow at The Oxford Institute For Energy Studies.
"Has Vladimir Putin Poisoned His Pet Pipeline Project?" Diane Francis, an opponent of the gas line, asks in an Atlantic Council Ukraine blog.
Ukraine's natural gas imports jumped 67% yoy in August, as EU gas traders filled Ukraine's gas storage reservoirs to a record 84% of capacity. Traders store their gas in Ukraine, waiting for the traditional autumn rise in prices as Europe prepares for winter. For its own use, Ukraine's Naftogaz had 26 billion cubic meters in storage on Saturday, 39% more than one year earlier.
Mikheil Saakashvili was chosen yesterday to lead an 11-party opposition coalition in Georgia's Oct. 31 parliamentary elections. If the coalition wins, the former Georgian president would become prime minister. If the coalition loses, Saakashvili presumably would return to his Kyiv job: chairman of Ukraine's National Reform Council. Levan Varshalomidze, former governor of Batumi and a longtime ally of Saakashvili, also took a sabbatical last week from his Ukraine job, board chairman of UkraineInvest.
Traffic at Boryspil was down 60% yoy in August, to 656,029 passengers, reports the Center for Transportation Strategies. Traffic on charter flights was down by only 9%, indicating that Kyiv residents cling to their package tours to Egypt and Turkey. By contrast, traffic on regular flights – largely to the EU and North America – was down by 78%. Traffic is expected to be even worse in September because the government has closed Ukraine to most foreign visitors for the month.
From the Editor: In its usual dispassionate way (no adjectives, please!), Bloomberg picks apart Nord Stream 2 and concludes that there is no economic rationale for doubling the existing Nord Stream gas line,  until 2030, if ever. Donald Trump and Vladimir Putin drive toward the future while resolutely looking in the rearview mirror at yesterday's fuel sources – coal, oil and gas. Better insight into the world's energy future comes from checking this website: EcoTown.ua. Quantum leaps in renewable technologies are being followed by quantum leaps in renewable investments. Russia's $11 billion Nord Stream 2 risks looking like its $50 billion Sochi Olympics – another pyramid built for the Czar. With Best Regards Jim Brooke