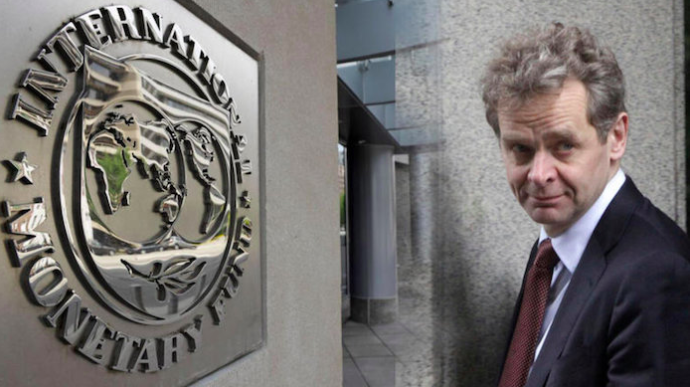 Monday, October 21
IMF to Return to Kyiv to Work on Deal...Russians Talk Tough Before Next Week's Pipeline Talks...Reuters: Burisma Paid Hunter Biden $83,333 a Month...Ernest to Fly to 10 Italian Cities, Base 2 Planes in Kyiv...New Route: From Milan to Mariupol?
An IMF mission will return to Kyiv "in the coming weeks" to continue discussions about a 3-year Extended Fund Facility, Poul Thomsen, director of the IMF's European Department, said Friday after meeting Ukrainian officials in Washington. "Ukraine has reached a significant level of macroeconomic stability – I think it is important to keep it," he told reporters in Washington. Without specifying the size of the fund, he said discussions were "positive."

Finance Minister Oksana Markarova counseled patience. "We are moving faster than in previous years," she told Voice of America in Washington on Thursday. "Last year's negotiations took a lot of time – more than one visit to the United States for annual meetings. Now we're moving fast enough."
Yakiv Smoliy, National Bank of Ukraine governor, sounded star struck after his meeting with Kristalina Georgieva, the Bulgarian economist selected one month ago to be IMF managing director. He tweeted Friday: "The main event of the trip is the first meeting with the new IMF leader, who has overcome an incredible journey from Eastern Europe to the head of the organization, on which the destinies of countries and the financial stability of the world depend."
Easing pressure on Ukraine's financial delegation in Washington, a Kyiv court Thursday delayed a ruling on Ihor Kolomoisky's bid to reverse the 2015 nationalization of his bank, PrivatBank. Earlier, on Tuesday, a London appeals court gave the green light to Ukraine's government to sue Kolomoisky and his main business partner, Gennadiy Boholyubov, for $3 billion. 
Russia's Gazprom has begun filling its 1,000 km TurkStream pipeline with gas, the pipeline operator reports. By the end of December, Russia plans to launch the first phase of the Black Sea pipeline, with an annual capacity of 15.75 billion cubic meters to supply Turkish customers. The second part, with the same capacity, is to be operational in the early 2020s. It is to take gas to Bulgaria, Serbia, and Hungary.
With Russia-Ukraine-EU gas transit talks to resume next Monday, Gazprom has staked out hardline negotiating positions: Gazprom and Naftogaz must resolve all litigation by Jan. 1, the date the current 10-year contract expires; and the transit pact has to be extended under Russian rules because Ukraine has not yet passed and implemented EU standard laws. On Friday, Alexei Miller, Gazprom's CEO of 17 years, made these points to Russian Prime Minister Dmitry Medvedev. Last January a Stockholm arbitration court ruled that Gazprom must pay Naftogaz $2.6 billion. Gazprom has refused to pay the bill.
Ukraine's parliament adopted on Friday on first reading an EU-compliant 'unbundling' bill designed to create a state-controlled gas pipeline operator independent of Naftogaz. "It is very important for us to approve it in the first reading, so that next week we will go to negotiations with Russians with a strong position," Prime Minister Oleksiy Honcharuk said before the vote. The draft bill's explanatory note said the bill is necessary to change Ukraine's natural gas and electricity market to ensure its liberalization, efficiency, transparency and compliance with EU laws.
Present gas pipeline links allow for Poland to supply Ukraine 2 billion cubic meters of gas. A tripling of the capacity, to over 6 billion bcm will require study and investments, cautions Gaz-Sytem, Poland's state-controlled pipeline operator. Last week, on the occasion of a major upgrade of Ukrtransgaz' Komarno compressor station in Lviv Oblast, Naftogaz CEO Andriy Kobolyev said the station now has the capacity of 6.6 bcm. That volume is 63% of Ukraine's 2018 gas imports. Poland is investing to receive more LNG from the United States and the Persian Gulf.
Ukraine central bank is sticking to its goal to cut the nation's prime rate from 16.5% today to 9% at the end of next year, Kateryna Rozhkova, a deputy governor of the National Bank of Ukraine. "How quickly the key policy rate will get to the 8% level is another issue — it will depend on both internal and external risks." Ahead of Thursday's rate-setting meeting of the central bank, Reuters polled 15 Ukrainian analysts. Of the group, 11 forecasts a rate cut to 16.0%, and two forecasts a full percentage point cut to 15.5%.
As a board member of Ukrainian energy company Burisma, Hunter Biden never came to Ukraine, only attending overseas board meetings of the Cyprus-based company, Reuters reports, citing three sources. In April 2014, the month after President Viktor Yanukovich fled Ukraine, Burisma owner, Mykola Zlochevsky, a former minister of ecology and natural resources in the Yanukovich government, hired Hunter Biden and a colleague Devon Archer. In a review of payment records for the first 18 months, Reuters concluded that Biden and Archer were paid $83,333 a month. Oleksandr Onyshchenko, a businessman and friend of Zlochevsky, told Reuters the Burisma founder, appointed Biden, a son of then US Vice President Joe Bidden, "to protect (the company)."
About 400 participants and half of the Cabinet are to converge on Mariupol on Monday for an all-day investment conference Oct. 29 dedicated to turning around the image of Mariupol, and the government-controlled sections of Donetsk and Luhansk oblasts. Much the way South Korea's flourishing economy reaches the southern edges of the DMZ, promoters hope the conference "will create 'the Mariupol effect', the transformation of a front line city into a magnet for investment." Located only 30 km west of the front line, Mariupol's population has grown to half a million as residents leave Russia-controlled Donetsk. The full program is available at https://re-think.com.ua.
Italy's Ernest Airlines is studying starting flights to Mariupol, now a city of 500,000, says Davide La Cecilia, Italy's ambassador to Ukraine. Currently, Ukraine's largest city without commercial air service, Mariupol has an airport that is used only for military and government flights. Located seven km west of the city, the airport has been considered too close to the front lines for commercial flights. More immediately, Ernest would fly to Zaporizhia, an airport that is completing a $40 million renovation project – recapping the runway and building a new terminal.
Next year, Ernest plans to add five new routes between Ukraine and Italy. To serve this expanded network, the Milan-based, Swedish-financed airline plans to base two of its eight Airbus jets at Kyiv's right bank airport. With the addition of Bari, Trieste, and Venice, Kyiv residents will be able to fly to 10 Italian cities on Ernest. The company also plans to start: Lviv-Bologna, and Odesa-Milan. Overall, the company aims to carry 1 million passengers on its Ukraine routes, double this year's forecast level.
Ernest also is setting up a Ukrainian unit to allow it to fly passengers on domestic flights. Today we are starting work on obtaining a Ukrainian license," said Chady El Tannir, Ernest president, said Friday at a ceremony opening the airline's Ukraine office, in Kyiv's Podil district. Turning to Deputy Infrastructure Minister Oleksandra Klitina, he said: "I am pleased to accept the proposal of the Deputy Minister regarding the expansion of our network and its distribution to Ukrainian open spaces." At present, no foreign airlines have domestic units that carry passengers between Ukrainian cities.
From the Editor:  Thanks to Ernest, Kyiv residents will soon fly directly to 10 Italian cities. Thanks to Wizz Air and Ryanair, Kyiv residents now fly to 9 Polish cities and 10 German cities. But this air revolution bypasses the largest country in the EU – France. Kyiv residents have the choice of flying to Paris Charles de Gaulle or, starting Nov. 9, to Paris Beauvais (SkyUp). Last week, Ryanair commercial director David O'Brien told reporters he is negotiating with French authorities to launch flights to Ukraine from Bordeaux, Toulouse and Marseille. "We would very much like to connect these new bases with airports in Ukraine. However, the French government has a protectionist policy regarding Air France." French officials still nurture the delusion that Paris is France. The gilet jaune (yellow vest) movement was supposed to have cured that. Best regards Jim Brooke jbrooke@ubn.news.