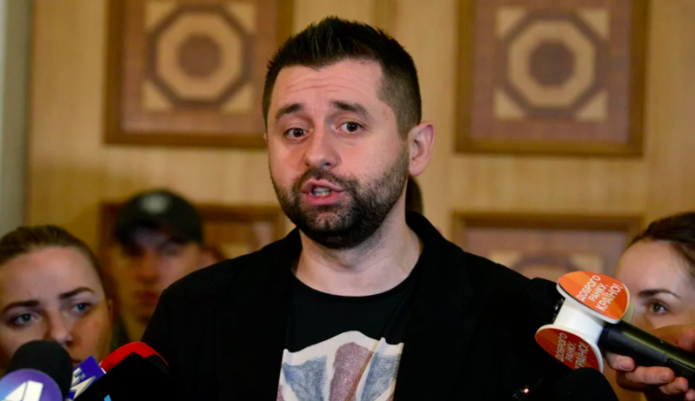 In December, "the probability of a complete coronavirus lockdown is 90%," David Arakhamia, head of the ruling Servant of the People Party in the Rada, said on Ukraina TV's Segodnya show Saturday. In contrast to last spring's general shutdown, this would be a 'smart' lockdown he said, intimating that the Kyiv metro and many public services would work until Dec. 25, the western Christmas, now an official holiday in Ukraine.

In preparation for a lockdown, a law to give financial aid to 2 million salaried workers hit by coronavirus controls goes into effect next week, Arakhamia told reporters on Saturday. These one time payments are to go up to $280 per person. The overall budget will be about $500 million, Yulia Kovaliv, the President's deputy chief of staff said Thursday night on 1+1 TV's Right to Power show.
About 10% of Ukraine's small and medium businesses are on the verge of bankruptcy due to corona controls, Dafina Gercheva, resident representative of the United Nations Development Program, estimates in an interview with Interfax-Ukraine. By the end of December, the corona controls and recession will have put more than 9 million people – one quarter of Ukraine's population — in financial distress, the UNDP predicts.
New coronavirus infections doubled in November, hitting an average of 16,250 a day on Friday and Saturday. In Kyiv, the number of new cases hit a record 1,739, Mayor Klitschko said Saturday. In Lviv, two patients, one aged 61 and the other 66, died Friday after a power outage knocked out their ventilators for one hour. Over the last eight months, 12,093 deaths are attributed to Covid-19. Immunologist Andrii Volyanskyi predicts on Facebook that another 25,000 Ukrainians will die of Covid over the next four months, the traditional peak flu season.
Betting that online sales will keep surging, Allo Group, the consumer electronics retailer, is launching its own nationwide delivery service, Allo Express in Ukraine. Citing "today's realities," Allo CEO Maksym Raskin said the company decided to "to invest in the creation of our own postal operator." The package delivery service will have desks in each of Allo's 140 stores in Ukraine.
Work on laying Nord Stream 2 gas pipeline could resume this weekend in the Baltic Sea waters of Germany, near the Adlergrund shoal, reports Deutsche Welle. The local Stralsund Waterway Authority is advising ships to be careful when navigating the area starting Saturday. Meanwhile, Nord Stream 2 AG, gas pipeline company, says: "We plan to resume pipe-laying work using a vessel with anchor positioning in the exclusive economic zone (EEZ) of Germany this year." With the US Congress preparing more sanctions against companies working on the $11 billion project, Norway's DNV GL announced it will stop verifying services for ships and equipment used to build Nord Stream 2.
Canada's Vermilion Energy has backed out of two production sharing agreements it won last year with Naftogaz, reports OilPoint, citing Ukraine's state oil and gas company. The Calgary-based company "has decided not to participate in the projects due to significant reductions in gas and oil prices compared to 2019, the coronavirus pandemic and the global economic downturn," Naftogaz said referring to the two sites, Balaklia and Ivanovo. Instead, Naftogaz will go it alone, investing $125 over the next five years to conduct 3D seismic tests and to drill 12 exploration wells.
Undeterred by this setback, Naftogaz is open to working with a foreign company, particularly Romanian, to develop the Dolphin block, in the Black Sea near the Danube delta and Romania's maritime border. Working jointly with Romania to develop the shelf may be "more economically attractive" for Ukraine, and would create better security since Romania is a NATO member, Lana Zerkal, adviser to the Naftogaz CEO, said Friday at an online briefing. However, Exxon Mobil has been mulling selling its 50% stake in Romania's Neptun Deep offshore project. Since 2008, it has shared this Black Sea block with Romania's OMV Petrom, which is majority-controlled by Austria's OMV.
But this year's slump in oil and gas prices makes Ukraine unattractive to oil and gas producers, say experts interviewed by UNIAN. "I honestly think that the chances of attracting serious Western investors are minimal," Gennadiy Kobal, founder of EXPRO Consulting, told the news agency Friday. "The record decline in gas prices has led to the fact that oil and gas companies have lost a significant part of their capitalization."
Regarding the Dolphin block, Vitaly Radchenko, partner at CMS Cameron McKenna, said: "We have talked with many normal real, producing, foreign oil and gas investors. We worked with them to get them interested in the Black Sea shelf. The territory is viewed as controversial and dangerous. None of the real investors will come there to drill, because it could end up in a conflict with Russia. Therefore, giving the shelf for research to the state gas company is a logical decision."
With winter temperatures increasingly mild, the Dnipro River shipping season is being extended for one extra month – to the end of December. Originally, the river's six locks were to start closing in a north-south sequence in mid-November. But shippers, notably Nibulon, lobbied for an extended season, noting that last year serious ice did not start forming on the river until January. Under the direction of the State Maritime and River Transport Service, closing the river involves pulling out hundreds of buoys.
The $15 billion Istanbul Canal, an artificial alternative to the Bosporus, has reached the tender stage, Turkish President Recep Tayyip Erdogan said Friday. Expected to take a decade to dig, the 500-meter wide canal would allow liquefied natural gas cargo ships to enter the Black Sea for the first time. Further weakening Russia's position in the Black Sea, the canal would not be subject to the Montreux Convention. This 1936 agreement places limits on the size and number of non-Black Sea navy ships allow to pass through the Bosporus.
Prime Minister Shmygal started a two-day visit to Turkey yesterday with a meeting with Turkish business executives in Istanbul. Appealing for Turkish investment, he said: "We have ambitious plans to build and renovate our infrastructure, including roads, bridges, energy and medical infrastructure, in other areas – water supply, sewerage, garbage recycling. Turkish companies have successful experience in these areas." Today, he meets with government leaders in Ankara to discuss military and diplomatic cooperation. Leading a delegation of two ministers and two deputy ministers, Shmygal is flying in a Ukrainian An-148 regional jet. Turkey is interested in producing medium range military transports with Antonov.
Ukraine plans to purchase five more Turkish-made Bayraktar Tactical Block 2 unmanned aerial vehicles next year, Turkish media report. Last month, Azerbaijan used these armed drones in its successful war with Russia-backed Armenia. Signaling a closer partnership with Turkey, Ukraine's Foreign Minister Dmytro Kuleba told Turkey's Anadolu Agency Friday: "Ukraine, looks at the Nagorno-Karabakh issue from the perspective of international law. Our position is very clear. We are on the same page with Turkey." In the second half of December, the foreign ministers and the defense ministers of Turkey and Ukraine are to meet in Kyiv in a '2+2 format' – a sign of close bilateral ties.
Editor's Note: As readership of the Ukraine Business News grows day by day, we will invest in December to upgrade the UBN website. Searching the archive will be faster and easier. And after English, Ukrainian, Russian, German and French, we will add a mystery sixth language. Stay tuned – and tell your friends to sign up! With Best Regards, Jim Brooke