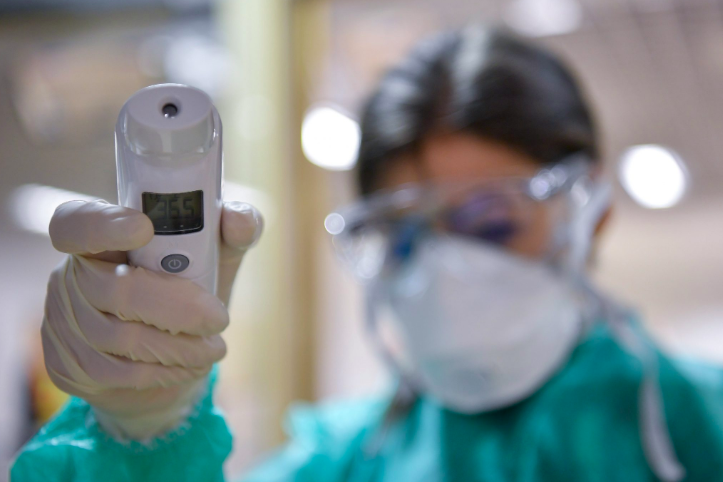 Monday, March 2
Bracing for Coronavirus: Ukraine Prepares Hospitals, Train Stations, 'Ebola Helicopter', and Temperature Checks on All International Arrivals...Centrenergo Privatization Could be Part of a Ministerial Shakeup...For Boryspil: New Business Lounge, Duty Free...Russia Travel: Ukrainians Need Passports...Casinos for Kyiv Hilton..
With five Ukrainians hospitalized overseas with coronavirus – four in Japan and one in Italy — Ukraine's government is investing heavily in detecting and, ideally, minimizing any outbreak here. In each of the 24 regional capitals, two hospitals have been designated as future infectious disease treatment centers. Kyiv has seven.

A State Emergencies Services Mi-8 ambulance helicopter, staffed with Ukrainian doctors who worked on West Africa's Ebola epidemic, is on duty, prepared to shuttle patients nationwide to specialized care facilities. Across Ukraine, hospitals are ready to admit and isolate 2,500 coronavirus patients, says Viktor Lyashko, the deputy health minister in charge of the effort.
All inbound international road, rail and air passengers are now checked for elevated temperatures. Ukrzaliznytsia has created diagnosis and temporary isolation rooms in the 19 busiest rail stations. Kyivpastrans, the municipal transport company, is disinfecting nightly the interiors of metro cars, trams, buses, and the funicular, focusing on handrails and door handles.
In one upside, Dnipro's Biosphere Corporation reports a surge in EU orders for their Smile Antibacterial wipes. Alexander Lavrov, a company executive, tells Interfax Ukraine: "The increase in demand for antibacterial wipes is understandable: it's easier to protect yourself from any virus than to cure." He says demand is up in recent days: Estonia, two times; Lithuania three times, Poland seven times and Bulgaria 10 times.
Last week's collapse of world markets pulled down Ukrainian government securities. Ukraine's GDP-warrants fell by 8.5%, to 99.1% of the nominal value. Yield on Eurobonds grew on average by one percentage point. Interfax-Ukraine reports that Ukrainian Eurobonds with maturity in 2021 were quoted Friday evening at a rates of 4%; in 2023, about 5%; in 2026, at 6%; and the longest, with maturity in 2032, at 6.5%.
Faced with dwindling foreign investor interest in Ukrainian government hryvnia bonds, the Finance Ministry will offer at its auction tomorrow 9-month government bonds denominated in euros. The last time bonds in euros were offered at auction, on Dec. 17, Finance Ministry sold €198 million worth of 6-month securities at a weighted average rate of 2.22% per annum.
With a switch of Prime Minister in the air, the Rada is to meet in special session Wednesday afternoon to discuss President Zelenskiy's "questions" regarding the Cabinet of Ministers. In parallel, Prime Minister Honcharuk reportedly submitted his resignation for the second time in two months. Faced with eroding public support for the government, Zelenskiy said last week he is interviewing Prime Minister candidates.
Privatization of Centrenergo may be contributing to a breakdown between Ukraine's president and prime minister. Last Wednesday, in a bid to speed up privatization, Honcharuk announced the Cabinet decided to replace the head of Centrenergo and three other energy companies. But on Thursday, strana.ua news site reported that the new Centrenergo top manager was not able to get into the company's office.
Concorde Capital reports: "The entrance has been blocked, presumably, by people connected to Igor Kolomoisky, who used to control the previous company management, strana.ua reported citing a source in the State Property Fund." One year ago, Kolomoisky was the main media backer of Zelenskiy in his run for the presidency. Kolomoisky's ferroalloy plant is a major customer of Centrenergo.
The IMF staff team visiting Ukraine last week "made very good progress in discussions on legislation to support growth and ensure stability," Goesta Ljungman, the lender's resident representative in Ukraine, said Saturday. Full approval of last December's staff-level agreement for a 3-year, $5.5 loan program are delayed by two bills: creating a private farm land market and restricting the return of nationalized banks to former owners. The Rada is working through 4,000 amendments to the farm land bill, a process expected to last all month.
Starting today, Ukrainians IT companies can hire up to a total of 5,000 foreign IT specialists per year under a fast track visa and work permit system, according to Oleksandr Bornyakov, deputy minister for Digital Transformation. In one of the hottest sectors of Ukraine's economy, IT companies create 40,000 new IT jobs a year, but local universities only graduate 17,000 specialists each year. The foreigner quota will be geographically dispersed: Kyiv: 2,500; Kharkiv: 700; and Dnipro, Odesa and Lviv: 600 each
In a move aimed at Russia, Turkey is mulling closing the Bosphorus and Dardanelles for the passage of warships and freighters carrying military cargo, reports Interfax-Ukraine. Under Montreux Convention of 1936, Turkey can impose restrictions in case of "military threat." Turkey and Russian-backed Syrian forces have had deadly exchanges in the Turkish-Syria border area since Thursday. Virtually all of Ukraine's water-borne foreign trade passes through the Bosphorus.
One step short of adopting open skies between Turkey and Ukraine, both countries last week doubled quotas on most flights. Limits on Odesa-Istanbul were abolished. The limit on Kyiv-Istanbul was raised to 24 a week. Adana, a regional capital near the Mediterranean, becomes the seven Turkish city open to direct flights from Ukraine. With 11 Ukrainian cities offering direct flights to Turkey, 1.5 million Ukrainians – about 4% of the national population – vacationed in Turkey last year. In return, 217,000 Turks visited Ukraine.
A new 800 square meter business lounge opened last weekend in the international departures area of ​​Boryspil's Terminal D. Called Atmosfera Fly, the two-story lounge has seating for 150, a dining area, and an airplane viewing terrace.
At the same time, the first duty free shop opened in Boryspil's Terminal F. One year ago, this terminal re-opened for passengers on low cost carriers. BF Group won the public tender to operate 191 square meter store, agreeing to pay a monthly rent of $1,000 per square meter.
Starting yesterday, Ukrainians need an international passport to travel to Russia. Previously, they could travel to Russia with a domestic passport booklet or the new plastic ID card, introduced in 2016. Under the relevant Ukrainian Cabinet of Ministers' decree of Dec. 18, Ukrainians now in Russia can come home using their domestic passports of ID cards. About 40% of Ukrainians have international passports. Obtaining one involves traveling to a regional capital, paying up to $50 and waiting up to one month.
With no direct flights between Russia and Ukraine, Ukrzaliznytsia reports that four of its five most profitable train last year were between Ukraine and Moscow or St. Petersburg. On the most profitable line, Kyiv-Moscow, UZ sold 75% of the 339,414 seats, making a profit of $5.5 million. The next four moneymaking lines were: Kriviy Rih-Moscow, 82% full, netting $3.7 million; Odesa-Moscow, 83% full, netting $2.1 million; Odesa- Przemysl, Poland, 75% full, netting $850,000; and Kyiv-St. Petersburg, 58% full, netting $615,000.
With the Rada expected to legalize casino gambling this spring, Boris Fuchsman, a co-owner of Hilton Kyiv says he plans to invest up to $30 million to create two casinos in the 26-floor building on Taras Shevchenko Boulevard. There would be a 1,000 square meter casino on an upper floor of the central tower and a 2,000 square meter casino below ground, Fuchsman tells The Page news site. Under one version of the gambling bill, casinos could be opened in Kyiv in hotels with more than 200 rooms, and, outside of Kyiv in hotels with at least 120 rooms. The Hilton has 262 rooms. Nearby, the long-shuttered Renaissance Leipzig hotel has 173 rooms.
From the Editor:  Last week's market collapse, spreading into Middle Eastern markets on Sunday, means that all of Ukraine's economic forecasts for 2020 will have to be updated. Business travel and tourism is dropping. Supply chains involving China are disrupted. How deep the impact will be depends on success in containing the virus and in developing a vaccine. For the record: After my plane from Egypt taxied to a stop at Boryspil Sunday afternoon, two determined ladies in masks and plastic suits marched down the center aisle, zapping every passenger for a temperature read. We all passed. I had been hoping that, if I had to do quarantine, I could do it in Sharm el Sheik. With Best Regards, Jim Brooke jbrooke@ubn.news