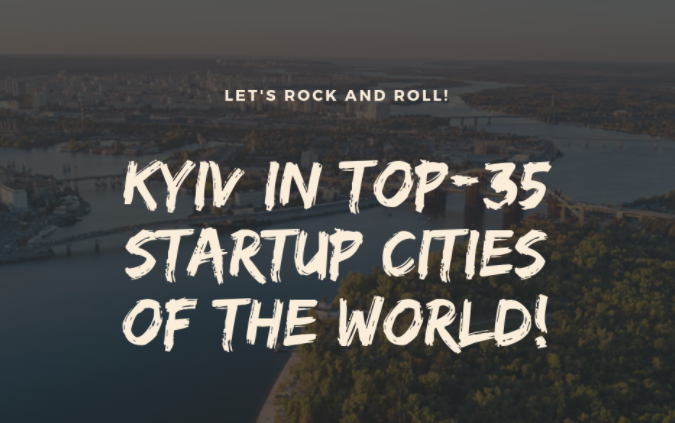 Kyiv is named the best start-up ecosystem in emerging Europe in a report conducted by Startup Blink, a start-up research center. Of 1,000 cities across the globe, Kyiv was named as the 32nd best ecosystem in the world, eighth best in Europe and first in emerging Europe. Startup Blink rates cities according to the number of start-ups, how well they drive innovation, and the business environment.

For Kyiv, the report cites the quality of developers as the main factor contributing to the strength of start-ups. Michael Buryk, host of the Made in Ukraine Tech Startup Edition podcast, tells Emerging Europe: "Ukraine has the largest IT labor pool in Europe with more than 16,000 IT and 130,000 engineering graduates annually."
Ukraine: Land of the Future? In Emerging Europe's annual survey of the economic potential of cities in the region, Ukraine scored high: Lviv – 2nd place; Kyiv, Kharkiv and Chisinau – 3rd place; Dnipro – 5th place; and Odesa – 6th place. Tblisi, Georgia came in first.
Ukraine's GDP fell during the first quarter by 1.3%, slightly better than the preliminary estimate released last month of a 1.5% fall, reports the State Statistics Service. The Q1 fall came after disappointing growth in the fourth quarter of 2.9%.
Foreign holdings of Ukraine government hryvnia bonds have decreased by 15% since the start of this year, to the equivalent of $3.75 billion, reports the National Bank of Ukraine. Last year, foreign holdings increased 18-fold, to $4.3 billion on Dec. 31.
In a move that could undermine confidence the government hryvnia bonds, Servant of the People lawmaker Oleksandr Dubinsky calls this market a 'pyramid scheme.' In a submission to the Rada's Finance Committee, the ruling party lawmaker proposes an alternative: an asset repurchase program. Ivan Verstyuk, business editor of NV, warns: "By talking about a 'pyramid.' Dubinsky and his comrades scare away foreign investors, no less than Igor Kolomoisky with his statements about the need for default."
The National Anti-Corruption Bureau of Ukraine has charged former Infrastructure Minister Volodymyr Omelyan with illegally lowering port fees by 20%, allegedly costing the state $1.2 million. Omelyan says the Dec. 2017 was taken with Cabinet approval to try to make Ukraine's ports more competitive.
Anna Derevyanko, executive director of the European Business Association, protests, saying: "If the change agents are being prosecuted and punished for their initiative and decisions, the question arises — whether others will be ready to take responsibility and initiate quality changes to implement real reforms in the country."
The American Chamber of Commerce cites a study by VoxUkraine, that says a 50% cut in port fees generates losses of $48.4 million, but also provides additional tax revenues of $ 167.7 million.
With Ukraine's 3-month coronavirus death toll topping 1,000 yesterday, health authorities are expected to impose tighter restrictions today in Kyiv and other regions that have high infection rates. On Saturday, President Zelenskiy promised tighter controls over restaurants and buses, subways and commuter trains. Interior Minister Arsen Avakov reports that 28% of 2,500 inspections of public transport resulted in fines totaling $75,000.
Prime Minister Shmyhal complained Friday: "Unfortunately, local authorities, who are called upon to tighten quarantine bans, in some cases simply decided to turn a blind eye to threats. Dear colleagues from regions: I understand that your minds are already occupied with elections, but in this way, you could only earn political points at the cost of people's lives."
Coronavirus hospitals are filling up in some regions. The Health Ministry reports these occupancies: Zakarpattia — 57%; Chernivtsi – 51; Vinnytsia — 42%;  and Kyiv — 39.2%.
Ukraine has recorded 1,002 corona deaths since March 13.  By comparison, 102,900 people died in Ukraine from January through April.  Poland with almost the same population as Ukraine has recorded 1,356 corona deaths. The US has nine times the population as Ukraine, but 122 times as many deaths – 122,000.
Lviv airport reopened Friday with Windrose flying daily to Kyiv and Wizz Air flying to Berlin, Budapest, Copenhagen, Dortmund, Frankfurt, and London Luton. Kharkiv, Odesa and Kyiv's two airports also are open, each with a handful of flights.
Last week, from Monday through Thursday, UkSATSE, the air traffic control agency handled 719 flights, a big increase from 427 the week before. But the volume of 719 flights was only 15% the volume of the same period last year. One third of last week's flights were flyovers.
Ukrainians will be able to fly freely to Turkey starting Wed. July 1, Infrastructure Minister Vladyslav Krykliy writes on Facebook after meeting with Yagmur Ahmet Guldere, Turkey's Ambassador to Ukraine. Travelers from Ukraine will not have to be tested in advance for Covid-19 and will not be subject to self-isolation on arrival. Azur Air Ukraine, Pegasus Airlines, SkyUp, Turkish Airlines, and Windrose, plan to start flights next week.
UIA has installed a laboratory at Boryspil airport to perform PCR on staff and travelers for coronavirus. It takes three hours to get a result from a PCR throat swap test. Tunisia and Montenegro will allow Ukrainians to visit this summer if they have negative PCR tests taken within two days of departure.
Starting July 1, Poland will allow airlines to operate flights with all passenger seats filled. In June, airlines were only allowed to fill half the seats on planes. On July 1, LOT and Wizz Air relaunch their flights between Ukraine and Poland.
For foreigners wanting to travel into Ukraine, there are two basic requirements: medical insurance that covers Covid-19 treatment and the ability to self-isolate for two weeks after arrival. Self-isolation involves staying in a hotel or apartment for two weeks without straying further than a two km radius. Monitored through the Diy Vdoma smartphone app, this is obligatory for residents of 'red zone' countries – US, UK, Canada, Russia, Belarus and about half of the EU, including France, Italy and Spain. The list of red and green zone countries can be found here. It is to be updated today.
By yesterday, Ukraine re-opened all its land crossings with the EU and Moldova. Ten crossings are open with Belarus and Russia. The status of all of Ukraine's border checkpoints can be checked on this interactive map maintained by the State Border Guard Service. More details on entering and leaving Ukraine are in this Kyiv Post report.
From the Editor: Borsypil was spooky Friday evening. Instead of the usual lines of traffic on the access road to Terminal D, our Uber was the only car to pull up at the lone entrance. The cavernous empty terminal, normally jammed on a summer Friday evening, could have served as a training space for Olympic roller skaters. Below decks at the domestic level, there were more people in the waiting room and the Windrose flight to Odesa was full. The taxi driver from Odesa airport said tourism was weak. But from the balcony of our second floor room at the Milano Hotel, we watched Derybasovska street packed with families, couples, painted ponies, break dancers and ice cream sellers. In Ukraine, summer tourism does not depend on airplanes. With Best Regards Jim Brooke jbrooke@ubn.news