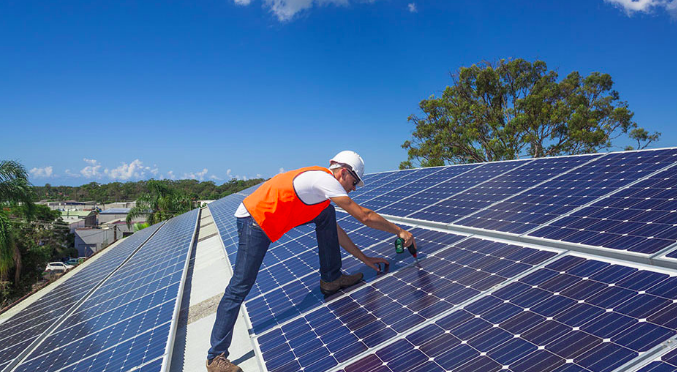 Monday, February 18
DTEK Opens Europe's Second Largest Solar Plant in Nikopol…Ukraine's First Solar Panel Plant Opens in Vinnytsia…EU's Donald Tusk in Ukraine Through Wednesday…UZ to Spend $1 billion in 2019…Goods Deficit Grows, Services Surplus Grows...Ukrainians Using Facebook up 30% in 2018
DTEK Renewables has opened the second largest solar power station in Europe, the 200 MW Solar Farm-1, in the Nikopol district of the Dnipropetrovsk region. The contractor was the China Machinery Engineering Corporation. The National Regulatory Commission has awarded the project the relevant green feed in tariff — €15.03 per MWh until 2030. The solar plant should power 100,000 households, about three times the population of Nikopol city. The largest solar plant in Europe is Cestas Solar Park, a 300 MW station in the Gironde region of southwest France.

In neighboring Kirovohrad region, DTEK plans to build three solar plants for a total of 190 MW by the end of next year. According to regional officials, DTEK plans to start building this year the 60 MW Morozivka station in Oleksandriia district. About 40 km to the west, in Dykivka, DTEK plans to start building next year Solar Farm 8 – two stations with a total capacity of 130 MW. Ultimately owned by Rinat Akhmetov, DTEK Renewables is already Ukraine's largest producer of wind energy.
Ukraine's first solar panel production plant starts work this week in Vinnytsia. Using Chinese technology, the Kness factory starts production at an annual panel capacity of 200 MW. By the end of this year, capacity is be 400 MW, says plant director Oleh Dovboschuk. Located on a once abandoned industrial site, the €5 million plant now employs 120 workers. Currently, Vinnytsia region has 250 MW of solar power and plans to add 60 MW more by the end of this year. Through 2025, Ukraine grants a 5% premium on feed in tariffs for solar projects using 30-49% domestically made equipment. For equipment with 50% or more local content, the bonus is 10%.
The Rada is expected to vote next month on a bill that would replace high renewable energy feed in tariffs with energy auctions. Matteo Pattrone, the new EBRD representative in Ukraine, warns excessively high feed in tariffs have provoked some governments to retroactively change the rates, hurting EBRD financed projects. A supporter of auctions, he tells the Kyiv Post: "It's better to have a sustainable compensation regime than one that is too good to be true." To jump-start foreign investment, Ukraine adopted in 2015 some of Europe's highest feed in tariffs for renewable energy.
Donald Tusk, president of the European Council, visits Ukraine through Feb. 20, spending Monday and Tuesday in Kyiv and Wednesday in Lviv. His visit comes as EU foreign ministers meet today in Brussels to discuss sanctions against Russia for the Azov Sea attack and new road and railroad aid to cut the isolation of southeast Ukraine.
With the state railroad due to pay $150 million on a Eurobond next month, the Cabinet of Ministers has re-authorized Ukrzaliznytsia to issue up to $500 million in Eurobonds at interest rates up to 11% a year, slightly higher than the level authorized last September. Last December, a Eurobond launch planned was postponed in an adverse environment marked by the delay in reaching the IMF accord and nervousness around the one month imposition of martial law. Today, the lead managers are JP Morgan and Dragon Capital. Separately, Evhen Kravtsov, chairman of the railroad, said Friday that Ukrzaliznytsia cut its hryvnia debt last year by 10%, to the dollar equivalent of $1.1 billion.
Ukrzalyznitsia plans to spend nearly $1 billion on capital expenditures this year – one third more than last year. Spending is to go for 3,650 new freight cars, the repair of 7,000 freight cars and the purchase of 15 locomotives from GE. Rail chair Kravtsov says an EBRD loan guarantees renovation of almost 6,000 freight cars through the end of next year.
"How much will these injections help solve the main problem of the railway – a shortage of locomotives?" Aleksandr Krivoruchko, head of the Freight Car Owners Association, writes in Obozrevatel. "In the first 10 months of 2018, Ukrzaliznytsia fulfilled only 51% of its annual plan for repair of locomotives: repairing 95 units, while the investment plan provided for a complete overhaul of 187 locomotives….This "drop in the ocean" does not solve anything. Out of 1,758 freight locomotives listed in UZ's inventory, only 945 are in operation – 54% (!) And the minimum need for UZ in new locomotives is 310 units for a period up to 2025."
Germany's Chancellor Merkel balanced her support of the Nord Stream 2 Russia-Germany gas line with the support of Ukraine's continued role as a gas transit country to Europe. "Ukraine must remain a transit country," she said Saturday at the Munich Security Conference. She said Europe has a geostrategic interest in the diversity of sources of energy supplies.
President Trump has signed bills that increase aid to Ukraine to nearly $700 million, Ukraine's Embassy in Washington writes on Facebook. Last week, USAID launched an $85 million program by TetraTech, a U.S.-based engineering firm, to help implement free market changes and incentives to promote natural gas production, energy conservation, and renewable energy investment.
Ukraine's deficit in the foreign trade of goods and services slightly more than doubled last year, hitting $5.8 billion, reports the State Statistics Service. Exports of goods and services in 2018 grew by 8.6%, to $57 billion, while imports rose by 14.3%, to $63 billion, the statistics service said. Last year, the deficit in foreign trade in goods increased by 54.5%, to $10 billion. By contrast, the surplus in foreign trade in services – largely IT – increased by 15.5% to $6 billion.
The number of Ukrainians using Facebook increased by 30% last year, to 13 million, according to a survey by Agency PlusOne. Since May 2017, when Ukraine banned the use of Russia-based social media networks, the number of Ukrainians using Facebook, a US-based network, increased by 57%.  About half of all Ukrainians aged 13 (the minimum age) to 45 use Facebook: 68% of the 18-24 year group; 62% of the 25-35 year group; 48% of the 36 to 45 year group. Users are skewed by gender: 59% female; 41% male. About two thirds access Facebook exclusively through their smartphones. Only 9% percent only through their computers.
After almost four years parked at Kyiv's Sikorsky airport, a Russian airline Boeing 737 was sold at electronic auction for $650,000 — half the asking price of last May. The Transaero passenger jet was impounded in September 2015 after Ukrainian sanctions hit the Russian company and Ukrainian officials feared Transaereo would not pay its airport bills. Despite the difficulty in selling the plane, Victor Vishnyov, director of SETAM, the electronic auction agency, asserts: "It is fully suitable for flights after a small technical inspection."