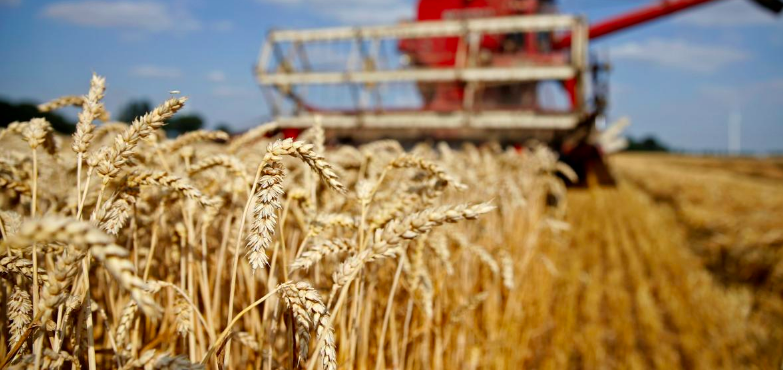 Monday, August 19
Grain Harvest to Break Last Year's Record...Agro Business Drives Growth...GDP Growth Will Trigger Warrants...With Israeli PM in Kyiv Today, Orthodox Lobby to Build Europe's Largest Synagogue...Not Just Trump and Greenland: Ukraine Also Harbors Arctic Ambitions
With a strong corn crop starting to come in, the national harvest of all grains this year could hit 76 million tons, up 8% over last year's record, Alfa-Bank Ukraine reports in its reading of the USDA's latest World Agricultural Supply and Demand Estimates. Noting that farmers harvested a record 28 million tons of wheat this summer, Alfa research head Oleksiy Blinov writes: "It is clear that the country is about to set a new grain harvest record, but how high this record would depend on corn harvest, which is still in the fields waiting to be harvested in autumn.

Modern large farms are the nation's economic locomotive, expanding crop production by 31.5% through July. By contrast, family farm production was up 5.5% through July, compared to the first seven months of last year, reports the State Statistics Service. Last year saw a similar split: agro-businesses increased production by 12.1%, and households by 2.2%. Households may underreport production to minimize tax payments, a harder practice for big companies.
Ukrzaliznytsia, the state railroad, has built its own grain terminal in Odesa, a first step toward launching its own grain export company next year. Equipped with 12 silos, rail and road access, and tippers for grain trucks and rail hoppers, the terminal has the capacity of storing 15,000 tons of grain at once, Andriy Ryazantsev, the railroad's director of business development, writes on Facebook. Ukrainian Railways, a monopoly, moved about 70% of Ukraine's grain exports to Black Sea ports in the marketing year that ended in June.
Cows, pigs, and sheep continue to gradually decline across Ukraine. Through August, cows are down 4.4% to 3.7 million – the same rate of decline registered in 2018, reports the State Statistics Service.  Pigs are down 1.5%, to 6.4 million. Sheep and goats are down 3.2%, to 1.5 million. These rates of decline are close to last year's. African swine fever has decimated pig populations, raising costs for commercial piggeries. For cows, the growth of commercial dairies has not compensated for the dwindling number of cows kept by households. In contrast, chickens largely raised in industrial farms increased by 2.9%, to 258 million.
Ukraine's unexpected economic growth spike — to 4.6% in the second quarter –- nearly certainly will trigger payments on warrants offered bondholders back in 2015, writes Bne intellinews. For the first time since the 2015 crisis, Ukraine will meet the two criteria: annual growth over 3% and a GNP over $125 billion. If growth is 3.5% this year, the Finance Ministry would have to pay $117 million in 2021, calculates Ivan Tkachev, RBC economics editor.
Anticipating an economic turnaround under President Zelenskiy, investors have bid up available warrants since last spring by about 30%, to 85. Written without caps, the warrants could prove costly to Ukraine. If economic growth takes off, as Zelenskiy promises, "then it would make sense for the Ministry of Finance to take advantage of [the buyout] option," writes Ben Aris of Bne intellinews.
A UIA Boeing 767-300ER experienced a "loud bang" from its right-hand engine a few minutes after departure from Kyiv Boryspil en route to Bangkok on July 29. The pilots shut down the engine at 4,000 feet and made "a safe overweight landing" at Boryspil, 20 minutes after takeoff, reports The Aviation Herald. Ukraine's National Bureau of Air Accidents Investigation concluded the low-pressure compressor rotor jammed in the engine of the 27-year-old jet. According to SeatGuru, UIA configures that Boeing to seat 261 passengers. UIA plans to phase out its four Boeing 767-300ERs by the end of next year.
With Israeli Prime Minister Benjamin Netanyahu visiting Kyiv today, Orthodox Jewish leaders are calling on President Zelenskiy to crack down on corruption blocking investments in Uman, the Hasidic pilgrimage city 200 km south of Kyiv. By demanding bribes, Uman city officials block a decade-old project to build a Jewish memorial complex and a massive synagogue capable of handling 30,000 faithful, Duvi Honig, head of the Orthodox Jewish Chamber of Commerce (New York), told reporters in Kyiv on Friday. In addition to building what would be the largest synagogue in modern Europe, Honig said: "There may be a good wave of investments that can help Uman and Ukraine prosper…But this may not happen precisely because of corruption."
With as many as 40,000 Hasidic pilgrims expected to arrive in Uman next month for the Sept. 29-Oct. 1 Jewish New Year, Kyiv Boryspil will reserve Terminal B for the pilgrims and a series of charter flights are approved: Windrose and Atlasjet-Ukraine for Tel Aviv-Boryspil and SkyUp for Tel Aviv-Lviv and Tel Aviv-Zaporizhia. There will also be regular UIA flights from Tel Aviv to Lviv, Odesa, Vinnytsia, and Zaporizhia. Last year, 300,000 tourists traveled from Israel to Ukraine and 170,000 tourists traveled from Ukraine to Israel.
As President Trump mulls 'buying' Greenland, Ukraine reviews its own Arctic ambitions. Ukraine "may become an Arctic player," Ukraine's ambassador to Norway, Vyacheslav Yatsiuk, said two months ago on a visit to Norway's Svalbard archipelago in the High Arctic. Touring Svalbard's Incoherent Scatter Radar System, he noted Ukrainian scientists help build the facility, which is devoted to studying the Earth's ionosphere. While in Barentsburg, Svalbard's second-largest town, he met with some of the 400 Ukrainian miners who compose the majority of workers at Artikugol, a Russian state coal mining company.
Earlier in the year, on April 18, Ukrainian Air Force pilots completed an annual Ukrainian-Danish operation making 44 cargo flights across northern Greenland. A Ukrainian Il-76MD shuttled fuel and supplies between the US Air Force Thule Air Base, with its 3,000-meter all-weather asphalt strip, and Denmark's Station Nord, which has a far smaller seasonal strip, on Greenland's east coast.
With waters between Svalbard and continental Norway vital to Russia's northern sea lanes from Murmansk, Russia maintains a consulate in Barentsburg. While the Ukrainian Ambassador's comments in Norway were largely ignored at home, Russia's "media space exploded in outrage," Eurasia Daily Monitor reported last week. Russian commentators said Ukraine forfeited its Arctic ambitions in 1993 when it sold its only ice-class research vessel to China. Built-in Kherson shipyard, the polar ice breaker now is called Xue Long, or Snow Dragon. Looking ahead, Moscow analysts predict Russia will block any attempt by Ukraine to join Poland and 12 other observer countries in the Arctic Council. On Sept. 12-13, Sauli Niinisto, President of Finland, one of the eight full Arctic Council member countries, visits Kyiv.
From the Editor: As investor interest grows in Eastern Europe, UBN is the media sponsor for the 0100 Conference in Prague. On Oct. 16, the conference will bring together Central and Eastern European private equity and venture capital players for one day of discussions and networking. For more information, see www.0100conferences.com/16-oct-2019-prague-2019. Best regards, Jim Brooke jbrooke@ubn.news.