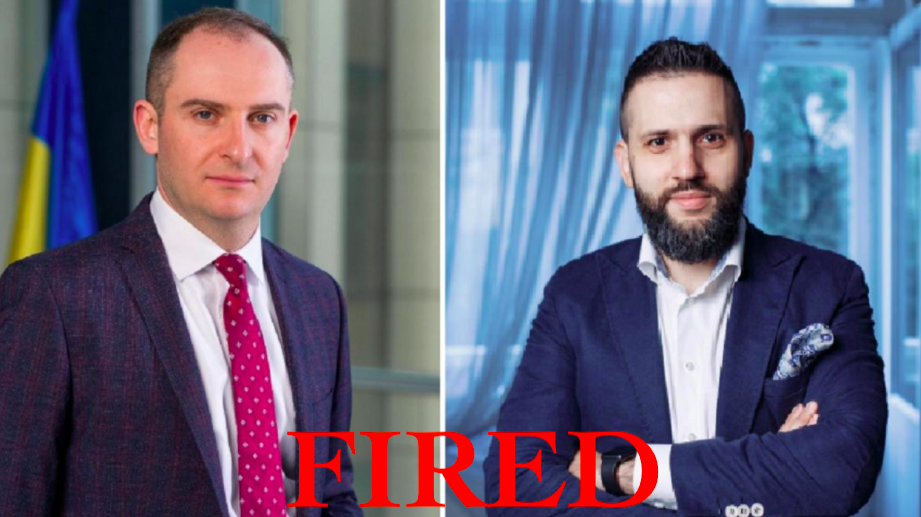 Monday, April 27
Purge Spreads to Customs and Tax Service...Saakashvili Wants to Deal With IMF...Naftogaz Wants to Create Duty Free Storage for Oil Traders...Ukraine Grounds Charters Flights of Migrant Farm Workers...Sunshine Kills Corona: Restauranteurs Want to Open Summer Verandas
Finance Minister Serhiy Marchenko fired on Friday the heads of the new State Customs Service and of the State Tax service and their top deputies. "They lost the trust of people and must leave," said Marchenko, who on March 30 became Ukraine's third finance minister in one month. Both officials had about eight months on the job.

Max Nefyodov, the fired head of Customs, is an internationally respected anti-corruption fighter. He worked for five years at Dragon Capital, then for five years as a deputy Economy Minister, where he directed the creation of the ProZorro online government procurement platform. Serhii Verlanov, the ousted head of the tax service, is a familiar face to foreign investors, giving online briefings in recent weeks to the American Chamber of Commerce and the European Business Association.
UNIAN cites 'experts' who link the firings to Wednesday's appointment of Ihor Umansky as customs and tax advisor to Andriy Yermak, head of the President's Office. As Finance Minister for 26 days in March, Umansky tried unsuccessfully to purge tax and customs. Yermak came under a cloud last month, when a ruling party Rada member posted online videos from last fall that appeared to show Denys Yermak, brother of Andriy, trying to sell posts in the new government.
Hours after the dismissals, Verlanov went on Savik Shuster's 'Freedom of Speech' program to belittle the firings as 'political' and possibly linked to the new collection of taxes on vodka. Nefyodov took a different tack, posting on Facebook a relaxed photo of himself wearing a T-shirt printed: "Dobby is a Free Elf." In Harry Potter, Dobby was the house elf who escaped bondage to the evil Malfoys.
Mikheil Saakashvili, President Zelenskiy's nominee to be Ukraine's 'deputy prime minister for reform' tells the The Financial Times: "The president wants me to be in charge of talks with the IMF . . . I have experience." The former Georgian president also said the IMF should 'at least double' its planned aid to Ukraine. In a blitz of press interviews, he repeated similar views to AFP and DeutscheWelle. Zelenskiy's ruling party is split on the Saakashvili appointment. With a confirmation voted expected later this week, the government may need votes of pro-European opposition parties.
"Idiotic comments by Saakashvili," Tim Ash writes from London. "Ukraine does not need more IMF money — it needs to just deliver on reforms promised already…Ukraine would have had market access if Zelenskiy had: a) Not sacked the previous PM, finance minister and economy minister before putting the IMF deal to bed; b) not wasted time figuring out where he stood on the Kolomoisky issue."
Banking on international aid in the second half of this year, Finance Minister Marchenko tells Reuters the government has no plans to tap the Eurobond market this year. Last January, before the coronavirus crisis hit, Ukraine placed €1.25 worth of 10-year Eurobonds with an annual interest rate of 4.375%. Today's interest rates would  be double that level. Instead, the government hopes to win an IMF deal in May that would unlock $10 billion in soft loans.
The EBRD has approved a $60 million long-term loan to the Fozzy Group to expand and modernize their Silpo and Fora supermarkets. The goal is to increase energy efficiency and to open supermarkets in towns with only traditional food markets. Silpo has 259 stores, including four Le Silpo gourmet markets. Fora has 250 stores in 70 towns.
With the world awash in cheap oil, Naftogaz wants to create a duty free oil storage system for Ukraine, Andriy Kobolyev, CEO of the state energy company, tells Ukraine 24 TV. Three years ago, Naftogaz launched a duty free gas storage system, opening up 10 underground reservoirs in western Ukraine. Increasingly popular with European gas traders, this 'customs warehouse' allows companies to store gas paying a rental fee, but no import duties or taxes. With international oil companies desperately seeking storage, Kobolyev believes Naftogaz could earn $1 to 3 million a month by renting out unused storage tanks, largely near idle refineries.
Ukraine is not allowing charter flights to carry seasonal farm workers to Finland, reports Finland's Maaseudun Tulevaisuus, or Future of the Countryside. "The interruption of seasonal labor flights in Ukraine is causing problems for hundreds of farms across Finland," reports the agricultural news site. "At the moment you can't get to Finland across the Russian border, you can't get from the Baltics by ship and now the last information came that Ukraine can't come." Short of 16,000 seasonal workers, planting may be cut at hundreds of farms.
Last month, when the coronavirus problem started, the Zelenskiy government urged Ukrainians to come home. Now Prime Minister Shmygal says he wants these labor migrants, as many as 1 million, to stay here. They should either work on public works projects this summer or take low interest loans to start small businesses. Ukraine's airports are closed. Land border crossings have been sharply reduced.
German labor recruiters flew 14,700 Romanians to Germany during a 2-week period in April, Politico reports in a story about looming labor shortages in German agriculture. With normal labor flows disrupted, Germany has said it will take in 40,000 farm workers in April and 40,000 more in May.
Documented cases of coronavirus continue to inch up, with laboratories confirming 209 deaths and 8,617 positive cases. It is unclear how many of the positive cases are hospitalized. Of the 29 new positive cases reported Sunday in Kyiv, seven – or one quarter – were hospitalized. One third of Kyiv's new positives were health workers, higher than the national average of 20%.
Restauranteurs are asking officials for permission to open summer sidewalk and courtyard verandas. Savva Libkin, co-owner of the Tarantino Family network, offers a series of measures: waiters wearing facemasks and gloves, cooks wearing protective gear, temperature checks for patrons and staff, spacing tables more than 1.5 meters apart, and regular disinfection of kitchens with quartz lights. Noting the 840,000 people work in restaurants in Ukraine, he appeals: "I ask the authorities to consider this opportunity and give business a chance to survive." Ultraviolet light from sunlight kills viruses, The New York Times reported Friday, citing longstanding and new research.
AirBaltic plans to resume flights between Riga and Kyiv Boryspil in June and between Riga and Odesa in August, reports Avianews. Latvia's state-owned flag carrier does not have permission from Ukraine to renew flights. In contrast, Infrastructure Minister Vladyslav Krikliy predicts air travel will start again in Ukraine at the end of the summer. But, with airlines facing bankruptcy or massive subsidies, he is expected to come under heavy pressure to reopen air travel earlier, under new public health rules.
From the Editor: Watching the musical chairs at the top of the Ukraine's government, reminds me of covering Peru in the late 1980s. Toward the end of Alan Garcia's first presidency, he was so desperate to find a competent Finance Minister that he recruited a seminary graduate on the assumption (hope?) he would not steal. We are not there yet. But Zelenskiy now has thrown the A team overboard. At least Saakashvili may join the government. That would provide comic relief for the summer. With Best Regards Jim Brooke jbrooke@ubn.news